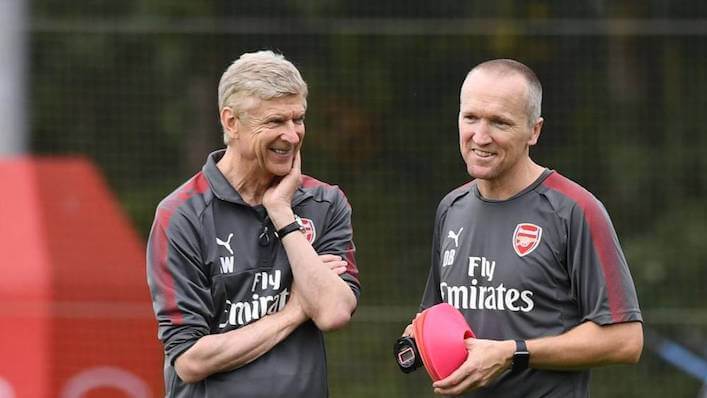 Darren Burgess is the head of high performance for Arsenal Football Club. Prior to this, he's held similar roles for Liverpool , Port Adelaide of the AFL, and the Australian national soccer team.
This is Darren's second time on the show, and one thing I love about chatting with him is how it feels like we've known each other forever. He's an incredibly easy guy to get along with, and I think he's got a ton of awesome insights about working with athletes.
In this show, Darren and I talk about how to move seamlessly between different sports, how he balances the demands of athletes who play for both their club and country, and what he means when he talks about giving his players a systematic exposure to speed training.
There's a ton of gems in this talk, and I know you're going to love it.
Show Outline
Here's a brief overview of what we discussed in this week's show:
Shameless Plug: RTS Online Coaching (Please Submit before July 31st)
Show Intro:

 MR's Monologue: The idea of "Forced Recovery"

Interview with Darren:

Darren's background and current position in the physical preparation world.
What it's like to move seamlessly between the two worlds of the AFL and professional soccer.
The physical differences between AFL athletes and soccer players.
How those differences impact his outlook on planning and programming for his athletes.
Why the idea of "Forced Recovery" is such a critical piece of the puzzle for high-level athletes.
How they length of the off-season/pre-season/competitive season impacts the athletes, and best practices to keeping athletes healthy over the course of the competitive season.
The cultural differences between soccer and Aussie rules football, and how he does his best to navigate those.
Darren's thoughts on working with the elite athlete that plays for both club and country, and how to strike a balance and keep those guys playing at the highest level.
The always engaging lightning round, where we talk about moving back to England, a failure that he's learned from, one goal he's set for himself to achieve, and what's next for Darren Burgess.
Related Links
Lead Photo Credit: Evening Standard
Get 3 days of my best coaching materials — for free.
3 DAY COACH'S CAMP:
Write better programs
Learn how to motivate clients outside the gym
My most popular resets for instantly improving movement quality