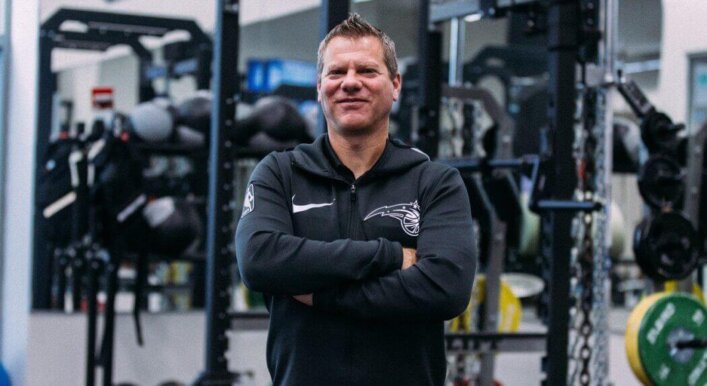 Dave Tenney has dedicated his career to the evolution of the high-performance sport.
He is the High Performance Director for the Major League Soccer expansion franchise, Austin FC, and is highly invested in building a high-performance department that supports the needs of its athletes, coaches, and management.
Prior to joining Austin FC, Dave served as the High Performance Director for the Orlando Magic in the NBA Team and the Seattle Sounders of the MLS.
Dave joins me today to reveal the crucial factor that makes an effective high-performance environment. He emphasizes the importance of collaboration in a high-performance model and explains what makes a "hands-on" High Performance Director different from a "hands-off" one.
He discusses why he transitioned from working in professional soccer to the NBA, and illustrates the various challenges he overcame when he switched.
And last but not least, Dave discusses the value of diversity in building staff-building and explains why upcoming coaches should focus on honing their skills over targeting specific sports or jobs.
The high-performance department is about recognizing and valuing what everyone can bring to the table. – Dave Tenney
This week on the Physical Preparation Podcast:
Dave's primary roles during his time in the NBA
How every sport interprets the role of High Performance Director differently
The difference between the "hands-on" and "hands-off" High Performance Directors in the NBA
The challenges of sharing information and decision-making in the NBA's high-performance model
Keys to effective collaboration in a high-performance environment
Why teams need to have a living, breathing AMS platform
What prompted Dave to move from soccer to professional basketball and the challenges he faced in the transition
The life cycle of a high-performance environment
The difference between his time with the Sounders and his time with the MLS
What surprised Dave when he started working in the NBA
How playing soccer benefitted his work as High Performance Director
The importance of educating yourself with the needs and demands of the athletes
The power of building staff with diverse skills and personalities
Lessons from working with the Seattle Sounders that Dave wants to apply in Austin FC
Why young, upcoming coaches need to prioritize learning skills and traits over targeting jobs
Dave's favorite memory from his time with the Orlando Magic
Related Content:
Connect with Dave:
Subscribe, Rate & Share!
Thanks for tuning into this week's episode of The Physical Preparation Podcast with Mike Robertson – your one-stop-shop for fitness trainers, coaches, and athletes.
If you enjoyed this episode, be sure to subscribe on Apple Podcasts, Stitcher, SoundCloud, Spotify, and Google Podcasts and leave your honest review. I'd also love to connect via Facebook, Twitter, and Instagram or visit our website.
And last but not least, please don't forget to share your favorite episodes with your friends on social media. Thank you!
Get 3 days of my best coaching materials — for free.
3 DAY COACH'S CAMP:
Write better programs
Learn how to motivate clients outside the gym
My most popular resets for instantly improving movement quality