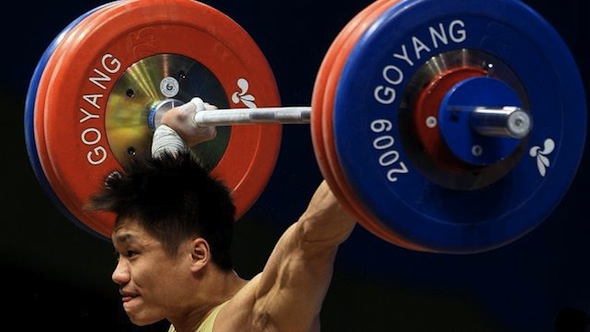 In case you guys missed it, I had a new article thrown up over at T-Nation a week or so ago on the overhead press. Here's the link:
The premise of the article is simple: I like the overhead press and I know people enjoy training it, but it's not for everyone.
Some people have biomechanical issues, such as poor thoracic spine extension, while others may have crappy upward rotation or a weak rotator cuff.
Some people just have crappy genetics, like a Type III acromion.
And some unlucky people have all of the above!
The bottom line is you need to qualify yourself to overhead press. It's a privilege, not a right.
Now as a few people mentioned in the comments, it wasn't all-encompassing. I think what a few people fail to understand is that most articles are about 2,000 words in length, which doesn't always allow me to explore the innermost depths of any topic 🙂
So to help me cover my bases, here are a few things that I would add to the article if I would've had more space!
Improve Soft-Tissue Quality
It goes without saying, but if your tissue quality is horrible, you're going to struggle with overhead movements.
The key muscle groups that you'll want to focus on are listed below, as well as why they're important:
The Pecs. Short/stiff pecs will draw the shoulders forward and internally rotate them.
The Lats. Short/stiff lats also internally rotate the shoulders, narrowing the subacromial space.
The Subscapularis. This is the oft-forgotten internal rotator of the shoulder.  Unfortunately, this one is virtually impossible to get at on your own – find a qualified soft-tissue or ART practitioner and let them do their thing.
If you have no clue what SMR is or how to perform it, this short video should help:
 More Rotator Cuff Strengthening Exercises

As I outlined in the article I really like dynamic rotator cuff stabilizing exercises, especially rhythmic stabilization variations.
Another option in your arsenal is PNF variations. I'm a huge fan of these upper body variations because they work to tie together thoracic spine extension, scapular upward rotation, and dynamic 'cuff stability.
While the version below is done in tall-kneeling, these can also be perform in half-kneeling, standing, or done unilaterally (one side at a time).
At the bottom of the movement the thumb will be pointing downward and the palm facing the body. As you lift the weight, you'll turn the hand over so at the top your thumb is pointing upwards and your palm is facing away.
 Summary
Not a ton to add, but I hope the above will expedite your progress and get you back overhead pressing with a quickness.
Good luck!
MR