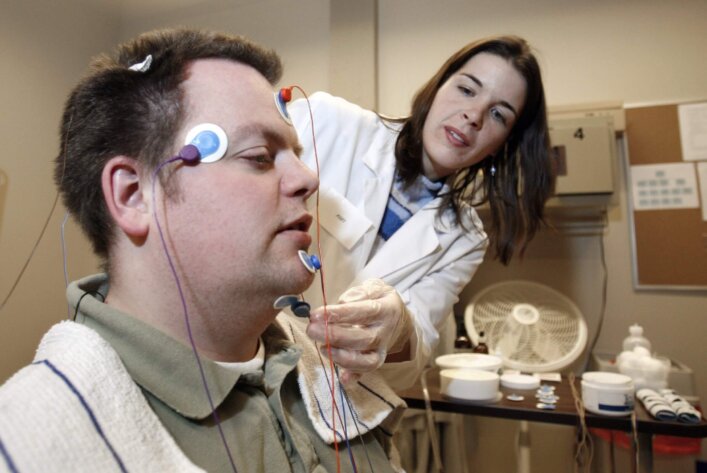 As soon as Dr. Amy Bender's aunt took her to a sleep lab, she became fascinated about sleep research.
In fact, she was so fascinated that she eventually found herself landing a job as a sleep technologist at Washington State University, where she would go on to complete her Ph.D. in Experimental Psychology, focusing on sleep EEG.
She later became a Postdoctoral Research Fellow at the University of Calgary, where she worked with Canadian Olympic athletes—an experience close to her heart, as she was once an elite athlete herself.
Today, in addition to her role as the Director of Clinical Sleep Science at Cerebra, Amy serves as a consultant who helps executives, athletes, and everyday people sleep better.
Amy joins me today to discuss the science behind sleep and why it's essential to the health and performance of athletes and the general population alike. She shares her advice for getting better sleep and discusses what individuals can do when they wake up in the middle of the night.
She describes how poor sleeping habits can impact health and affect the body's hormones.
And Amy also shares her tips for optimizing sleep when traveling and overcoming jet lag, and underscores how breathing and cognitive practices can help us get better sleep.
There are many things we can do to optimize our sleep, and it all starts with sleep hygiene. – Dr. Amy Bender
This week on the Physical Preparation Podcast:
Amy's background and what led her to the world of sleep science
The critical role of sleep for the body
Recommendations for better sleep
How much sleep athletes really need
How scientists like Amy evaluate sleep quality
What polysomnography is and how it compares to wearable devices like the Oura Ring
Breaking down the various phases of sleep
The benefits of using wearable sleep devices
Amy's tips on falling back to sleep after waking up in the middle of the night
Middle-of-the-night routines: what they are and why you should have them
Breathing exercises and cognitive techniques and how they can help us return to sleep
The different chronotypes and why Amy is a proponent of naps
How to have the best naps to boost focus and performance
Supplements for better sleep and optimizing sleep for travel
The power of sleep hygiene
Connect with Dr. Amy Bender:
Subscribe, Rate & Share!
Thanks for tuning into this week's episode of The Physical Preparation Podcast with Mike Robertson – your one-stop-shop for fitness trainers, coaches, and athletes.
If you enjoyed this episode, be sure to subscribe on Apple Podcasts, Stitcher, SoundCloud, Spotify, and Google Podcasts and leave your honest review. I'd also love to connect via Facebook, Twitter, and Instagram or visit our website.
And last but not least, please don't forget to share your favorite episodes with your friends on social media. Thank you!
Get 3 days of my best coaching materials — for free.
3 DAY COACH'S CAMP:
Write better programs
Learn how to motivate clients outside the gym
My most popular resets for instantly improving movement quality