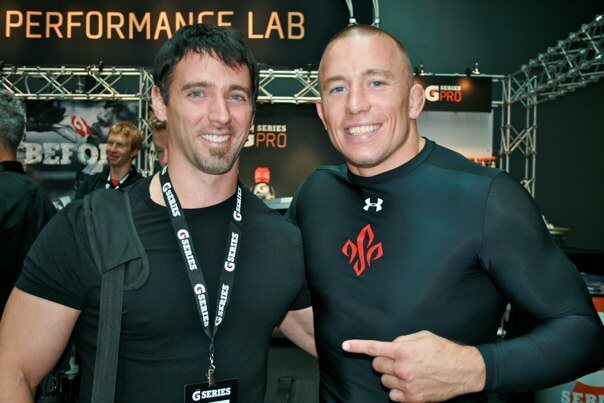 Canadian-American health entrepreneur, Dr. John Berardi, knows first-hand the hardships involved in effecting positive change in people as well as across an industry. As the co-founder of Precision Nutrition and the founder of the Change Maker Academy, John pioneered one of the industry's first nutrition certification courses before getting certified became a "thing."
With the passion to truly impact the lives of others and inspire them to make good nutrition and lifestyle choices, John and his team have coached over 200,000 clients over the last decade – including corporate clients like Nike and Apple as well as pro sports teams like the San Antonio Spurs and the Carolina Panthers.
When he's not busy being the change maker he was destined to be, John can be found enjoying his free time with his wife and their four kids while trying to escape the cold Canadian winters.
In today's episode, John and I discuss how he went from having no interest in sports and physical fitness as a child to becoming a change-making pioneer in the world of physical preparation. We discuss how being a sickly preemie drove him to the world of health, training, and fitness.
JB also talks about his desire to impact the world of health and fitness while harnessing his own unique abilities, values, and purpose and his passion for helping others do the same.
And staying true to the theme of this show, we discuss the mistakes he's made and the lessons he has learned from them.
Finally we talk what his book, Change Maker: Turn Your Passion for Health and Fitness into a Powerful Purpose and a Wildly Successful Career is all about and the impact he wants the content to have on its readers.
You are unique with your own unique abilities, values, and purpose. – Dr. John Berardi
This week on the Physical Preparation Podcast:
What drove John's passion to dig into the research of health, fitness, and nutrition and teach it to others
John's original goal with Precision Nutrition and how it has evolved over the years
How the internet changed his perspective on the impact he wanted to have on others
Harnessing the power of your own unique abilities, values, and purpose as a coach
Creating content to embrace your unique values while staying authentic to yourself and your brand
The challenges and obstacles John has faced throughout his career, the mistakes he's made, and the lessons he's learned
What it means to explicitly identify your purpose
How John refocuses on his unique purpose, mission, and values
The inspiration behind the Change Maker book and John's definition of a change-maker
Resources Mentioned:
Connect with Dr. John Berardi:
Stop the Frustration! Get the Complete Coach Certification
Are you a young fitness trainer or coach?
Are you frustrated by the results you're getting or the lack of resources available to learn the skills you need to be successful?
Are you struggling to get enough clients or wondering how long you'll be able to follow your passion for helping others?
If so, it's time to stop the frustration and stop worrying. It's time to get certified!
If you're serious about improving your results, serious about becoming a better coach, and serious about increasing your bottom line, then you need the Complete Coach Certification.
In this massive course, you'll learn:
How to use the R7 system to create seamless, integrated and efficient programs for clients and athletes of all shapes and sizes
How to create the culture, environment and relationships with everyone you train so you can get the absolute best results
The exact progressions, regressions, and coaching cues I use in the gym – from squatting and deadlifting to pressing and pulling and everything in between
And much, much more
This massive certification course is jam-packed with everything I've learned over the last 20 years of my career.
So if you're ready to get serious about the results you're getting for your clients and the impact your programs have on your income, head over to www.completecoachcertification.com to sign up for the Complete Coach Certification course today!
Spots are limited. The next certification is set to launch in March 2020.
Join my FREE Insiders List to learn more, stay tuned for our launch details and save $200 when the course opens!
Subscribe, Rate & Share!
Thanks for tuning into this week's episode of The Physical Preparation Podcast – your one-stop-shop for fitness trainers, coaches, and athletes.
If you enjoyed this episode, be sure to subscribe on iTunes, Stitcher, and SoundCloud and leave your honest review, and please connect with us on Facebook, Twitter, and Instagram or visit our website.
Last but not least, don't forget to share this episode (or your favorite episodes) with your friends on social media. Thank you!
Get 3 days of my best coaching materials — for free.
3 DAY COACH'S CAMP:
Write better programs
Learn how to motivate clients outside the gym
My most popular resets for instantly improving movement quality