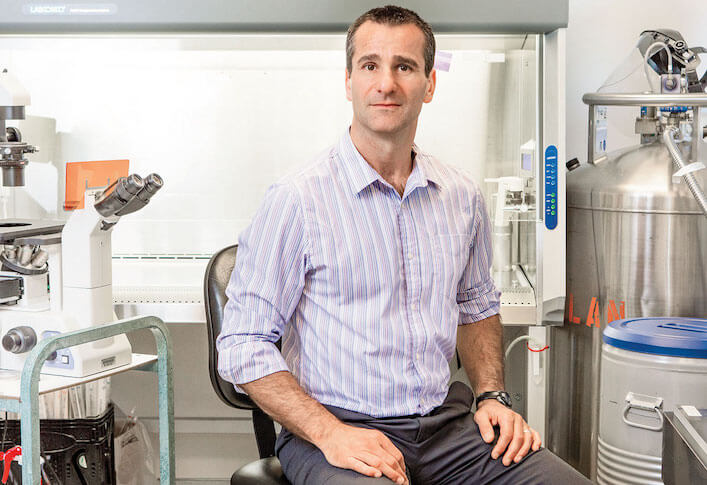 As a former athlete who considered himself mediocre, Dr. Keith Baar became curious as to why some people respond well to a training program and grew stronger while others didn't adapt the same way. He followed this curiosity into an internship in strength and conditioning at the University of Michigan's football team for his undergraduate degree.
Later, Keith pursued a Master's degree at the University of California – Berkeley and a Ph.D. at the University of Illinois, where he discovered the molecular mechanisms underlying muscle growth in response to exercise.
After working at a laboratory in Dundee, Scotland for five years, Keith is now the Head of the Functional Molecular Biology Laboratory (FMBLab) at the University of California Davis, where he studies how the musculoskeletal system functions, including how diet and physical activity affect muscle growth, and how tendons and ligaments respond to the stresses of exercise.
In today's episode, Keith and I discuss how to maintain tendon health and decrease injuries. He defines the morphological differences between a tendon and a muscle and shares tips on how to train the tendon for flexibility and health. He explains why we see more tendon ruptures in sports and how to recover from injury faster. And we discuss how to design training programs that stimulate healing as well as the nutritional interventions to create stronger tendons. 
If a tendon is less stiff at its muscle end, it's going to stretch. That stretching is a shock absorber for the whole muscle. – Dr. Keith Baar
This week on the Physical Preparation Podcast:
The structure of a tendon and its morphological difference to a muscle
How to create a program for strengthening tendons
Why injury history should be taken into account when creating a training program
Why injured athletes should lift slower
Why we see an increased number of tendon ruptures in sports
The role of nutrition in injury recovery and performance
How to heal injuries quickly
Keith's training advice for athletes
Connect with Dr. Baar:
Stop the Frustration! Get the Complete Coach Certification
Are you a young fitness trainer or coach? Are you frustrated by the results you're getting or the lack of resources available to learn the skills you need to be successful? Are you struggling to get enough clients or wondering how long you'll be able to follow your passion for helping others?
It's time to stop the frustration and stop worrying. It's time to get certified!
If you're serious about improving your results, serious about becoming a better coach, and serious about increasing your bottom line, then you need the Complete Coach Certification.
In this massive course, you'll learn:
How to use the R7 system to create seamless, integrated and efficient programs for clients and athletes of all shapes and sizes
How to create the culture, environment and relationships with everyone you train so you can get the absolute best results
The exact progressions, regressions, and coaching cues I use in the gym – from squatting and deadlifting to pressing and pulling and everything in between
And much, much more
This certification course is jam-packed with everything I've learned over the last 20 years of my career.
So if you're ready to get serious about the results you're getting for your clients and the impact your programs have on your income, head over to www.completecoachcertification.com to sign up for the Complete Coach Certification course today!
Spots are limited, and the next certification is set to launch in March 2020.
Join my FREE Insiders List to learn more, stay tuned for our launch details and save $200 when the course opens!
Subscribe, Rate & Share!
Thanks for tuning into this week's episode of The Physical Preparation Podcast – your one-stop-shop for fitness trainers, coaches, and athletes. If you enjoyed this episode, be sure to subscribe on iTunes, Stitcher, and SoundCloud and leave your honest review.
Connect with us on Facebook, Twitter, and Instagram and don't forget to share your favorite episodes with your friends on social media. Thank you!
Get 3 days of my best coaching materials — for free.
3 DAY COACH'S CAMP:
Write better programs
Learn how to motivate clients outside the gym
My most popular resets for instantly improving movement quality