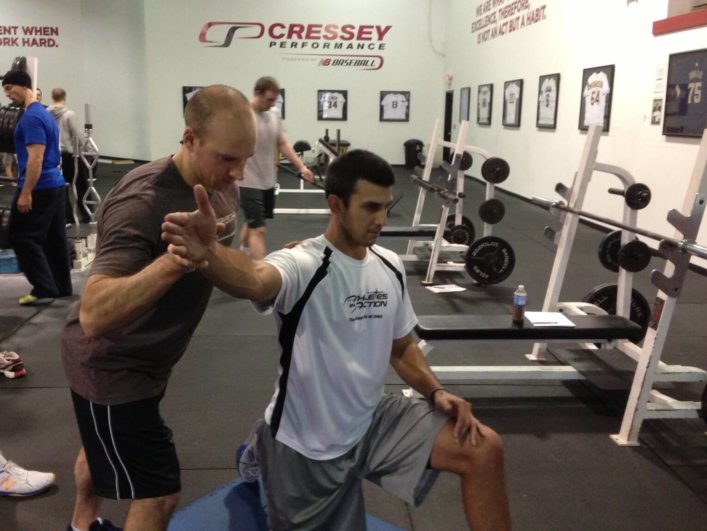 Eric Cressey is the president and co-founder of Cressey Sports Peformance, which is world-renowned for the results it gets with baseball players. This past year alone, he trained both Cy Young award recipients, and CSP is widely considered one of the premiere facilities for baseball specific training.
Personally, Eric and I have been friends for years, and developed numerous products together. He's a guy I have a ton of respect for, not only for his tireless work ethic, but also for the success he's achieved over the years.
In this show, we take a slightly different approach than most. Often, we have a set topic to discuss, and then take on some reader questions as well. All in all we cover some baseball-specific materials, the biggest thing he's changed in his training over the past year, and we take a deep dive into what a typical day looks like for THE Eric Cressey.
This show was a ton of fun, and I guarantee you'll take a thing or two away from it.
Show Outline
Here's an overview of what we covered on this week's show:
MR's Monologue: Consistency is Key
EC's "Big Rocks" for training baseball players.
The differences between selling to a parent of a youth athlete, versus selling to a professional athlete.
The big change he's made to his assessment and training process over the past year.
How much time should a 13-year old spend training vs. playing?
His best strength/power indicators for predicting velocity.
EC's thoughts on med ball progressions, plyometrics, and overall power development.
The exercises he avoids when dealing with elbow laxity in an athlete.
Weighted ball progressions: Thoughts, application, and more.
How does he find balance in his life?
A daily in the life: What EC's day looks like during both the baseball off-season, as well as in-season.
The rituals he's adopted to improve his sleep.
A fun lightning round where we chat about the age limit for interns at CSP, why he didn't go for triplets, the best book he's read in the past year, and what's next for EC.
Related Links
Connect with Eric
Books Mentioned
Other Links
Get 3 days of my best coaching materials — for free.
3 DAY COACH'S CAMP:
Write better programs
Learn how to motivate clients outside the gym
My most popular resets for instantly improving movement quality