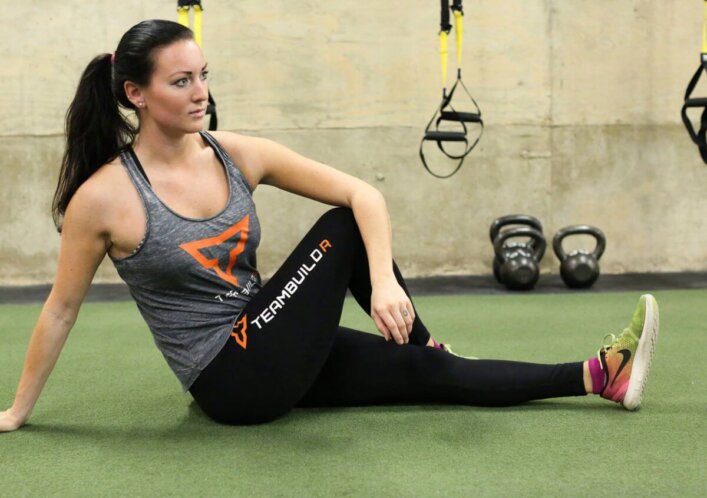 Ever since she was in middle school, Erica Suter has been strength training, and her love of athleticism was encouraged and supported by her parents.
Soon, Erica played collegiate soccer while studying at John Hopkins University, where she was recognized as an Outstanding Female Athlete. Erica eventually played soccer semi-professionally in Brazil, where she also found her passion for coaching the youth.
Today, Erica is a Soccer Skills and Strength Conditioning Coach who helps youth soccer players become strong, resilient, and creative. 
Erica joins me today to discuss her philosophy of training for human development first before training for athletic development.
She describes her journey into professionally coaching young female soccer players and reveals what inspired her to focus on training the youth.
She reveals the most frequent injuries she sees in her athlete demographic and shares her methods to prevent injuries.
And she also highlights the value of being a role model and explains how a coach can be a leader for youth athletes.
Develop more than just a soccer player. Girls need to realize what their strengths are. Dial-in and lead by example. – Erica Suter
This week on the Physical Preparation Podcast:
Soccer as a universal language and form of creative expression
Erica's philosophy of training the human first and why it's essential for her
Why athletic training goes beyond sports
The importance of starting soccer training with the basics
How Erica sets up and communicates expectations with parents of youth soccer players
Games to include in youth training sessions and how they develop coordination, balance, and teamwork
The biggest training mistakes Erica sees in soccer development and why teaching creativity in soccer is essential
How kids in Brazil play soccer, and what makes it different from how American children play the sport
The most frequent injuries in training young female soccer players and how Erica prevents injuries
What it takes to develop and maintain speed in young soccer players
What a typical workout session with Erica looks like during an off-season
How Erica cut out jogging in her warm-ups and replaced it with multi-directional skipping
The importance of being a leader to young, female athletes and the measure of success for a sports coach
Connect with Erica:
IFAST University is BACK! Are You In?
Are you ready to take your coaching and training career to the next level?
You need to find great mentors to guide you along your journey – to help you find the blind spots in your own training programs and improve your skills as a coach.
But… mentorship can be expensive, and unfortunately, it's not always feasible for some budgets.
That's why Bill Hartman and I developed IFAST University, an online curriculum and mentorship program designed exclusively for fitness trainers and coaches. We want to help every trainer and coach in the industry improve their training techniques and write better training programs for their clients.
By becoming a member of IFAST University, you'll receive:
Multiple hours of members-only exclusive content
Monthly updates and tips to help you improve your skills and programs
1-on-1 Q&A sessions to answer your specific questions
Access to our private discussion forum
This blend of content and Q&A is specifically designed to help make YOU the best fitness trainer you can be.
To learn more or to join IFAST University now, visit https://ifastuniversity.com/
Subscribe, Rate & Share!
Thanks for tuning into this week's episode of The Physical Preparation Podcast with Mike Robertson – your one-stop-shop for fitness trainers, coaches, and athletes.
If you enjoyed this episode, be sure to subscribe on Apple Podcasts, Stitcher, SoundCloud, Spotify, and Google Podcasts and leave your honest review. I'd also love to connect via Facebook, Twitter, and Instagram or visit our website.
And last but not least, please don't forget to share your favorite episodes with your friends on social media. Thank you!
Get 3 days of my best coaching materials — for free.
3 DAY COACH'S CAMP:
Write better programs
Learn how to motivate clients outside the gym
My most popular resets for instantly improving movement quality