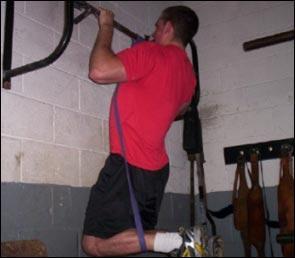 Today's exercise of the week is the band assisted chin-up.  This is a great variation for several reasons:
– Obviously, not everyone is strong enough to perform full chins in the beginning.  In this case, it helps them learn the groove of the movement with resorting to an expensive machine.
–  It accommodates resistance – it gives you the most help in the bottom (where you need it most), and the least resistance at the top (where you should need it the least).
Here's a quick video to help you out:
To properly execute the band-assisted chin-up, do the following:
–  Start with the elbows extended in the bottom position
–  Initiate the movement by pulling through your elbows
–  Pull your chest all the way to the bar, and actively think about depressing your scapulae at the top.  It may help to think of pulling your shoulder blades into your back pocket.
–  Lower under control the starting position.
Regardless of your current strength levels, you can almost always find a band that will help you get started.  Good luck!
Stay strong
MR