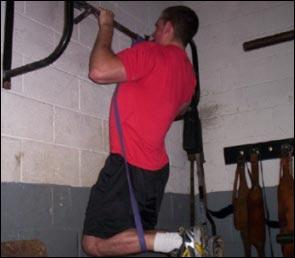 In this edition of Exercise of the Week, we're going to talk about one of my personal favorites, the Band Assisted Chin-up.
Obviously, not everyone is strong enough to perform a chin-up/pull-up the first day they hit the gym.  That's ok.  Instead of spending weeks (or even months) on geeky machines that provide a mismatched resistance curve, or giving up on chin-ups all together, give this version a go.
The band assisted chin-up is great because it gives you the most boost when you ready need it (the bottom), but it also eases up so you really have to work hard at the top position.  This is accommodating resistance at its finest.
When you're performing chins or pull-ups, make sure to initiate the motion by pulling through your elbows – NOT YOUR ARMS.  Yes, I screamed, but only because it's important!
As you approach the top position, it's also very important to try and get your chest to touch the bar.  When you get to the top position, think about actively pulling your scapulae down.  This scap depression will really tax the lower traps, a muscle group that generally needs all the strengthening it can get.
Whether you're a rank beginner and need a ton of help, or someone that's on the verge of their first bodyweight chin, the band assisted chin-up is a great exercise to help you get stronger and develop appropriate technique.  Enjoy!
Stay strong
MR