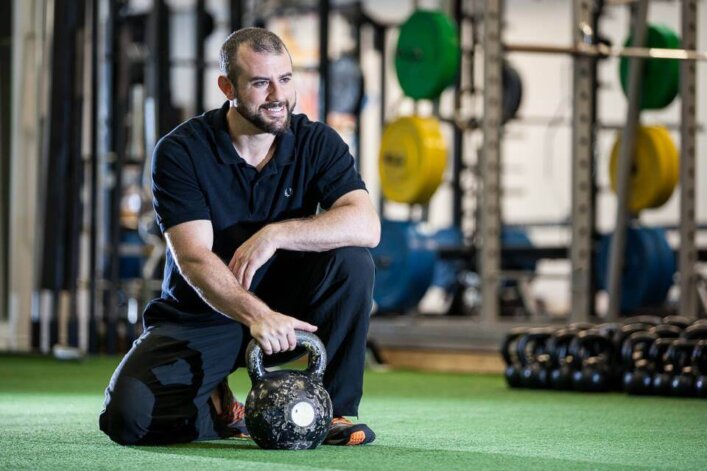 Sports and athleticism used to feel like learning a second language to Geoff Girvitz, but he felt compelled to dig deeper into fitness.
Today, as a fitness coach, writer, and the Founder of Bang Personal Fitness, Geoff supports his clients in making fitness a part of their life by reducing the complexity and confusion around fitness and health concepts.
He is a staunch believer of human potential and ensures that he creates training programs that are enjoyable and meaningful for his clients.
Geoff joins me today to discuss creating fitness programs and coaching for the general population. He describes his journey into the fitness world and how he started his business, Bang Personal Training, his philosophy in training the general population, and why working out and fitness needs to be enjoyable.
Lastly, we discuss how the fitness industry has changed over the decade and shares his advice for people who want to start a fitness business.
In training the general population, we can explore any movement that makes their hearts sing—whatever makes them happy. Geoff Girvitz
This week on the Physical Preparation Podcast:
Geoff's path into the world of physical preparation
How Geoff transitioned into coaching and opening his fitness facility
Geoff's philosophy to physical fitness and training for the general population
The importance of enjoyment in training and working out
Bodyweight, barbell, and the basic toolkits of physical fitness for the general population
How Geoff writes a training program for general population clients
The impact of cultivating relationships between coaches and clients
The differences between training athletes and training general population clients
Why we need to bring a curious mindset into training
The state of physical fitness and human movement
The evolution of the fitness industry in the past decade
Geoff's advice to people who want to start a fitness facility and how coaches can bring value to their clients in 2020
How being a fitness coach has helped Geoff be a better father
"Dad Strength" and Geoff's other projects
Connect with Geoff:
Momentous – The Cleanest Recovery Products in the World
Momentous is a world-renowned sports performance and recovery supplement. Preferred by top-level athletes in the NFL, NBA, NHL, and NCAA, Momentous is NSF and Informed Sports Certified.
Experience the best-tasting, cleanest recovery products in the world and take your performance to the next level. Choose Momentous.
For more information on Momentous or to place your first order, visit www.livemomentous.com/robertson – use the coupon code: Robertson20 at checkout to receive 20% off your first order or receive a free 3-pack sample.
Subscribe, Rate & Share!
Thanks for tuning into this week's episode of The Physical Preparation Podcast – your one-stop-shop for fitness trainers, coaches, and athletes.
If you enjoyed this episode, be sure to subscribe on ​iTunes​, ​Stitcher​, and ​SoundCloud ​and leave your honest review.
And don't forget to connect with us on Facebook​, ​Twitter​, and ​Instagram​ or ​visit our website​. Thanks for your support!
Get 3 days of my best coaching materials — for free.
3 DAY COACH'S CAMP:
Write better programs
Learn how to motivate clients outside the gym
My most popular resets for instantly improving movement quality