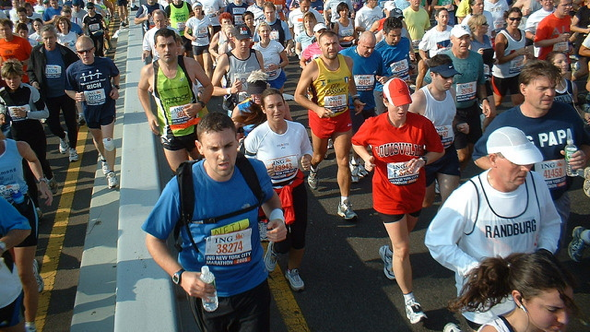 Today, I want to share with you a testimonial from a guy who's not only a great friend, but an amazing success story as well.
Rather than butcher it myself, I'll just let Brian tell his story. I think you'll really enjoy it!
———————————————
"Just get me to the starting line.  I'll take it from there… but just get me to the starting line."
For the last eight years I've replayed that thought in my mind over and over and over again.
Up until 2002, I was a recreational runner.  I enjoyed competing in races – never in competition with others, but always with myself.  I didn't run on a regular basis, but I would do enough to pound my way through some 5k's and a few half-marathons.  Having had some success in a couple of long-distance races using the "just enough" training philosophy, I wanted to get a little more serious and take my shot at the marathon distance.
In July of 2002, I reached the mid-point of my training for the approaching fall's Marine Corps Marathon — a race my dad and I planned to run together.  With that training mid-point came a sudden, dead, heavy pain throughout my entire left leg – a heaviness that left me feeling like I was dragging a pile of concrete down the street.  I had recently run 14 miles with no issues. A few days later, I couldn't run two blocks.   A few days after that, I was in an orthopedic doctor's office.  "Just get me to the starting line."
I never made it.
The day of the marathon, I sat at home, watching mile splits pop up for my dad on the internet.  While the heavy deadness in my leg did gradually subside over the following weeks, the after-effects did not – after-effects that included constant tingling sensations in the lower leg and a painful tightness in the left hip/lower back any time I exerted myself.
My initial visit to the doctor yielded no answers – it only sent me on a path full of speculations and guesses, such as bulging and degenerating discs, pinched nerves, piriformis syndromes, and bursitises.  Speculations and guesses that led a couple doctors to tell me that I needed "to give up running and take up walking or low-impact aerobics"; that this was probably "something I'd just have to learn to live with".  Being 25 years old at the time, I wasn't willing to accept that as my prognosis.
It's difficult to put into words what the seven years after that first doctor visit were like – maddening… aggravating… frustrating… and maybe even depressing at times.  If anyone ever needed evidence that the amount of treatment doesn't equate to effective treatment, they don't need to look much further than my path following my initial visit to the doctor's office.  It was a path that included…
15 doctors (4 family/sports medicine, 3 orthopedic, 3 pain management anesthesiologists, 2 neurologists, 2 neurosurgeons, 1 back specialist).
Multiple diagnostic tests, including several MRIs (multiple lower back, hip, thoracic spine), several x-rays (hips ands spine), two EMGs, a bone scan, and a myleogram (which resulted in a spinal blood patch… just awful).
Multiple targeted steroid injections (3 L4/5, piriformis, SI joint, hip bursa, saphenous nerve, steroid epidural – general).
Six physical therapists (I haven't counted, but would imagine the total number of PT visits approaches 75).
Prescribed medications, including Vioxx, Prednisone, Neurontin, and Lyrica; and enough ibuprofen and naproxen to last most people a lifetime.
Alternative treatments, including multiple acupuncture and chiropractor visits.
One unnecessary surgery to free up the saphenous nerve in the knee, which turned out to already be free.
I refuse to add up the total cost of all of the above.
Following the unnecessary pinched nerve surgery in 2009, having pretty much resigned myself to the idea that this was something I was going to learn to live with, a friend suggested I get in touch with Mike Robertson and check out IFAST.
In the interest of full disclosure… I knew Mike from our college years together; I had known that he was in the fitness field, but did not know to what extent.  And to be completely honest, my initial thought was, "Great… I've been going to specialists for the last seven years, and they haven't figured it out… how in the hell is going to some gym going to get me better?"
In retrospect… I guess there is such a thing as a dumb question.
A couple of e-mail exchanges with Mike left me standing skeptically, but willingly, at the door of IFAST for my assessment in July of 2009.  Within the first 5 minutes, I knew this was something different.  After spending an hour with Bill, I felt like I'd received a more thorough and accurate assessment than I had from any doctor or physical therapist I had seen in the seven years prior — significant muscle imbalances in the hips, glutes, and lower back, leading to significant muscle overuse in other areas of the hips and lower back; significant knotting and scar tissue build-ups causing muscles not to function correctly; zero core strength making it impossible for my body to work together as a single unit.
Finally… the puzzle started to make sense.
Following the assessment, I heard two simple words from Bill that I had not heard in the previous seven years: "You're fixable."  Goosebumps.
Just get me to the starting line.
It's really difficult to put into words what it is that Mike and Bill are able to do with their clients.  When I preach to people about my IFAST experience, I always begin by saying that there may be a few others out there who are as knowledgeable and as good, but I can't imagine anyone being better.  Based on my assessment with Bill, Mike wrote a program that hammered my deficiencies.
After one month, there was a noticeable difference in how I felt.
After 3 months, I was running short distances without issue.
After 6 months, I was running races again (5k-10k).
After 9 months, I was running longer distance races, with mile splits comparable to what I was running ten years before.
And after a little over a year of working with Mike and the IFAST team, I toed the line of the Marine Corps Marathon, looking to finish what I had started eight years before.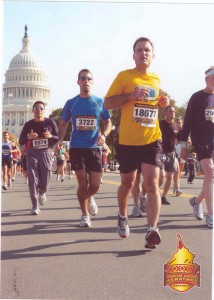 Most of us strive to be the best in our chosen fields because it fills us with a sense of pride.  What makes Mike, Bill, and the IFAST team stand out is that they want to be the best in their field because doing so will bring greater success to their clients.  I walk into IFAST with a sense of confidence from knowing that everything I'm doing is specific to my personal goals.
And as much as those personal goals are important to me, I know me meeting those goals is much more important to Mike, Bill, and the staff.  From the minute corrections in form – making sure you're nailing the exercises – to the time they take to explain all the "why's" behind the "what's", they make sure you walk out of the gym not only feeling better, but also feeling more knowledgeable about how your body is supposed to function.
Thinking back to my pre-IFAST days – it amazes me how little I knew, and how that lack of knowledge pushed me down paths full of dead ends.
But put aside their extensive knowledge… put aside their remarkable ability to intrinsically motivate their clients… put aside their eye for the slightest of details — the best thing about Mike, Bill and the IFAST team?  Their typical response to stories such as these would be to talk about the successes being solely a result of their clients' efforts.
Don't believe them.
They're life-changing difference-makers, and I have – finally… finally – my marathon finisher's medal to prove it.
———————————————
I get chills just reading that, but it definitely re-affirms why I do what I do for a living.
All the best
Mike
P.S. – If you're a trainer/coach and looking to take your skills to the next level, you'll want to pre-register for my Bulletproof Knees and Back seminar DVD's, which will go on sale next Tuesday.
I guarantee it will improve the results you get with your clients and athletes!
(Lead Photo Courtesy of Martineric)