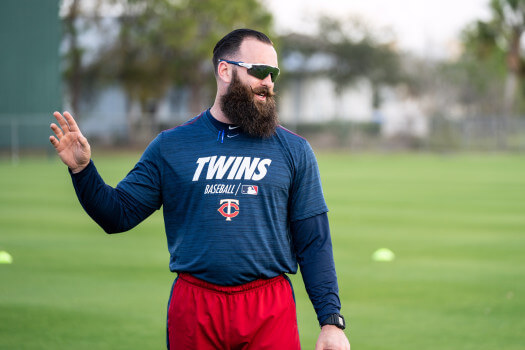 Since he was a kid, Ian Kadish has always been drawn to the world of sports and the weight room.
Throughout his childhood, Ian participated in a wide variety of sports – everything from football, baseball, and soccer – and even basketball. So it's no surprise that his passion for sports and performance eventually led him to play professional baseball and, later, to becoming a strength and conditioning coach.
After graduating from Marshall University, Ian played four seasons of professional baseball, three of which he played for the Toronto Blue Jays. Today, Ian serves as the Strength and Conditioning Director for the Minnesota Twins organization.
And when he's not busy working with professional baseball athletes, Ian can be found relaxing with his wife, Emily, and their two children.
In today's episode, Ian and I talk about the baseball off-season that jump-started his coaching career. We discuss the life-changing moment when he decided he no longer wanted to play professional baseball and how getting accepted to be an intern for the Ohio State Football Strength and Conditioning program changed his career trajectory.
Ian also explains why it's important for coaches and trainers to focus on finding physical solutions to problems instead of seeking mechanical 'fixes' and shares what it's like to be a coach for a professional baseball team while traveling and raising a family.
"As coaches, we just need to do a better job of looking at physical limitations and their movement assessment before we just start implementing these mechanical changes." – Ian Kadish
This week on the Physical Preparation Podcast:
Here's a brief overview of what we covered on this week's episode:
Why Ian decided to pivot his career from playing professional baseball to becoming a sports and conditioning coach.
Ian's "Big Rocks" for training and developing professional baseball players.
The importance of movement capacity and why it's critical for professional baseball players.
How your work capacity and foundational strength impact an athlete's on-field performance and ability to recover.
What work capacity means for professional athletes.
Finding physical vs mechanical solutions for each athlete's unique problem.
Ian's primary role as a strength and physical preparation coach.
The similarities and differences between his role in minor league coaching versus major league coaching.
Ian's perspective on arm care for professional baseball players and how it fits into his coaching program.
Pitch Delivery: The three key areas Ian focuses on to improve arm care and athletic performance.
The systems and processes Ian is currently working on and how they've helped him become a better coach.
Resources Mentioned:
Connect with Ian:
Subscribe, Rate & Share!
Thanks for tuning into this week's episode of The Physical Preparation Podcast – your one-stop-shop for fitness trainers, coaches, and athletes.
If you enjoyed this episode, be sure to subscribe on iTunes, Stitcher, and SoundCloud and leave your honest review. Connect with us on Facebook, Twitter, and Instagram or visit our website.
And don't forget to share your favorite episodes with your friends on social media. Thank you!
Get 3 days of my best coaching materials — for free.
3 DAY COACH'S CAMP:
Write better programs
Learn how to motivate clients outside the gym
My most popular resets for instantly improving movement quality