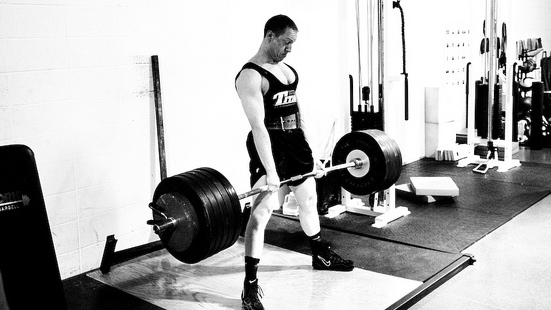 As many of you know, I'm in the final stages of prepping for my first powerlifting competition in 6 years.
Needless to say, I've got this unique blend of emotions going on – excitement, anxiety, and of course a bit of nervousness.
In all honesty, I have no clue what to expect – I'm considerably lighter than when I last competed, and getting back in the gear has been a bit of a challenge as well.
And that leads me to the point of this discussion.
A few weeks back, I uploaded a video of my deadlift the first time in my suit. It wasn't really meant to be made public – I just wanted it up on YouTube so I could link to it in my training log.
Well, needless to say, the Internet experts were out in full force and commenting on the lift.
"Bro – why isn't your neck neutral?"
"Why isn't your lower back in a better position?"
So I'm going to use this piece as a teaching tool – we're going to discuss powerlifting gear a bit, my thoughts on training heavy, and a bunch of other fun stuff.
Here we go!
What is powerlifting gear and what does it do?
Back in the day, people would tell you that powerlifting gear was there for protection – to help make you more stable and protect your joints from injury.
But let's be honest – powerlifting gear, today, is meant to help you move more weight.
Period.
In the case of a deadlift suit, there's two primary areas of tension:
The hips/thighs, and
The straps/torso.
In my experience, a deadlift suit should be relatively tight in the hips/thighs so it gives you some "pop" out of the bottom. But, it shouldn't be TOO tight through the straps, as this has a tendency to unnecessarily cave/pull you forward, into a poor starting position.
As you can see in the below video, that's exactly what happens – my straps are too tight (I didn't have the suit up high enough on my thighs), so it was pulling/caving me forward.
Furthermore, we have to remember that a change at one level of the spine will affect ALL levels of the spine. So that rounding through my upper back will naturally force me into more extension through the cervical spine.
So you can see from the above video, this is NOT a pretty deadlift – I'm the first to admit that and there's definitely a bit of trial and error when it comes to training in powerlifting gear.
If you'd like a bit of comparison, here's how some of my raw training looked a few weeks before.
Still not perfect, but then again, it never is. That's why we're always working to improve and refine our technique!
But there's a bigger issue here, at least as I see it.
Some people honestly have no clue what it's like to train HEAVY.
Keep in mind, "heavy" is a relative term – I can't and won't put standards on anyone. What I'm talking about is working at a percentage of your 1-RM that would be heavy for you.
We can talk about neutral spine, neutral neck, forcing the knees out, etc. And maybe when we lift at 50, 60, 70, hell even 80 or 90%, it can look exactly like we want it to.
But you know what?
When you're working up to or near your max, shit happens.
Your technique isn't always perfect.
Even though you're trying hardest to maintain discipline and get your body into those "ideal" positions, it doesn't always happen.
And that's why I had to chuckle a bit when I saw some of these comments coming in – anyone who has ever pushed their limits knows that when the weight gets heavy, all bets are off.
Back in the day, I had the pleasure of training with Matt Wenning. Matt is a world record holder in the squat, and possibly one of the strongest and most determined individuals I've ever met.
Here's a quote from Matt that I think reflects the point of this article beautifully:
"You have to go up to a point where you break form to make form better… if you don't see what's wrong how can you fix it?" – Matt Wenning
Charlie Weingroff says much the same thing. I'm paraphrasing here, but you do everything in your power in the gym to make your athletes strong and resilient, but when it comes to game day, you simply let them go out and do their thing, hoping that the training has paid off.
Now go out and lift something heavy today!
Stay strong
MR