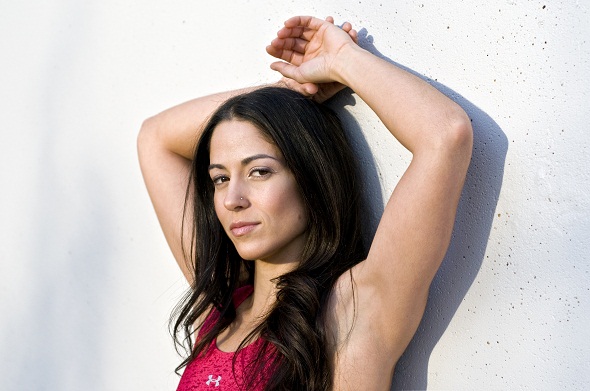 This week's interview features Neghar Fonooni, another member of Girls Gone Strong and kettlebell aficionado extraordinaire. Enjoy!
Neghar, thanks a ton for taking the time to chat with us today. Could you start by simply telling my readers a little bit about yourself?
NF: I'm honored for the interview, Mike!
I grew up in Los Angeles, and currently live in Baltimore. One might wonder how something so awful could happen! I joined the Air Force after 9/11, which eventually brought me here to the East Coast.
I've been a civilian for 6 years and I am a currently a strength and conditioning specialist at a private facility in the Baltimore area called Optimum Performance Training Institute.
I plan to move back home to Southern California next year, starting a new chapter in my life that I am really excited about.
But that's just my day job! I'm also a single mom to the most amazing little 6-year-old boy, and a full-time college student pursuing a journalism degree.
When I'm not coaching clients, child-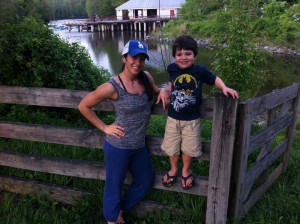 rearing or studying, I'm blogging for my site, Eat, Lift & Be Happy, which is basically the merging of my two foremost passions: fitness and writing, or writing for other sites, such as The Personal Trainer Development Center.
What else? I speak Arabic and Farsi and I love bacon, red wine and dark chocolate :-).
Mmmmmm, bacon 🙂
What originally prompted you to get into the strength and conditioning/personal training field?
NF: I've been an athlete my entire life, playing competitive softball and just generally getting dirty on a regular basis, but I had a lot of body image issues growing up.
I started working out in the weight room at the YMCA in high school, not to get better at my sport, but to hopefully feel less awkward in a bikini. All of my girlfriends were skinny, and I was the thick one who couldn't borrow anyone's clothes.
After graduating high school, I took a job in the front office at the YMCA and soon realized I had a passion for the weight room. I started working as a personal trainer, and soon after I took a job at a Bally's as a trainer/training manager. After 9/11, I joined the Air Force and spent the next 4 years of my life serving my country
In 2006, I had my little boy and decided, as a now civilian, with a baby at home, that I wanted to work part-time as a trainer because it was what I loved and was passionate about. I was carrying a lot of baby weight and not a lot of knowledge when I took a job at a local gym.
I met a very talented and brilliant trainer who mentored me and taught me about S&C in more depth than I knew existed. It's pretty wild when you realize how much you don't know about something. I dedicated the next few years to my education, reading everything I could get my hands on and attending seminars, workshops and certifications. I experimented on myself all the time, built up a solid business and here I am!
I think a part of me always wanted to help people. I wanted to be a positive part of people's lives who were trying to better themselves through movement, and I am honored to say that I get to do that every single day. I wonder if I had never gotten into S&C if I would have realized my true passion and ever found such profound purpose.
That is amazing Neghar! And I think a lot of people reading this can relate.
Where are you currently working, and whom do you work with primarily? (E.g., fat loss, athletes, etc.)
NF: I work at Optimum Performance Training Institute in Columbia, MD owned by Joe Sansalone. Joe and I have worked together for years now, and OPTI is an amazing, state-of-the-art facility with a strong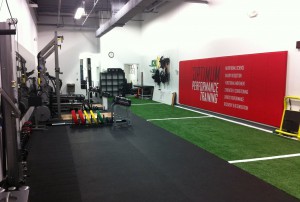 culture.
I work with every type of client you could possibly imagine (fat loss, rehab, general fitness, athletes, etc.) but we have two main programs at OPTI: youth athletes and adult group performance training.
Joe works with all of the youth athletes and I head up the adult group fitness program, although we do work as a team and each contribute to both programs. This has given me a really well-rounded training background because I've done everything from help rehab ACLs, to teach sprint mechanics to kids, to help a stay-at-home mom transform her body. It's incredibly rewarding and always changing.
In addition to my work with clients at the gym, I do a lot of online training and nutrition counseling. This is especially fun because I get to reach people all over the world!
Neghar, you're obviously well known for your kettlebell training. What originally drew you to training with kettlebells?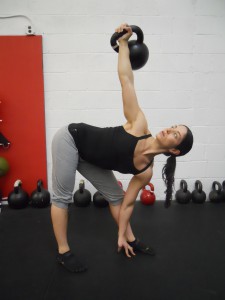 NF: I've been following Gray Cook's work for years. When he aligned with the RKC, I took his advice and looked deeper into "this kettlebell thing."
Honestly, it was a natural progression toward kettlebells for someone who had been training compound movements consistently and effectively. It made my lifts stronger, and taught me a lot about connecting and communicating with my body.
On top of that, I have made some amazing friends through the RKC community, which in and of itself is worth the journey.
I did the RKC level 1 in 2009, RKC level II in 2010 and the CKFMS in 2011. This year I have the honor of assisting at the first RKC ever in Virginia, so I am looking forward to learning some new things and solidifying some old ones!
As a general rule, what are some of the biggest mistakes you see newbies making when it comes to training with kettlebells?
NF: Without a doubt, the biggest mistake is not hiring a QUALIFIED coach to teach you the basics. I see so much horrendous kettlebell training, and not just from gym-goers – from trainers as well. It's painful to watch.
It's not about the kettlebell; it's about movement, and movement quality and foundation are paramount.
I'm actually working on a piece right now for The Personal Trainer Development Center about top 10 trainer kettlebell mistakes, so you can look forward to that being published soon!
I can't wait to read that!
Along those same lines, I saw you're training for the Iron Maiden challenge. What is that exactly, and how is your training going?
NF: The Iron Maiden Challenge is 3 lifts with a 24kg Kettlebell:
a strict overhead press,
a dead hang overhand grip (thumbless) pull-up, and
a full pistol (1 leg) squat.
The rules are pretty strict as well.
This is a challenge specifically for RKC women, and the men's equivalent, the "Beast Challenge," is the same 3 lifts with a 48kg Kettlebell.
Only 4 women have ever officially completed the challenge, two of whom are my good friends and amazing ladies. Some women may be able to easily do 1 or 2 of the lifts, but mastering all 3 is a true challenge.
I've been training for it for some time now, having mastered the pistol pretty much immediately and the press last year.
The pull-up is a different animal altogether! I've been working consistently on the pull-up for the past few months, with a very sharp focus, meaning I basically do pull-ups ALL THE TIME!
I've gotten over the bar a few times with a 24kg around my waist and I am confident that I will be able to own it soon. I plan to attempt the challenge at the Vienna, VA RKC on 18 May and haven't competed in anything for a long time so it's both exciting and nerve-wracking.
You, along with a bunch of other ladies just started a group called "Girls Gone Strong." What's that all about? Crazy chicks lifting heavy stuff?
And aren't you afraid of getting big and bulky? 😉
NF: You know what's funny, is that big and bulky was never something that occurred to me! I do have bigger lats and delts now, which certainly makes fitting into jackets and blazers a challenge. Sometimes I feel like "fat guy in a little coat" but I love my muscles :-).
Girls Gone Strong is a group of 7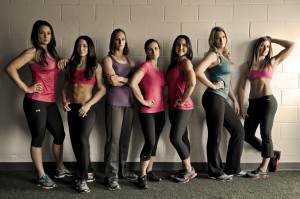 passionate women who have formed a sisterhood of strength. We started GGS on a mission to change the way the world views women in the weight room, but it has evolved into something so much more profound to a level greater than we ever imagined.
Are we crazy chicks lifting heavy stuff? Of course! But GGS is so much more than that.
We are hoping to lead the female strength revolution, showing women everywhere that they can be strong and feminine at any age with any body type. We aim to inspire strength of body, mind and character.
I know that since I began lifting seriously, my sense of self and my confidence levels have increased exponentially. I live to share that feeling with others in the hopes that they may achieve it as well.
Where do you see GGS going over the next couple of years? It seems like you've amassed a serious following, but I'd love to hear where you ladies are going with it.
NF: I don't think any of us were prepared for the magnitude of our following! We're actually overwhelmed with inquiries and proposals at the moment. We are currently working on our website, and just launched our awesome GGS gear so you can rep your girl strength with pride!
We do have some informational products on the horizon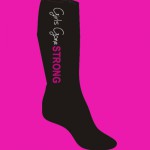 and are gathering for our second annual meeting of the minds in September to discuss future appearances and speaking engagements.
We're so blessed to be in a position to inspire and educate. Specifically, we really want to reach out to younger girls and help inspire them to find their intrinsic strength through movement.
All 7 of us are available individually to represent GGS at speaking engagements and workshops including gyms, schools, studios-just about anywhere! If you want to book any of us, I suggest contacting us individually or at [email protected].
Let's finish off with something fun – tell us something fun or unique about yourself or your training.
NF: I am a heck of a lot goofier than people in the Internet community are aware of! I snort when I laugh, and say "that's what she said" a million times a day.
But probably the goofiest thing I do is my silly dances. My kid and I will go crazy during our living room dance parties, and I have a pretty big arsenal of wild dance moves. My favorite is the "greasy robot" in which I move like a robot but super fast and wiggly. I really should patent that one.
Neghar, thanks a ton for coming on here today. Where can my readers find out more about you and Girls Gone Strong?
NF: Thanks, Mike!
You can visit my website  or my Facebook page. I love hearing from readers and the easiest way to get in touch with me is through email: [email protected]. You can contact me there with online training inquiries as well.
The Girls Gone Strong website is still in the works, so for the time being you can check out our Facebook page for a constant flow of inspiration, information and interaction!