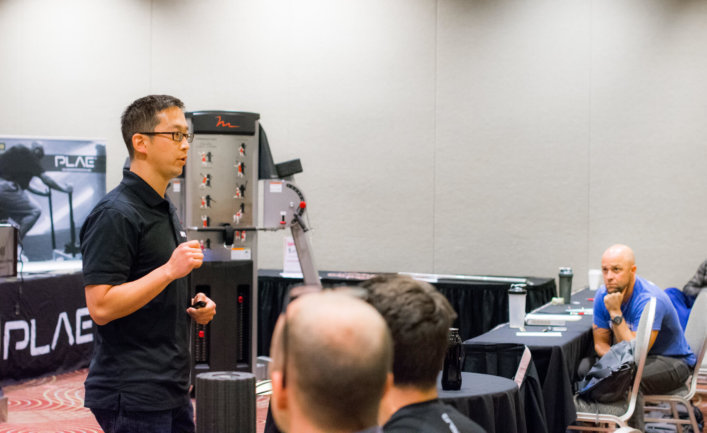 Jae Chung worked as a coach at IFAST for seven years, coaching mostly general-population and fat loss clients. Before working at IFAST, Jae taught martial arts (primarily T'ai Chi Ch'uan), taught English in the Peace Corps, tutored writing to undergraduates and graduate students at Indiana University, and also taught violin lessons.
Jae is currently enjoying a temporary retirement as a stay-at-home dad to two children under the age of 3.
In this show, Jae and I talk about a ton of stuff, starting with how his most elite athletic skill growing up was typing fast, what he means when he says you can't bat 1.000, his thoughts on effective vs. ineffective cues, and why a pivotal moment in his life was when he stopped worrying about looking smart, and instead focused on becoming smarter.
The audio is a bit shaky for the first 2-3 minutes, but after that, you're in for some real coaching gold.
Show Outline
Here's a brief overview of what we covered in this week's show:
Show Intro:

Labor Day Weekend Recap
Complete Coach Launch

Deep Thought/Motivational Message:
Interview with Jae Chung:

How Jae stumbled into a career in physical preparation.
His wide ranging career path that ultimately led him to IFAST.
What it means to "flirt" with your clients (and why YOU should be doing it).
Jae's thoughts on building relationships and rapport with your clients and athletes.
How to interact with and communicate with "tough" clients.
What makes an effective – or ineffective – cue?
Jae's favorite cues, and what makes them so darn effective!
How a guy that was once described as a "cold son of a bitch" because a warm and caring coach that virtually every client loved and adored?
The BIG Question.
Our always popular lightning round where we discuss moving to a new city, what it's like raising 2 kiddos under the age of 3, a few resources he'd recommend to become a better coach, and what's next for Jae Chung.
Related Links
Do You Want to Become a Complete Coach?
It seems like every day I talk to a young trainer or coach who is frustrated.
Frustrated with the results they're getting.
Frustrated because they don't have trusted resources to learn from.
And maybe they're frustrated because they simply don't have enough clients, and wonder how long they'll be able to stay in the industry.
So if this sounds anything like you, I've got something that I know will help!
My Complete Coach Certification was created for trainers and coaches just like you – who are serious about the results they get, and know that becoming a better coach can directly translate to a bigger bottom line.
This certification is going to take the last 20 years of my life's work and put it all into one massive course. In it you'll learn:
How to use the R7 system to create seamless, integrated and efficient programs for clients and athletes of all shapes and sizes,
How to create the culture, environment and relationships with everyone you train so you can get the absolute best results, and
The exact progressions, regressions and coaching cues I use in the gym – from squatting and deadlifting to pressing and pulling and everything in between.
Of course there's a ton more that I cover, but that should give you a pretty good idea of what the certification is all about!
The Public Launch will open TOMORROW, and after that, you won't be able to get in again until March of 2020.
So if you're interested, please head over to CompleteCoachCertification.com first thing tomorrow to get start with the certification. Thank you!
Sharing is Caring!
If you took something away from this show, please take 30 seconds out of your day to share via email, social or whatever means work best for you.
Thanks so much for your support!
Get 3 days of my best coaching materials — for free.
3 DAY COACH'S CAMP:
Write better programs
Learn how to motivate clients outside the gym
My most popular resets for instantly improving movement quality