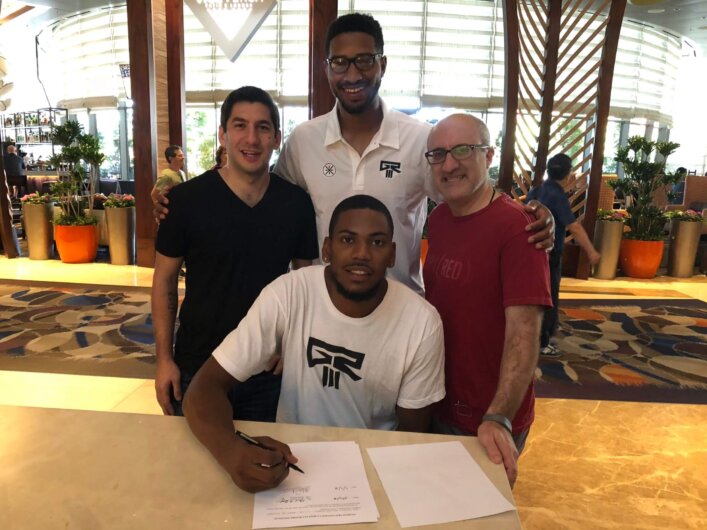 Becoming NBA agents wasn't part of Jelani Floyd and Dan Poneman's plan…like many people, they wanted to play for the NBA as kids.
While Dan was in high school a website in high school where he ranked top basketball players in the state. He later found his niche in athletics not as a player, but as a writer. From a writer, he became a scout and—15 years later—an agent.
Jelani, an Arthur Ashe National Sports Scholar, played professional basketball in Europe after becoming a stand-out student-athlete for Brown University and UC Davis.
He always wanted to become an attorney and later earned his Juris Doctor degree at Illinois Tech's Chicago-Kent College of Law. While studying to become an attorney, Jelani cultivated his relationships in basketball and reconnected with Dan.
They later became co-founders of Beyond Athlete Management, a full-service sports agency. Dedicated to ensuring the success of their clients at the highest level, Beyond Athlete Management seeks to diverge from the archaic practices of the athlete management industry and raise the standard of sports representation.
Jelani and Dan join me today to discuss the life of an NBA agent and what it takes to become one.
They share how they became interested in athletics, and their journey to starting Beyond Athlete Management.
They reveal the necessary steps to become a licensed NBA agent, and the business tasks involved in running an athlete management firm.
And they also describe their process for recruiting athletes into their firm, and highlight why being an NBA agent is more than just being a business advisor for athletes.
Being an agent—especially for young athletes—is not just being a business advisor; you're also a life advisor. – Dan Poneman
This week on the Physical Preparation Podcast:
Dan and Jelani's backstory and what led them to the world of athlete management
How Dan and Jelani decided to become NBA agents
How to be a licensed or certified NBA agent
Why networking and cultivating relationships in the athlete management industry is more important than getting a certification
What makes the Beyond Athlete Management recruitment process stand out from other sports agencies
Why being an agent for young athletes involves more than just being a career advisor
What a typical workday looks like for an NBA agent
The different back-end tasks related to working as an NBA agent
Dan and Jelani's favorite time of the year as NBA agents
The parallels between working as a coach and an NBA agent
Leading by example and how they educate young athletes on fiscal responsibility
What the NIL is and what the system can do for college athletes
Connect with Beyond Athlete Management:
Connect with Jelani:
Connect with Dan:
Stop the Frustration! Get the Complete Coach Certification
Are you a young fitness trainer or coach?
Are you frustrated by the results you're getting or the lack of resources available to learn the skills you need to be successful?
Are you struggling to get enough clients or wondering how long you'll be able to follow your passion for helping others?
It's time to stop the frustration and stop worrying. It's time to get certified!
If you're serious about improving your results, serious about becoming a better coach, and serious about increasing your bottom line, then you need the Complete Coach Certification.
In this massive course, you'll learn:
How to use the R7 system to create seamless, integrated and efficient programs for clients and athletes of all shapes and sizes
How to create the culture, environment and relationships with everyone you train so you can get the absolute best results
The exact progressions, regressions, and coaching cues I use in the gym – from squatting and deadlifting to pressing and pulling and everything in between
The assessment process I use to determine the best exercises for a client or athlete on Day 1, and how to set them up for maximal success down the line!
This certification is jam-packed with everything I've learned over the last 20 years of my career.
So if you're ready to get serious about the results you're getting for your clients and the impact your programs have on your income, head over to www.completecoachcertification.com to sign up for the Complete Coach Certification course today!
Spots are limited, and the next certification is set to launch in September 2021.
To learn more, please join my FREE Insiders List and stay tuned for our launch details to save $200 when the course opens!
Subscribe, Rate & Share!
Thanks for tuning into this week's episode of The Physical Preparation Podcast with Mike Robertson – your one-stop-shop for fitness trainers, coaches, and athletes.
If you enjoyed this episode, be sure to subscribe on Apple Podcasts, Stitcher, SoundCloud, Spotify, and Google Podcasts and leave your honest review. I'd also love to connect via Facebook, Twitter, and Instagram or visit our website.
And last but not least, please don't forget to share your favorite episodes with your friends on social media. Thank you!
Get 3 days of my best coaching materials — for free.
3 DAY COACH'S CAMP:
Write better programs
Learn how to motivate clients outside the gym
My most popular resets for instantly improving movement quality