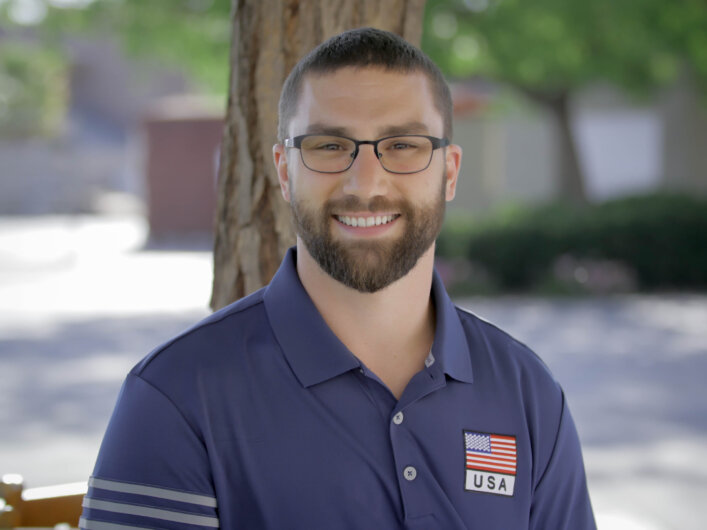 Born and raised in Minnesota, Athletic Performance Coach for Women's Senior National Volleyball team Jimmy Stitz has always known he wanted to become a coach. Growing up with a passion for many sports, Jimmy stumbled into the world of strength and conditioning at an early age.
Realizing his athletic career may not have been strong enough to become a high-level sport coach, Jimmy turned his sights to a different form of coaching – as a strength and conditioning coach and physical preparation specialist.
Although Jimmy has never played a single game of volleyball as a young athlete and had a less-than-basic understanding of the rules of the sport – his drive, perseverance, and passion for athleticism and sports performance eventually led him to begin working with and watching the Head Coach of the Women's National Volleyball team, Karch Kiraly.
When Jimmy isn't spending his time training amazing female volleyball athletes, he can often be found relaxing with his wife in Long Beach, California and preparing to become a first-time dad.
Jimmy joins me today to discuss how sports performance coaches can build a durable, adaptable, and robust volleyball player.
We discuss how he stumbled his way into sports performance and training high-level volleyball athletes and how the volleyball club season differs from other sports club seasons.
We talk about how athlete management and creating athletic programs work for national volleyball athletes and how it differs from sports like soccer or basketball.
We dive into the power-to-weight ratio, and why it's an important quality for competing at the highest level.
And last but not least, Jimmy explains the difference between developing an athlete and managing them and how much time he spends on developing an athlete's physical qualities compared to maintaining them and keeping them healthy.
Trying to get them to change the thought process around 'bigger, faster, stronger' into 'durable, adaptable, robust' is really a BIG switch for a lot of volleyball players. – Jimmy Stitz
This week on the Physical Preparation Podcast:
What led Jimmy to the world of physical preparation and sports performance
The difference between the volleyball club season compared to other sports
Managing and creating programs for volleyball athletes
The physical qualities that volleyball athletes need to be able to compete at the highest level
How Jimmy differentiates developing an athlete compared to managing an athlete
Why Jimmy focuses more on building a durable, adaptable, and robust athlete instead of helping them become bigger, faster, or stronger
Why consistency is the key to becoming a star athlete
Training an aging athlete vs training a young, healthy, and resilient athlete
What a typical day looks like for the athletes Jimmy trains
Advice Jimmy would give to his younger self
Connect with Jimmy:
IFAST University is BACK! Are You In?
Are you ready to take your coaching and training career to the next level?
You need to find great mentors to guide you along your journey – to help you find the blind spots in your own training programs and improve your skills as a coach.
But… mentorship can be expensive, and unfortunately, it's not always feasible for some budgets.
That's why Bill Hartman and I developed IFAST University, an online curriculum and mentorship program designed exclusively for fitness trainers, coaches, and rehab professionals.
We want to help every trainer and coach in the industry improve their training techniques and write better training programs for their clients.
By becoming a member of IFAST University, you'll receive:
Hundreds of hours of members-only exclusive content,
Monthly updates and tips to help you improve your skills and programs,
Group Q&A sessions to answer your specific questions, and
Access to our Facebook group, where you can learn from other dedicated professionals such as yourself
This blend of content and Q&A is specifically designed to help make YOU the best fitness trainer you can be.
To learn more or to join IFAST University now, visit https://ifastuniversity.com/
Subscribe, Rate & Share!
Thanks for tuning into this week's episode of The Physical Preparation Podcast with Mike Robertson – your one-stop-shop for fitness trainers, coaches, and athletes.
If you enjoyed this episode, be sure to subscribe on Apple Podcasts, Stitcher, SoundCloud, Spotify, and Google Podcasts and leave your honest review. I'd also love to connect via Facebook, Twitter, and Instagram or visit our website.
And last but not least, please don't forget to share your favorite episodes with your friends on social media. Thank you!
Get 3 days of my best coaching materials — for free.
3 DAY COACH'S CAMP:
Write better programs
Learn how to motivate clients outside the gym
My most popular resets for instantly improving movement quality