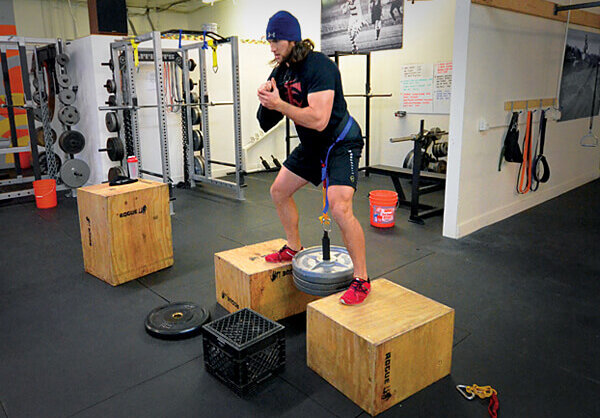 Jonathan Pope is an embodiment of what it means to be resilient.
As a high school athlete, Jon was a six-foot, 150-pound, right-handed baseball pitcher who could throw a ball 90 miles an hour. But he needed to get bigger and throw harder if he wanted to play at the Division I level.
Thinking that the gym would be his key to becoming a more powerful athlete, Jon devoted his efforts to lifting weights.
In his sophomore year, Jon had a serious accident and by the time he started playing in college, he already had one surgery.
He invested his time and resources into his recovery to be the best athlete he could be, but the more motivated he was, and the harder he worked, the worse things became.
Five surgeries later, Jon was convinced that there had to be a better way.
Wanting to figure out how he could fix himself, become the best he could be, and help others do the same, Jon dedicated himself to strength & conditioning, physical therapy, and movement.
Jon continues his mission to this day through his strength & conditioning facility, Ethos Colorado, his coaching work at Precision Nutrition, and his book, Building the Elite, which he co-authored with Craig Weller.
Jon joins me today to share his insights on what makes a person resilient.
He illustrates how perception can impact stress and how stress can affect workout performance.
He highlights the difference between a challenge-based and fear-based response, and reveals how mindfulness and practices of attention can help alleviate stress.
And last but not least he shares the tools and methods coaches can use to help their clients take their performance to the next level and underscores the power of vulnerability.
How you think about things has a massive impact on your stress response and the underlying physiology of what occurs in your body – Jon Pope
This week on the Physical Preparation Podcast:
Jon's background from collegiate athlete to Ethos Colorado owner and author
The importance and meaning of resilience
The physiology of stress and how perception changes a client's workout experience
The differences between a challenge-based and a fear-based stress response
What makes special ops selection programs challenging
Predictability and ambiguity in workouts
Attention, its different types, and its uses in workouts
Tools to help clients focus on their workout
The various domains of attention and how to cultivate them
Using attention and its practices to help manage stress response
The role of beliefs, expectations, and stories in training and performance
Practical mental skills coaches, trainers, and rehab professionals can use to help clients elevate their progress
The power of vulnerability and relationships
Connect with Jon:
IFAST University is BACK! Are You In?
Are you ready to take your coaching and training career to the next level?
You need to find great mentors to guide you along your journey – to help you find the blind spots in your own training programs and improve your skills as a coach.
But… mentorship can be expensive, and unfortunately, it's not always feasible for some budgets.
That's why Bill Hartman and I developed IFAST University, an online curriculum and mentorship program designed exclusively for fitness trainers, coaches, and rehab professionals.
We want to help every trainer and coach in the industry improve their training techniques and write better training programs for their clients.
By becoming a member of IFAST University, you'll receive:
Hundreds of hours of members-only exclusive content,
Monthly updates and tips to help you improve your skills and programs,
Group Q&A sessions to answer your specific questions, and
Access to our Facebook group, where you can learn from other dedicated professionals such as yourself
This blend of content and Q&A is specifically designed to help make YOU the best fitness trainer you can be.
To learn more or to join IFAST University now, visit https://ifastuniversity.com/
Subscribe, Rate & Share!
Thanks for tuning into this week's episode of The Physical Preparation Podcast with Mike Robertson – your one-stop-shop for fitness trainers, coaches, and athletes.
If you enjoyed this episode, be sure to subscribe on Apple Podcasts, Stitcher, SoundCloud, Spotify, and Google Podcasts and leave your honest review. I'd also love to connect via Facebook, Twitter, and Instagram or visit our website.
And last but not least, please don't forget to share your favorite episodes with your friends on social media. Thank you!
Get 3 days of my best coaching materials — for free.
3 DAY COACH'S CAMP:
Write better programs
Learn how to motivate clients outside the gym
My most popular resets for instantly improving movement quality