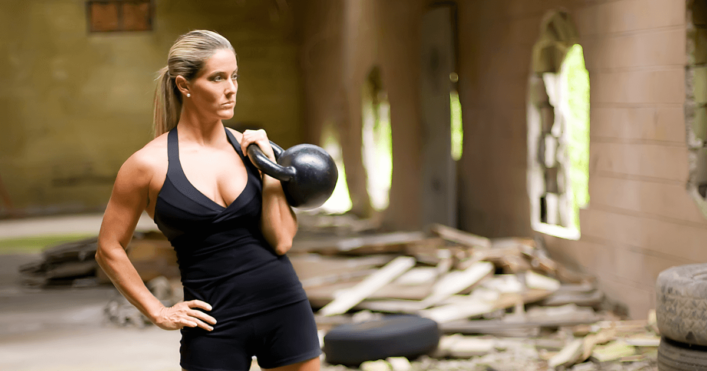 Karen Smith has been a Strength Coach and Personal Trainer for over 20 years. Karen specializes in kettlebell and bodyweight training and is currently a Master Instructor for StrongFirst.
In the two decades of her career as a coach, Karen has trained students of all fitness levels, from beginners to US Special Forces. She has always led an active lifestyle and has been passionate about athleticism even as a child.
Today, Karen is driven by her mission to help people reach their highest strength potential by training smarter, not harder.
Karen joins me today to share her ideas on kettlebell workouts and bodyweight training. She illustrates how to train with kettlebells and describes how to address issues with it.
She underscores the importance of taking kettlebell certifications and dispels some of the biggest myths about kettlebell training.
And she also shares her advice on bodyweight training while in quarantine and how you can increase the intensity of your bodyweight workouts.
You don't have to live in the gym to be as strong and fit as you want to be. – Karen Smith
This week on the Physical Preparation Podcast:
Karen's background and how she started a gym, discovered kettlebells, and became an educator
Karen's mission in life and training philosophy
What the Iron Maiden Challenge is and how to train for it
What Karen's first pull-up taught her about programming
The biggest myths and misconceptions about kettlebell training
The importance of kettlebell certification
Kettlebell mistakes people make and how to correct them
Karen's advice on doing the kettlebell swing
How Karen got into bodyweight training
Bodyweight training tips and the power of progressions
Menopause and how it affects women, their bodies, and their training
Karen's career highlights, plans for continuing education, and advice to her younger self
Connect with Karen:
IFAST University is Coming BACK…Are You In???
Are you ready to take your coaching and training career to the next level?
You need to find great mentors to guide you along your journey – to help you find the blind spots in your own training programs and improve your skills as a coach.
But… mentorship can be expensive, and unfortunately, it's not always feasible for some budgets.
That's why Bill Hartman and I developed IFAST University, an online curriculum and mentorship program designed exclusively for fitness trainers and coaches.
We want to help every trainer and coach in the industry improve their training techniques and write better training programs for their clients.
By becoming a member of IFAST University, you'll receive:
Multiple hours of members-only exclusive content
Monthly updates and tips to help you improve your skills and programs
Group Q&A sessions to answer your specific questions
Access to our private Facebook page
This blend of content and Q&A is specifically designed to help make YOU the best fitness trainer you can be.
To learn more or to join IFAST University now, visit https://ifastuniversity.com/
Subscribe, Rate & Share!
Thanks for tuning into this week's episode of The Physical Preparation Podcast – your one-stop-shop for fitness trainers, coaches, and athletes.
If you enjoyed this episode, be sure to subscribe on iTunes, Stitcher, and SoundCloud and leave your honest review.
Connect with us on Facebook, Twitter, and Instagram.
And don't forget to share your favorite episodes with your friends on social media. Love and appreciate you – thanks so much
Get 3 days of my best coaching materials — for free.
3 DAY COACH'S CAMP:
Write better programs
Learn how to motivate clients outside the gym
My most popular resets for instantly improving movement quality