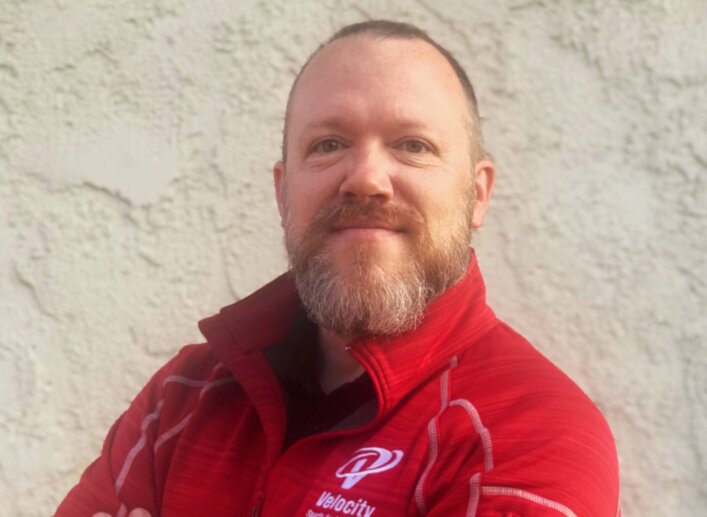 Although Ken Vick – President and High-Performance Director at Velocity Sports Performance – loved sports in high school, he didn't begin his career in coaching right away. Ken completed his undergraduate studies at Columbia College Chicago with a degree in Sound Engineering & Acoustic Design.
It wasn't until later, when his wife worked in the fitness industry, that Ken fell in love with coaching. He soon started his career in the world of physical preparation as a weightlifting coach and progressed from there.
Inspired to further his knowledge of athleticism, Ken eventually completed his graduate degree in Biomechanics at California State University, Long Beach.
Through his work, Ken endeavors to make the world a better place by helping one athlete, coach, and business at a time.
Ken joins me today to share his training philosophy and big rocks when it comes to developing speed.
He reveals the biggest failings of the sports & fitness industry and highlights the need for training pure speed and incorporating game-like activities into practice to maximize speed development.
He describes the role of the weight room in developing speed among athletes.
And he also highlights what it means to be a "radical centrist" and underscores the importance of language and communication in the world of physical preparation.
When working with athletes building speed, we need to bridge the gap between pure capability and perception."- Ken Vick
This week on the Physical Preparation Podcast:
What led Ken to the world of physical preparation
His career path and how he pivoted from sound engineering & acoustic design to Olympic coaching
Ken's coaching and training philosophy on speed development
The ITSS principle in coaching and training and Ken's thoughts on motor control
The importance of language, communication, and teamwork in the world of sports
Acceleration at top-end speed and how to develop it with athletes who struggle with it
The number one thing parents are most concerned about when it comes to their young athletes' development
Top-end speed and why it's controversial among coaches and athletes
Developing max speed or velocity with athletes
Why younger players need to emphasize developing speed and stamina
The evolution of sports technology and its abuse
Bridging the gap between pure capability and perception
Playing duck, duck, goose with athletes and the importance of incorporating game-like activities in a well-rounded program
The role of strength training in speed development
The value of building a broad foundation of different strength types
Connect with Ken:
Momentous – The Cleanest Recovery Products in the World
Momentous is a world-renowned sports performance and recovery supplement. Preferred by top-level athletes in the NFL, NBA, NHL, and NCAA, Momentous is NSF and Informed Sports Certified.
Experience the best-tasting, cleanest recovery products in the world and take your performance to the next level. Choose Momentous.
For more information on Momentous or to place your first order, visit www.livemomentous.com/robertson – use the coupon code: Robertson20 at checkout to receive 20% off your first order or receive a free 3-pack sample.
Subscribe, Rate & Share!
Thanks for tuning into this week's episode of The Physical Preparation Podcast with Mike Robertson – your one-stop-shop for fitness trainers, coaches, and athletes.
If you enjoyed this episode, be sure to subscribe on Apple Podcasts, Stitcher, SoundCloud, Spotify, and Google Podcasts and leave your honest review. I'd also love to connect via Facebook, Twitter, and Instagram or visit our website.
And last but not least, please don't forget to share your favorite episodes with your friends on social media. Thank you!
Get 3 days of my best coaching materials — for free.
3 DAY COACH'S CAMP:
Write better programs
Learn how to motivate clients outside the gym
My most popular resets for instantly improving movement quality