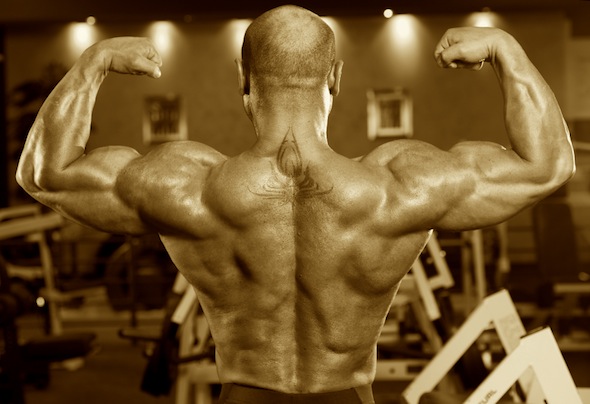 The lats are an often revered muscle group.
Most guys are all about getting that "V-taper" and looking jacked.
For women, there's something incredibly empowering about being about to move their own bodyweight. As such, we have tons of women coming into IFAST who have a goal to do a chin-up.
But are the lats all they're cracked up to be?
And what happens if you don't balance and surround those lats with other muscles on the front and back?
Let's take a little journey down lat row and see what we can learn!
Lat Anatomy and Function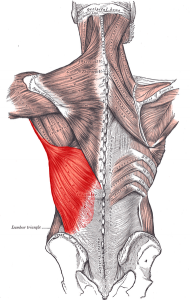 The lats are one of the largest muscle groups in your body. One attachment point is on the front of your humerus (or upper arm bone), with the other attachment point intersecting with your thoracolumbar fascia and connecting to your lower back, upper pelvis and sacrum.
If you're just bouncing around the Interwebz looking for information on what the lats do, you'll probably see something along these lines:
Shoulder Internal Rotation – Turning the arm/hand inward.
Shoulder Extension – Bringing the arm down/back from an overhead position.
Shoulder Adduction – Bringing the arm down towards the midline of the body.
But this is incredibly limited thinking. Too often we're focused solely on what a muscle does concentrically (i.e., when it's shortening), versus what it does eccentrically (i.e. when it's lengthening).
So while all of the above is true, we could also say the lats:
Resist or control shoulder external rotation,
Resist or control shoulder flexion, and
Resist or control shoulder abduction.
But even this viewpoint doesn't do the lats justice. Instead of simply looking at their action on the arm, why not look at what happens when the lats act on the pelvis and lumbar spine?
Via their connection to the lower back and pelvis, any time you reach your arms overhead (as you would in a chin-up or overhead press), you are putting the lats on stretch, or lengthening them.
So what happens if you don't have adequate control of your lower back and pelvis?
Or if your lats are too stiff?
It's simple: You'll fall into an anterior pelvic tilt and increased lumbar lordosis.
Sound like any of you reading this? I thought so!
Are You Dysfunctional?
Clients and athletes who present with an anterior pelvic tilt also typically have stiff lats. But how do you know for sure?
Here's a short video I shot for PT on the Net which describes how you can determine lat length:
Client Assessment: The Overhead Press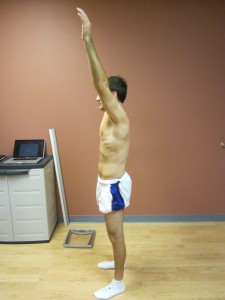 If you want a quick and dirty assessment you can use on yourself, try this. Stand at a 90-degree angle to a mirror, and lift your arms as high as they can go.
You should be able to reach your arms fully overhead (~180 degrees), without sacrificing your core and lumbar spine position.
If you can get overhead but you have to arch your lower back or flare your lower ribs to get there, sorry bucko, but you've got some work to do.
The next question inevitably becomes, "how did I get here?" or "What did I do to deserve this?"
An obvious first choice is your programming. Most of you whom have spent a dedicated amount of time working on your upper back and lats will be stiff. That should be pretty obvious.
However, sometimes the lats are stiff because they've come along for the ride.
If you're doing a ton of lifts that emphasize extension through the lumbar spine (deadlifts, good mornings, RDL's, back squats, etc.), then your lats can get stiff as a by-product of all this.
Think about it like this: If you're always in an anterior pelvic tilt and increased lumbar lordosis, at some point in time your body considers this normal. So just like your spinal erectors can get stiff and short, so too can your lats.
Last but not least, if you breathe poorly (using a hip flexor/paraspinal dominant strategy), again, the lats get locked into this short position almost as a by-product of being in a bad position all the time.
And that's 20,000 reps of breathing per day. Obviously if you have breathing issues, this is something you'll need to address as well.
Now that we've got a better idea of if you're dysfunctional or not, let's talk a little bit about why structural balance is important.
When Good Lats Go Bad
I've had a handful of clients come in my gym lately that would appear to have horrible shoulder mobility.
The most obvious example is a former IFAST intern Patrick Castileja also known as "Pat the Lat." On any given day Latrick* could do somewhere between 15 and 20 chins. Furthermore, he finished up his internship with a 500-pound raw (no belt) deadlift.
(*See what I did there? LATrick?)
So the guy is obviously strong, but his movement quality left something to be desired.
Towards the end of this internship we spent an entire morning working to get his shoulder mobility back. Bill Hartman, Eric Oetter and myself locked ourselves in the assessment room and did everything we could to re-develop his shoulder mobility.
And on the table, we got all of his mobility back. We could take him through all the various shoulder ranges of motion and he was fine.
But as soon as he stood back up and had to use his core/trunk to actively stabilize himself, he would "lose" it.
The moral of the story is this:
A big, stiff set of lats without a strong and stable pair of abdominals to offset them can get you into trouble.
One of my favorite exercises to train shoulder motion with core/trunk stability  is the old-school dumbbell pullover.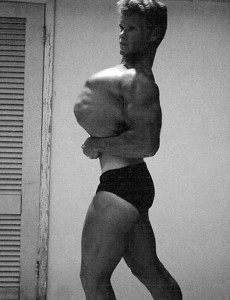 The goal here IS NOT to expand your ribcage, or to arch your spine like there's no tomorrow. We're not talking about 1960's bodybuilding here (even though those guys had some of the greatest physiques of all time!)
Instead, the two variations described below not only work on inhibiting and/or lengthening the lats, but doing so while maintaining stability throughout the core and lumbar spine.
Lie on your back with a dumbbell or kettlebell in hand. If you're doing the 3-months position, flex the hips and knees to relax the lower back. If you're doing the supported version, place your feet up on an Airex pad, or at the very least tuck them in as close as possible to your buttocks.
From the starting position, exhale hard to find your abs. Another cue is to lengthen the back side of your neck. Slowly lower the kettlebell/dumbbell overhead, making sure to keep the back flat and the abs engaged.
If at any point in the movement you feel as though you're going to arch or extend your back, stop and return to the starting position.
I'll often perform these either for reps, or for more deliberate reps with a 3-5 second pause at the stretched/midpoint position (as shown in the video). Bang out a good breath or two, and then return to the starting position.
Not only do these exercises crush your abdominals, but it works to improve true overhead mobility as well.
Training the Lats
Once you've mastered the above exercises, it's time to get back into chinning.
We all know that if you want a jacked pair of lats, you have to chin. This much should be self-explanatory.
But this isn't the way I typically start clients off.
First and foremost, when teaching someone to chin I'm not so worried about their lat development as I am on their lower trapezius strength and development.
Quite simply, I don't just want you to get your chin over the bar – I want your chest to touch the bar!
The goal isn't just to develop the lats. I also want to develop the lower trapezius muscles, and teach them how to actively depress their scapulae.
If this sounds complicated, it's really not. Here's how I coach the chin-up, along with a progression to get you from A-to-B.
http://youtu.be/Qq9e2CG9HlI&w=590
Unfortunately, many clients aren't even ready for band-assisted chinning variations due to poor lower trap strength, so I'll regress them even further. Half-kneeling and tall-kneeling variations are fantastic options in this case.
In the case of the single-arm, half-kneeling lat pulldown, there are a few benefits to starting with this progression:
The angle of pull is more shoulder friendly. If I can keep someone at a 45-degree angle versus true overhead motion, mobility will be less of an issue.
I can start to infuse the "ribs down" cue. When someone goes overhead, do you have a mobility problem at the shoulder, or a stability problem at the low back/pelvis? The bottom line is you have both – so fix both. This cue will help.
I can teach appropriate scapular motion. True scapular depression is a foreign concept to most clients, so I can bridge the gap by starting with a 45-degree angle. This is more of a "back and down" motion.
Last but not least, they have more stability. Tall-kneeling is what I often refer to as "core island," so giving them a bit more external stability (via half-kneeling) early-on isn't a bad thing.
Once they've mastered the half-kneeling variation, it's time to move to tall-kneeling. While some may not like this progression, I think it's a solid exercise – assuming they are being coached and cued correctly.
Big things to focus on here include:
Exhaling hard to make sure they are in lumbar/pelvic neutral,
Keeping the ribs down throughout the exercise (especially when returning to the top position), and
Squeezing the scapulae down at the midpoint.
Here's how the entire progression might look:
Single-arm, half-kneeling lat pulldown.
Tall kneeling lat pulldown.
Band-assisted chin-ups.
Chin-up negatives.
Chin-ups.
Following this progression will not only ensure that you develop the lats, but more importantly, the lower trapezius as well.
Summary
The lats are an awesome muscle group, whether your goal is to be a beast on the athletic field, have a jaw-dropping physique, or crank out chin-ups like it's your job.
However, building an awesome set of lats without simultaneously building the abdominals and lower trapezius necessary to check them can get you into trouble.
By all means get as strong and jacked as possible, but make sure you're doing the little things along the way to keep you healthy to boot. Your body will thank you!
Stay strong
MR