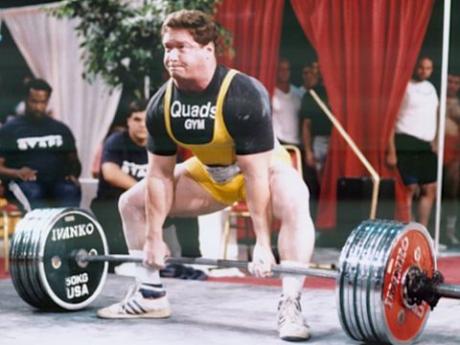 (The following is the result of another discussion Jason Ferrugia and I had at last week's IYCA Summit).
Ed Coan is a pretty smart guy.
And in case you missed it, he's pretty strong as well.
Any guy that has squatted over at grand at 242, benched close to 600, and deadlifted 900 pounds in the 220 pound weight class must know a thing or two about strength training.
I'm a huge fan of Ed Coan, even though I've never met the man.  And as I was driving home this past weekend, I started to think about some of the things he did in his training that might have played a part in his success.  Keep in mind he wasn't only strong, but for the majority of his career he was very orthopedically healthy as well (by powerlifting standards, anyway).
After reviewing articles, videos and even audio clips discussing his training, here are some interesting tidbits that may help keep you strong and healthy as well.  Enjoy!
He actually used an off-season program where he would mix up exercises, stance widths, and work on weaknesses.  For example, most powerlifters nowadays only focus on low-bar, powerlifting style squats.  Ed was a huge proponent of high-bar and even deep paused squats in his off-season regimen.
He actually used a form of linear periodization, starting off with higher rep sets (even into the 8's!), and then progressively worked to lower reps with higher weights.
He was a huge advocate of technique.  If you had to think excessively about technique with a maximal load, you were in big trouble.
He did quite a bit of upper back work.  Pulldowns, rowing variations, etc.
While we're quick to argue about everything under the sun that's training related, sometimes we forget about the basics.  By most standards, Ed Coan's training was pretty boring – but I also feel his mastery of the basics made him one of the strongest powerlifters on the planet for the last 2-3 decades.
If you've read much about Coan, what are some things you've taken away from his training and methodology?  Leave your comments below!
Stay strong
MR