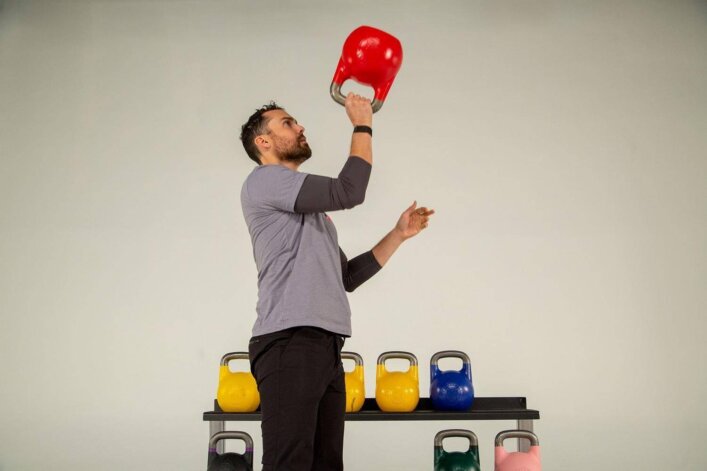 Marcus Martinez has loved fitness and physical training from an early age. He always wanted to own a gym, so he studied finance at Chapman University to learn how to run it as a business.
While he was in the finance and accounting world, Marcus continued working on fitness training and received his first training license in 2001. It was around 2007 when he started his first kettlebell gym after falling in love with the kettlebell.
Today, Marcus is the Master Coach for Living.Fit and Kettlebell Kings. He continues to share his love and passion for fitness and the kettlebell with his clients and 145,000 followers on Instagram.
Marcus joins me in today's episode to discuss the power of kettlebells. He explains how he progressed from working in finance to becoming a full-time fitness coach. He illustrates the physical differences between kettlebells and other gym equipment and explains how it can affect training.
Marcus also shares some of the basic kettlebell workout routines and exercises beginners should master, and highlights the importance of mastering the kettlebell's fundamentals before moving on to the more exotic drills and exercises that are out there.
The kettlebell is so much easier to learn but it comes with a lot of nuances that we need to understand. Scale it back to the basics and respect the process. – Marcus Martinez
This week on the Physical Preparation Podcast:
What led Marcus to the world of physical preparation
How Marcus transitioned from his gym to his current career as a Master Coach
What prompted Marcus to take his first kettlebell course
The advantages of using kettlebells over more traditional equipment
Basic kettlebell routines and exercises beginners should master
Why Marcus is always introducing new kettlebell workouts
The reason Marcus started teaching his kettlebell workshops
What Marcus covers in his kettlebell workshops
The biggest mistakes people make with their kettlebell training
Why you should treat the kettlebell like any other gym equipment
The importance of mastering kettlebell fundamentals
Marcus' advice to his younger self
Why Marcus will choose competition over standard kettlebells
Marcus' upcoming plans for kettlebell certifications
Connect with Marcus:
Stop the Frustration! Get the Complete Coach Certification
Are you a young fitness trainer or coach? Are you frustrated by the results you're getting or the lack of resources available to learn the skills you need to be successful? Are you struggling to get enough clients or wondering how long you'll be able to follow your passion for helping others?
It's time to stop the frustration and stop worrying. It's time to get certified!
If you're serious about improving your results, serious about becoming a better coach, and serious about increasing your bottom line, then you need the Complete Coach Certification.
In this massive course, you'll learn:
How to use the R7 system to create seamless, integrated and efficient programs for clients and athletes of all shapes and sizes
How to create the culture, environment and relationships with everyone you train so you can get the absolute best results
The exact progressions, regressions, and coaching cues I use in the gym – from squatting and deadlifting to pressing and pulling and everything in between
And much, much more
This certification course is jam-packed with everything I've learned over the last 20 years of my career.
So if you're ready to get serious about the results you're getting for your clients and the impact your programs have on your income, head over to www.completecoachcertification.com to sign up for the Complete Coach Certification course today!
Spots are limited, and the next certification is set to launch in March 2020.
Join my FREE Insiders List to learn more, stay tuned for our launch details and save $200 when the course opens!
Subscribe, Rate & Share!
Thanks for tuning into this week's episode of The Physical Preparation Podcast – your one-stop-shop for fitness trainers, coaches, and athletes. If you enjoyed this episode, be sure to subscribe on iTunes, Stitcher, and SoundCloud and leave your honest review.
Connect with us on Facebook, Twitter, and Instagram and don't forget to share your favorite episodes with your friends on social media. Thank you!
Get 3 days of my best coaching materials — for free.
3 DAY COACH'S CAMP:
Write better programs
Learn how to motivate clients outside the gym
My most popular resets for instantly improving movement quality