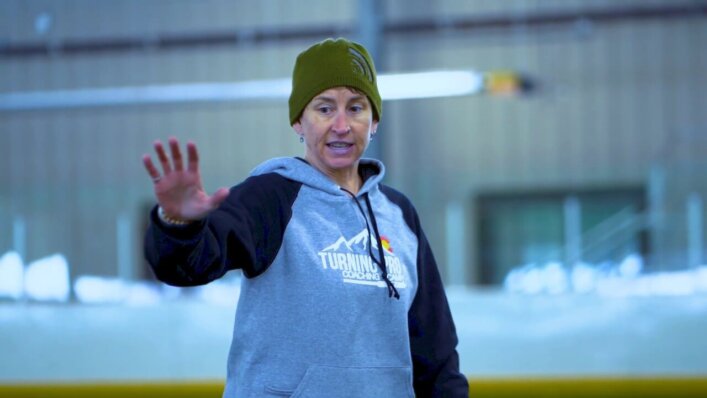 Maria Mountain began her career working as a trainer in a fitness center and worked her way up to become an Exercise Physiologist, Strength & Conditioning Coach, and founder of Goalie Training Pro.
In 2005, she opened her strength and conditioning company, Revolution Sports Conditioning (RSC), where she worked with athletes of different sports.
Committing to help ice hockey goaltenders improve and grow, Maria founded Goalie Training Pro in 2012, and in 2019, she sold RSC to focus on reaching hockey players worldwide.
Maria has been recruited by numerous teams and organizations around the world including the NHL, USA Hockey, and Czech Hockey. Maria is driven by her mission to help athletes reach their dreams and support goalies to realize their fullest potential.
Maria joins me today to discuss training ice hockey goaltenders for flexibility, mobility, and explosive speed.
She shares how she became fascinated with human kinesiology and physiology and explains how this fascination led her to her career as a strength and conditioning coach for goalies.
She describes the physical characteristics goalies should ideally have and discusses how she evaluates athletes for the position.
And last but not least, she shares her training philosophy and offers up some great advice for young women who dream of becoming coaches in high-level, male-dominated sports like ice hockey.
There needs to be specific exercises and movement patterns in a program to prepare goalies for what they need to do. – Maria Mountain
This week on the Physical Preparation Podcast:
Maria's background and what led her to the world of physical preparation
How working at a gym after university inspired Maria to learn more about the human body
Maria's transition from working as a kinesiologist at a rehab company to starting her strength and conditioning company
How Maria branched out to an online business and why she decided to niche as a strength and conditioning coach for ice hockey goalies
The physical characteristics of a great goalie
Maria's "inside-out" approach to athletic development
The importance of hip internal rotations for goalies
How Maria evaluates athletes for the goaltender position
How common FAI hip Impingements are among goalies, and how Maria injury-proofs her athletes
Maria's training philosophy and the importance of flexibility and mobility for goalies
Maria's advice for young women who want to coach in ice hockey and other male-dominated sports
Connect with Maria Mountain:
IFAST University is Coming BACK! Are You In?
Are you ready to take your coaching and training career to the next level?
You need to find great mentors to guide you along your journey – to help you find the blind spots in your own training programs and improve your skills as a coach. But… mentorship can be expensive, and unfortunately, it's not always feasible for some budgets.
That's why Bill Hartman and I developed IFAST University, an online curriculum and mentorship program designed exclusively for fitness trainers and coaches. We want to help every trainer and coach in the industry improve their training techniques and write better training programs for their clients.
By becoming a member of IFAST University, you'll receive:
Multiple hours of members-only exclusive content
Monthly updates and tips to help you improve your skills and programs
1-on-1 Q&A sessions to answer your specific questions
Access to our private discussion forum
This blend of content and Q&A is specifically designed to help make YOU the best fitness trainer you can be.
To learn more aboutIFAST University, visit https://ifastuniversity.com/
Subscribe, Rate & Share!
Thanks for tuning into this week's episode of The Physical Preparation Podcast – your one-stop-shop for fitness trainers, coaches, and athletes.
If you enjoyed this episode, be sure to subscribe on Apple Podcasts, Stitcher, SoundCloud, Spotify, and Google Podcasts and leave your honest review. I'd also love to connect via Facebook, Twitter, and Instagram.
And last but not least, please don't forget to share your favorite episodes with your friends on social media. Thank you!
Get 3 days of my best coaching materials — for free.
3 DAY COACH'S CAMP:
Write better programs
Learn how to motivate clients outside the gym
My most popular resets for instantly improving movement quality