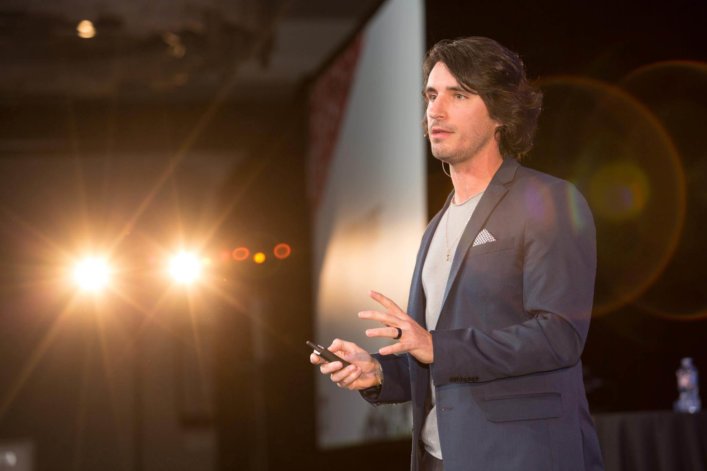 Mark Fisher is the co-founder of Mark Fisher Fitness, one of the most eccentric and successful fitness gyms of the fitness industry. In 2015, the MFF was recognized as one of Inc. 500's fastest growing companies in America as well as one of the Top 20 Gyms in America by Men's Health.
In addition to leading one of the most unique fitness gyms in the world, Mark is also the co-founder of Business for Unicorns, a coaching and consulting company helping business owners become exceptional entrepreneurs.
Mark joins me to discuss how he created Mark Fisher Fitness and how it has evolved since its inception. He describes how he came up with the use of unicorns and ninjas for branding and how it helped propel his business upward.
He also discusses why he stopped acting to pursue a career in fitness, and describes the kind of coach he has become. He also explains why he believes there's no such thing as the best coach for everyone, the biggest mistakes he has seen trainers and fitness entrepreneurs make throughout his coaching career, and what "creating the city you want to live in" means to him.
When you have a business, it's an opportunity to create the city you want to live in. – Mark Fisher
This week on The Physical Preparation Podcast:
Mark's career before he founded Mark Fisher Fitness.
How he got started in the fitness industry.
Why he transitioned from acting to working in fitness and what his business looks like today.
How their business evolved to fit the needs of their clients in the last seven years.
The reason behind the funny characters they use for their branding.
Common mistakes trainers make from a business point of view.
The biggest mistake he's made and the lesson he learned from it.
Why he's interested in speaking at seminars and the topics he likes to talk about.
What we can expect from Mark Fisher in the near future.
Mark Fisher's Life & Training Advice for Fitness Coaches:
Being the best trainer is not synonymous to being the best coach a person will ever meet.
You can't ever stop marketing. That's one of the worst mistakes a business owner can make.
Accept everyone as they are and always come from a place of service to provide clients with the experience they expect.
The second you appeal to everybody you appeal to nobody.
Resources Mentioned:
Connect with Mark:
Make 2019 Your Best Year Yet!
Are you ready to take your health and fitness training to the next level and make 2019 your best year yet? The best way to achieve your fitness goals, improve your training techniques, and create healthier habits is by working with a coach.
At Robertson Training Systems, we want to help you feel great while getting stronger, improving your mindset, and achieving your fitness goals!
To do this, we want to invite you to join one of our coaching programs: the RTS Online Coaching Platform or our Annual Training Group Program to maximize your performance and ensure you're making progress toward your goals.
RTS Online Coaching Platform:
With the RTS Online Coaching Platform, you'll:
Work directly with me to create a customized coaching program specific to your unique needs and goals.
Receive an updated workout strategy each month to ensure your program is challenging, yet rewarding.
Frequent communications with me to ensure your workout is on-point and you're making progress each month
To join the RTS Online Coaching Platform, visit RobertsonTrainingSystems.com/Coaching
Annual Training Group Program:
My Annual Training Group Program is more than just a training program!
In this program, we'll focus on the four phases of physical training, which include:
Building the Engine
Leaning Season
Athletic Domination, and
Getting Strong(er)
You'll also receive new monthly workouts to follow and set monthly challenges to develop strong habits in nutrition, recovery, and mindset.
To sign up for the Annual Training Group Program, visit: RobertsonTrainingSystems.com/Annual
Let's make 2019 your best fitness year yet!
Subscribe, Rate & Share!
Thanks for tuning into this week's episode of The Physical Preparation Podcast – your one-stop-shop for fitness trainers, coaches, and athletes.
If you enjoyed this episode, be sure to subscribe on iTunes, Stitcher, and SoundCloud and leave your honest review.
And last but not least, please connect with us on Facebook, Twitter, and Instagram, and please share your favorite episodes with your friends on social media!
Get 3 days of my best coaching materials — for free.
3 DAY COACH'S CAMP:
Write better programs
Learn how to motivate clients outside the gym
My most popular resets for instantly improving movement quality