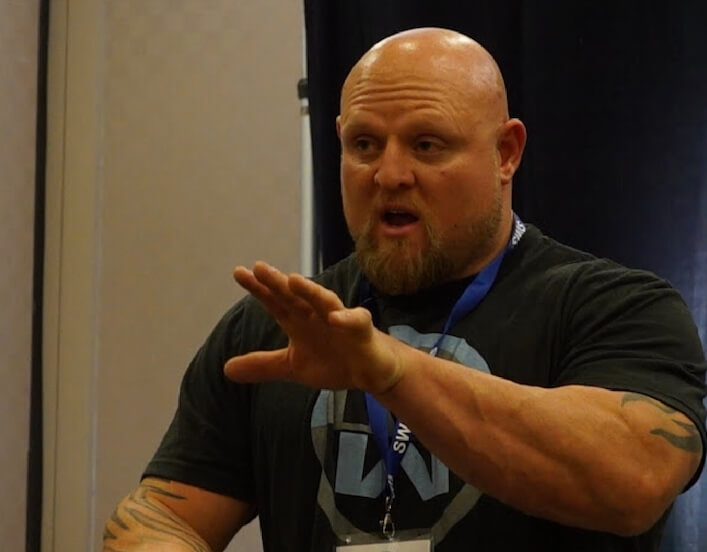 Matt Wenning is a private strength coach, elite powerlifter, and strength training seminar facilitator. He is the founder of Wenning Strength as well as the Director and Co-Founder of Ludus Magnus, a premier performance center in Columbus, Ohio.
Matt is also a government contractor who has helped thousands of civilian and military personnel, from ground infantry to Army Ranger regiments as well as Border Patrol employees, various fire departments, NFL athletes, and Olympic competitors. He holds a Bachelors degree in Exercise Physiology, a Masters degree in Sports Biomechanics, and is a multiple award-winning powerlifter, which includes three World Records as well as several national and state records.
On today's episode, Matt shares how a display of brutal honesty opened the doors for him to work with the government. He shares his techniques for boosting performance while decreasing the risk of injury as well as why short-term goals lead to long-term failure. He elaborates on his training mantra 'modify, not miss,' his strategy for switching from a high-intensity workout to a low-intensity high-volume workout, and how it can positively your results.
Understand that short-term goals lead to long-term failures. You need to have the big picture in mind. – Matt Wenning
 This week on The Physical Preparation Podcast:
Matt's early lifting days in Indiana, and how he eventually became a physical preparation training and strength conditioning coach.
How having a degree helped him gain more media exposure — and ultimately, a chance to develop training programs for the military.
How his initial modified training program for the rangers significantly improved their performance and reduced their injury rate in a relatively short amount of time.
How his training programs helped identify physical weaknesses and areas for improvement in thousands of soldiers and firemen.
His incredible powerlifting world records, and how he got that strong.
How learning, understanding, and rotating different kinds of pressure can minimize injuries.
The idea of switching from high-intensity to high-volume, low-intensity in the interest of consistency.
What prompted him to build his own equipment.
His physical fitness career highlights.
His thoughts on the SWIS Conference and Dr. Kim Kinakin.
The first time he met his training idol, Ed Coan.
His one regret in life-related to training and/or fitness.
Matt Wenning's Life & Training Advice for Young Athletes:
Short-term goals lead to long-term failures. Never lose sight of the big picture.
Have patience and understand that you cannot keep acquiring injuries. Keep all those wear and tear things down.
Focus on areas where you need the most work.
Don't always focus on the things that you like — focus on the things that you need.
Understand that you have to rotate the different types of stimulus.
Resources Mentioned:
Connect with Matt Wenning:
Improve Results with The Physical Preparation 101 Training System
Are you a fitness coach or trainer looking for ways to improve the results you deliver to your clients? Want to create consistently better training programs and learn the exact exercises and strategies to improve your clients' and athletes' performance?
The Physical Preparation 101 Training System unlocks the secrets to optimizing performance and improving movement through my unique, cutting-edge basic training philosophy.
In this series, you'll learn:
The nuts and bolts of program design
The single-biggest issue you will see related to core exercises and breathing – and how to fix it!
How to train others to squat safely and effectively – in the first session
How to stop lower back pain in its tracks through deadlift progression
And much, much more!
You'll also receive sample programs and templates to help you build great programs with AMAZING results – consistently.
Are you ready to take your fitness training and coaching programs to the next level? Visit PhysicalPreparation101.com to learn more and get started NOW!
Subscribe, Rate & Share!
Thanks for tuning into this week's episode of The Physical Preparation Podcast with Mike Robertson – your one-stop-shop for fitness trainers, coaches, and athletes. If you enjoyed this episode, be sure to subscribe on iTunes, Stitcher, and SoundCloud and leave your honest review. Connect with us on Facebook, Twitter, and Instagram or visit our website. Don't forget to share your favorite episodes with your friends on social media
Get 3 days of my best coaching materials — for free.
3 DAY COACH'S CAMP:
Write better programs
Learn how to motivate clients outside the gym
My most popular resets for instantly improving movement quality