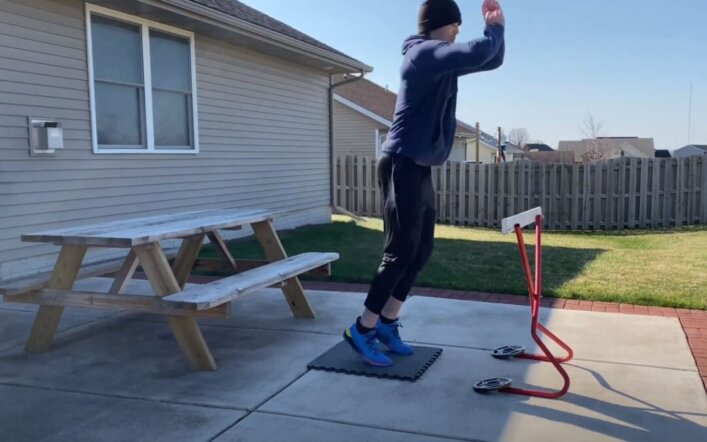 Playing sports initiates all things performance, whether it's about trying to be a better jump shooter or a better athlete.
And that's exactly the catalyst that sparked the passion of applied sports scientist and educator Max Schmarzo.
After playing Division III Basketball for Coe College, where he also completed his degrees in athletic training and strength & conditioning, Max was further inspired by the knowledge and experience he earned as an undergrad and collegiate athlete.
He later furthered his studies and earned his Master's degree in Exercise Physiology at Iowa State University.
Today, in addition to his work as a professional consultant, Max is the founder of Strong by Science and co-founder of EdgeU, a platform that helps others develop their craft as trainers, coaches, and therapists.
Max joins me today to share his humble beginnings as a basketball player and discuss what inspired his passion for jump training.
He differentiates extensive from intensive jump training and describes their inverse relationship with each other.
Max explains the different variables he considers when developing a training program and discusses the different kinds of jumps and jumpers.
He also highlights the foundational quality of strength training in developing jumps and underscores the importance of bringing critical thinking to physical preparation.
Jumping is pure movement. When someone jumps really high, it's a pure expression of something immediate that we can't really describe. – Max Schmarzo
This week on the Physical Preparation Podcast:
Max's background and his early experiences in Physical Preparation and Strength & Conditioning
His frustrations with basketball and how he was introduced to biomechanics at a young age
What sparked Max's enthusiasm and dedication to jump training
The difference between extensive and intensive jump training and how they're inversely related
When and where to implement extensive and intensive jump training
Why people have challenges with the landing aspect of plyometrics
The difference between jump training and plyometrics
The different kinds of jumps and jumpers
The role of stiffness and ankle work in jumps
How maximum effort can make people revert to bad habits
The value of strength training in improving the vertical jump
The reason it's important to track your progress when jump training
The value of data interpretation and critical thinking
The biggest mistakes people make with their jump training
How to get the most out of your jump training
The good and the bad of fitness apps and technology
Resources Mentioned:
Connect with Max:
Momentous – The Cleanest Recovery Products in the World
Momentous is a world-renowned sports performance and recovery supplement. Preferred by top-level athletes in the NFL, NBA, NHL, and NCAA, Momentous is NSF and Informed Sports Certified.
Experience the best-tasting, cleanest recovery products in the world and take your performance to the next level. Choose Momentous.
For more information on Momentous or to place your first order, visit www.livemomentous.com/robertson – use the coupon code: Robertson20 at checkout to receive 20% off your first order or receive a free 3-pack sample.
Subscribe, Rate & Share!
Thanks for tuning into this week's episode of The Physical Preparation Podcast with Mike Robertson – your one-stop-shop for fitness trainers, coaches, and athletes.
If you enjoyed this episode, be sure to subscribe on Apple Podcasts, Stitcher, SoundCloud, Spotify, and Google Podcasts and leave your honest review. I'd also love to connect via Facebook, Twitter, and Instagram or visit our website.
And last but not least, please don't forget to share your favorite episodes with your friends on social media. Thank you!
Get 3 days of my best coaching materials — for free.
3 DAY COACH'S CAMP:
Write better programs
Learn how to motivate clients outside the gym
My most popular resets for instantly improving movement quality