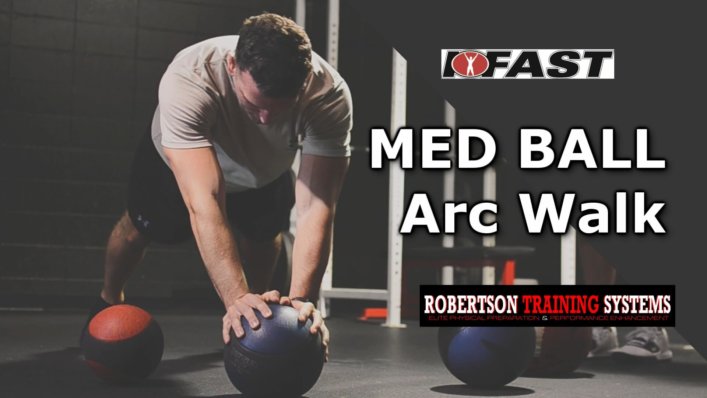 When it come to writing programs, the exercises I use have to check a couple of boxes…
They need to build better movement,
They need to be challenging, and
They need to be fun!
The med ball arc walk covers all of these bases. Not only does it give you a ton of bang for your buck, but it's also an exercise that can challenge just about anyone based on how you set it up.
If you've never tried this one before, throw it in at the end of your session today – I bet you'l really like it!
Now that you've watched the video, here are a few notes on set-up and technique:
REACH. Think of this just like you would the top of a push-up, where the goal is to REACH long throughout.
Keep the core engaged throughout. A tell-tale sign of fatigue during this exercise is when the lower back starts to sag or rotate excessively when moving from ball-to-ball. Keep those abs on and engaged throughout!
Make it easier by using the same size ball. If you want to make this easier, keep all the balls the same and use rigid medicine balls. This way the ball won't give once you put your weight on it.
Make it harder by using different sized balls. On the flip side if you really want to crank up the intensity, use balls of various sizes and a mix of rigid and softer med balls (i.e. ones that have a little give when you put your weight on them).
This is an awesome exercise, and if you've never tried it before, give it a shot the next time you head into the gym.
I guarantee you're going to love it!
All the best,
MR
Get 3 days of my best coaching materials — for free.
3 DAY COACH'S CAMP:
Write better programs
Learn how to motivate clients outside the gym
My most popular resets for instantly improving movement quality