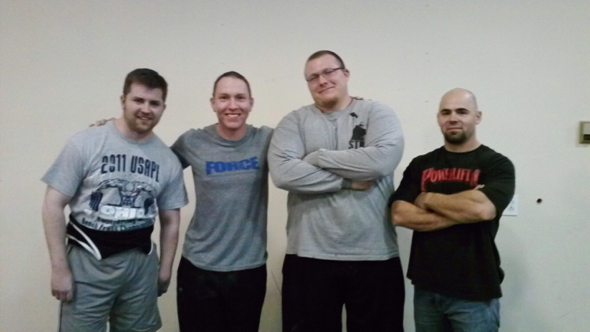 I've got to admit – I was pretty surprised to see how many people wanted to read about my meet, so I figured I'd just go ahead and write something up for the blog.
First of all, I can't thank you enough for your support and kind words along the way. I appreciate it more than you know!
Here we go!
The Drive
Unfortunately, I couldn't find any USAPL meets in my area, so I had to travel. I actually had a personal rule that I wouldn't travel more than 3 hours for a meet (unless it was national level), but things have changed and there just aren't as many meets these days.
So Lil' Stevie and I mounted up and rolled out of Indy around 1 pm. If you ever have a 5-hour drive sitting in front of you, you need a partner like Stevie! That boy talked my ear off the whole way.
The funny thing is he's so passionate about powerlifting, I would say that 60-70% of the discussion revolved around training, competing, or something in between. Needless to say, it made the drive a lot more tolerable.
We got in that night, checked in to the hotel, and headed to Longhorn where we proceeded to chow down.
My buddy "Big" Joe Williams got in around 9:30, and like the old men that we are, we headed to bed around 10:30.
Meet Day
After a pretty solid night's sleep, we got up and headed over to the meet site. It was in a weird location – something like a meat-packing or food processing facility. Regardless, there was plenty of space to get warmed up with 3 warm-up platforms.
I had been weighing anywhere from 183-185 throughout the training cycle, but especially in the last week, there were issues keeping weight on as there was almost no training volume. I actually weighed in at 180.6, which I'm pretty sure I haven't weighed since 2002!
To give you a comparison going forward, here are my numbers from both the 181 and 198 pound weight classes:
181 (~2002) – 407 squat, 286 bench, and 505 deadlift
198 (~2005) – 530 squat, 335 bench, 535 deadlift
The Squat
I was in the 2nd flight on my platform, so I had plenty of time to foam roll, mobilize and get loose.
When it was time to warm-up for the squat, I've got to admit, I felt awesome. Seriously, it felt like the bar was jumping off my back. My warm-ups in the back went like this:
Barx5
Barx5
135×5
225×3
315×2 (suit bottoms and belt)
365×2 (suit and belt)
405×1 (suit, wraps and belt)
I was actually dead last in my flight, so I took my last opener right around when they were starting.
My opener was with 440 pounds. If you've ever done a meet, you know the anxiety is massive at this point in time – all you want to do is get your opening squat out of the way and get in the meet!
440 came up strong, and I got the lift 2/1 – I was in the meet! After this I decided to stick to the plan and jump to 465.
With 465 (as you'll see on the video), I cut the depth a bit from the opener and missed the lift. I didn't feel like the weight was an issue, I just needed to get my butt down! I took a conservative jump to 475 because I wanted to get the weight and add some pounds to my total.
If you ask me, 475 was my best squat of the day. My chest was up, I was strong out of the hole, and I honestly felt like I had another 15-20 pounds in me!
Unfortunately, I missed the lift on a technicality: The left side judge stated that my knee wasn't locked prior to squatting, which is an infraction.
For the record, I know that's an infraction – but I didn't think they would even give me the squat command until I was set!
Now I don't know what the actual rule is, but if anyone from the USAPL reads this, it should be a rule that you can't be disqualified before you even start the lift. It would be akin to getting called for a strike before the pitcher ever throws the ball!
Regardless, even the 440 was a PR at this bodyweight, but of course, I wanted the 475!
I blew off some steam to Stevie for a second, and then said I would shut up about it – after all, it's a 3 lift meet and what's in the past is in the past.
Time to move on.
The Bench Press
Of all three lifts, this was the lift I'd had the most issues with leading up to the meet. My raw strength was really good, but I hadn't spent time in a bench shirt for almost 6 years and getting back in the groove was tougher than expected.
Here's how it went:
Barx8
Barx8
135×5
185×3
225×3 (shirt on)
255×2
My opener was very conservative – 275. In all honesty this is something I can press and lockout raw, so I didn't think it would be an issue.
On my opener, I lowered the weight strong and started to press it back up. I heard the head judge say "take it." I got conflicting answers as to why, but they told Stevie there was downward movement.
So again, playing it conservative, I re-take 275.
On the second attempt with 275, the exact same thing happened. I lower it strong, blow it up off my chest, and then I hear "take it."
Now Stevie's my guy, but he won't BS me – he tells me like it is. He said it came up, stayed in the same place, and then I finished the weight.
Regardless, now I'm down to one more bench to stay in the meet. For those of you unfamiliar with powerlifting, if you miss all 3 lifts in any one discipline, it's called a bomb out and you're done for the day.
I tell you what – I don't care how long you've been lifting or competing, you learn something about yourself when you're sitting there down to your last attempt to stay in a meet.
What's going on?
Am I not strong enough?
Am I going to miss this again?
How will I explain this to everyone?
Did I really just drive 5 hours to bomb out? The only thing worse than driving there to bomb would be the 5 hour drive back!
And I don't care how "mentally tough" you think you are (I think I'm pretty tough), it gets really hard to clear your mind and focus with all that stuff going on.
Regardless, I take 275 for the 3rd time. Lower it down, touch, blow it up, and I got the lift. In all honesty, it felt the exact same as the other two, but the judges said it was the cleanest lift.
Whatever man – I was just happy to get a lift and stay in the meet!
The Deadlift
There was a long break between bench and pulls – something close to 2 hours.
Luckily I'd stayed pretty warm throughout, so it didn't take much warm-up on my part.
135×3
225×2
315×1
405×1 (suit and belt)
475×1 (suit and belt)
Again, I'd had some issues with the deadlift suit coming into the meet – mostly it was just pulling/caving my chest over and I was having a hard time getting set in the start. Trust me, I realize my technique is not ideal in the suit – but I'm working on it.
Stevie and I worked the suit up as high as we could, but I'll discuss the suit more below.
My opener was 520. It didn't feel amazing, but it wasn't all that hard either. Stevie thought I should jump to 555, but I wanted an official 3x bodyweight pull, so we jumped to 545.
It was probably a good thing, because that 545 was slooooooowwwwwwwww!
It turned out that me and Big Joe were actually battling for the title in the 181 pound class, so if he missed his last deadlift and I made my last one, I could've won.
Needless to say, he pulled a huge PR of 525, and I was totally smoked when I went for 555 – the magnets got turned on.
Thoughts and Reflections
Coming into the meet, a lot of people were asking about my goals. I obviously had some goals in my head, but seeing as how this was my first meet in 6 years, my primary goal was to get a meet under my belt and see where I was at.
Sure I wanted to hit some legit numbers, but in the end, getting back on the platform was THE goal.
The best part now is I know exactly where I'm at with regards to strength, and exactly what I need to work on. One thing I always do after a meet is take a day to reflect on what went right, what went wrong, and how to get better moving forward.
Here's that list, just in case you're interested:
If I'm going to continue competing, I need to get my weight up. Being a 5'11" 181 pounder isn't going to make me too competitive.
On the squat, I'm going to move the bar up on my back so that I'm more upright and it's easier to hit depth. With my combination of a low bar squat, short torso, and long femurs, hitting depth consistently can be tricky. While this will take some time to adjust, over the long haul, it's the right thing to do.
On the bench, I really screwed the pooch. Essentially I was training "raw" for an equipped meet. I need to use some pause benches to focus on staying tight, and I need lockout work so I don't have the same transition issues in the bench shirt.
My deadlift felt strong all along,

until

I put the suit on. I've gotten some recommendations to stretch the straps, so I can get in a better starting position.
I would say that I need a bit more time in the gear in future cycles, but I'm not necessarily sure that's the case now. My squat suit felt awesome and I couldn't have asked for that to go better strength-wise. The big one is that I need more time in the bench shirt, because that's the most different from my raw training.
Last but not least, I'm going to video all of my workouts going forward to review form, technique, strength, etc. Going 4/9 isn't fun, and it's hard to put together a solid total when you miss more than half of your lifts. My technique was probably good enough for gym lifts, but not good enough for a meet.
One other big thing I should note here is that I come on here and preach to you guys all the time that you should hire a coach. All along I've coached myself and relied on myself for feedback. I've been lucky to have Bill, Stevie and Zach Moore to bounce ideas off of, but it's time to get serious.
Going forward, I'm going to be having Mike Tuscherer write my programs for me. This way I have someone who is objective to help me out, and now I'm not "married" to my own program.
I've had great success doing it myself, but with everything else I have going on, this will be a nice change of pace and I'm excited to see what Mike and I can do together. I told him he's got me for the next 1.5-2 years; I've got some goals I want to achieve, and then I'll re-evaluate where I'm at.
So there you have it! For my first meet in 6 years it didn't go exactly as planned, but then again, that's the difference between lifting in a meet and lifting in the gym! I've got a great idea of where I'm at and what I need to address going forward.
Before I wrap this up (and post the video), I want to thank a few people:
Bill Hartman, for all his help in keeping me healthy with ART, mobilizations, and all the other magic he works.
My massage therapist Terry Fletcher.
Zach Moore and the IFAST crew for the spots, and especially the feedback.
Lil' Stevie – you're seriously the best training partner I've ever had. You push me everyday and keep me motivated. I can honestly say I probably never would've gotten back on the platform if it wasn't for you. Thanks brotha – I appreciate it more than you know!
And of course, I'd like to thank my beautiful wife and daughter for their love and support. Training for a meet takes time away from other things in life, but I know these pursuits make me a better father and husband along the way. I love you guys!
If you read all this, thanks a ton and have a GREAT THANKSGIVING!
Stay strong
MR