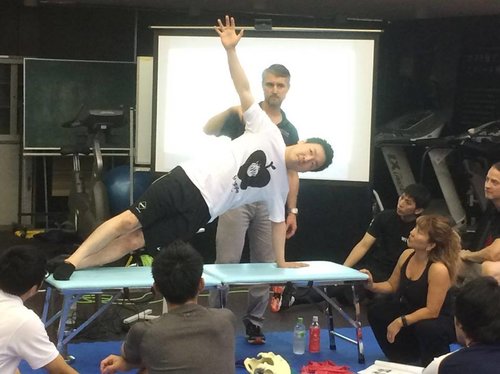 Michael Mullin is a clinically-based athletic trainer with over 27 years of experience in physical therapy, rehabilitation and performance training.  He is the owner of "Integrative Rehab Training LLC" which provides fitness rehab services, consulting and educational programming. He specializes in the treatment, rehabilitation and training of individuals and groups and has worked with all levels of athletes.
In this show, Michael and I talk about why Breathwork is such a critical part of his programming, an overview of his model that spans both training and rehab, and why experiences – as well as failures – are so crucial to your development as a coach.
Show Outline
Here's an overview of this week's show:
Shameless Plug:
Show Intro:

Guys Weekend
First Day of School
Athlete Updates
MR's Monologue: Putting the Ego Aside as a Coach

Interview with Michael:

How he got into the world of physical preparation.
Michael's model that he's using with his clients right now – from rehab to training.
Why breathwork is such a critical piece of his puzzle, and how he gets buy-in from people who aren't interested in "doing breathing drills."
The competencies he's looking for as a coach when a client or athlete is training.
What motivates him to continue learning and educating himself.
His advice to someone who wants to get better, but struggles with continuing education.
The BIG question.
The always popular lightning round where we discuss Bill Hartman's intensive, the books he's reading right now, advice for being a better pro, and what's next for Michael Mullin.
Related Links
Connect with Michael
Books
Get 3 days of my best coaching materials — for free.
3 DAY COACH'S CAMP:
Write better programs
Learn how to motivate clients outside the gym
My most popular resets for instantly improving movement quality