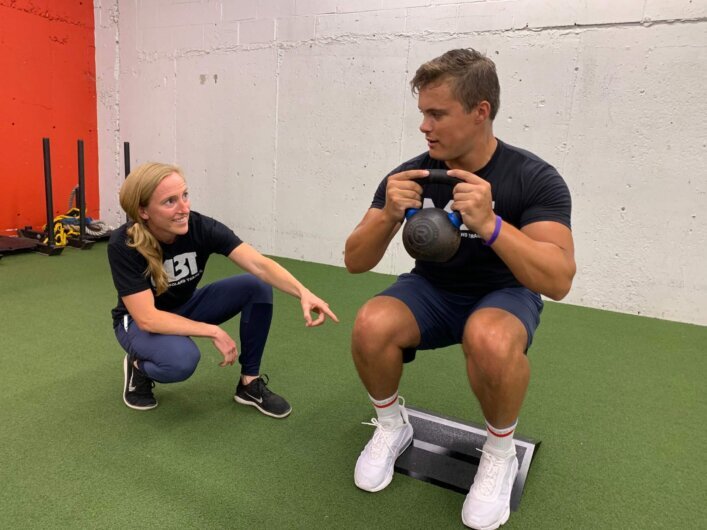 Dr. Michelle Boland is a Certified Strength & Conditioning Coach and the owner of Michelle Boland Training.
Growing up in Massachusetts, Michelle's expanding interests in athletics and sports led her to playing soccer and basketball at the collegiate level as she studied Nutrition.
Spurred further by her life passion for sports performance, she later completed a PhD in Exercise Physiology at Springfield College.
And today, Michelle is devoted to helping fitness professionals turn complex training concepts into real outcomes for their clients.
With several years of experience as a Strength & Conditioning Coach and Director of Education, Michelle maintains her position as one of the fitness industry's leading performance coaches.
Michelle joins me today to discuss what it means to have a principles-based approach to coaching and training.
She emphasizes how creating principles and values-based frameworks can enhance your program design process and the way you communicate with clients.
She shares the guiding principles that inform her training methods and explains how a coach can use principles as a tool for teaching.
And she describes the difference between working in the private and public sectors and highlights how fitness goes beyond the gym.
Program design is about choosing what variables we're going to emphasize. Principles use them as teaching tools. – Michelle Boland
This week on the Physical Preparation Podcast:
What it means to have a principles-based approach to training
The power of identifying what's important to us, our athletes, and the sport
Discovering your guiding principles and value systems
Using mind-mapping and concept-mapping as tools in creating your value systems as a coach
Keeping up with the "content" Joneses and the value of taking the time to assimilate information
How having a set of principles enhances learning, continuing education, and the program design process
Using your training principles as a teaching method and communication tool
The foundations of the fitness industry and how it has evolved over time
How creating principles can get your training programs more buy-ins from clients
How Michelle's principles inform her performance and coordination training
Why hard work isn't just about brute force and outputs
The value of acknowledging that hard work is different for everybody in the gym
The difference between working in the public and private sector
The importance of balancing knowledge and experience
Related Content:
Connect with Michelle Boland:
Ready to Get Your Fitness Back on Track?
Are you ready to look great, feel great, and get into great shape this year?
2020 has put a damper on many things – including your ability to visit the gym – but the one thing it hasn't impacted is your desire to look and feel great.
Well my friend, it's time to consider online coaching with your boy MR. Online fitness and performance coaching is a great way to get into shape while receiving the accountability you need to reach your desired fitness goals.
If you're ready to take back control over your health and fitness, overcome those pesky challenges that have limited your fitness success, and crush your performance goals – email me at [email protected] with the subject line: Online Coaching for more information.
Subscribe, Rate & Share!
Thanks for tuning into this week's episode of The Physical Preparation Podcast – your one-stop-shop for fitness trainers, coaches, and athletes.
If you enjoyed this episode, be sure to subscribe on iTunes, Stitcher, and SoundCloud and leave your honest review. Connect with us on Facebook, Twitter, and Instagram.
And last but not least, don't forget to share your favorite episodes with your friends on social media. Thank you!
Get 3 days of my best coaching materials — for free.
3 DAY COACH'S CAMP:
Write better programs
Learn how to motivate clients outside the gym
My most popular resets for instantly improving movement quality