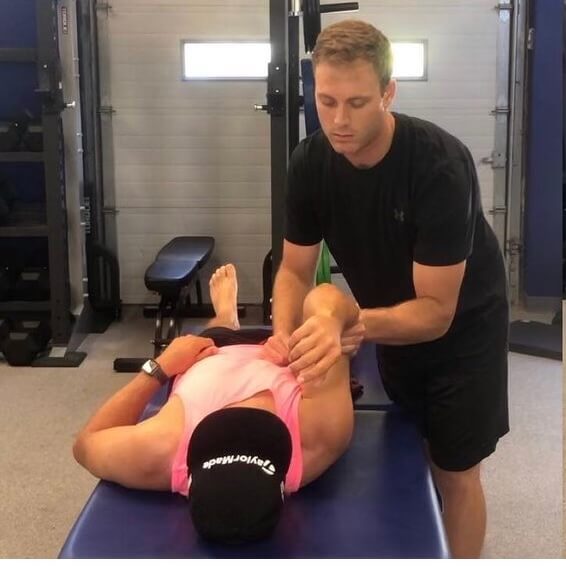 Mike "Campo" Camporini got his first taste of the physical preparation world while in elementary school. A long-time athlete, Mike's passion for physical fitness and playing sports led him on a career journey to become a physical therapist.
Today, Mike works as a PT and strength coach based in Phoenix, Arizona. He holds a DPT from Simmons University, a bachelor's in Exercise Science from Springfield College and has spent a ton of time at IFAST.
He has worked in both the collegiate setting and private sector as a strength coach and is currently working as a physical therapist, predominantly with post-op patients and a few online clients.
Mike joins me today to discuss the necessary journey to become a physical therapist.
We discuss what you should look for in a PT school and why it's important to have a say in where you complete your clinicals.
We discuss how you can (and should) continue to educate yourself beyond the school environment, and the value of evaluating your strengths and weaknesses to improve your growth and development.
We discuss the transition between school and the real world, and how you can get your PT career started on the right track.
Mike also shares a glimpse of what an average day looked like for him as a PT student, and the advice he would give to his younger self as a college student.
You're never going to be perfect; you're never going to 'nail it' the first time, so it's important to at least fail and have those hindsights. That's how you gain wisdom. – Mike Camporini
This week on the Physical Preparation Podcast:
How Mike was introduced to physical preparation while in elementary school
What inspired him to become a physical therapist and the path he took to accomplish this goal
How Mike continues to leverage the skills and principles he learned during his internships while working with patients and clients as a physical therapist and coach
What to consider when choosing a PT school and why Mike applied to 12 different colleges
The importance of continuing your education beyond the PT school curriculum
The importance of evaluating your strengths and weaknesses to improve your growth and development as a coach and physical therapist
How Mike chose his clinical rotations and the role he played in choosing where he completed them
The job search process and Mike's experience of transitioning from being a PT school student to working in the 'real world' as a physical therapist
A sneak peek into an average day for Mike as an intern and physical therapist
Advice Mike would give to his younger self
Connect with Mike:
Stop the Frustration! Get the Complete Coach Certification
Are you a young fitness trainer or coach?
Are you frustrated by the results you're getting or the lack of resources available to learn the skills you need to be successful?
Are you struggling to get enough clients or wondering how long you'll be able to follow your passion for helping others?
It's time to stop the frustration and stop worrying. It's time to get certified!
If you're serious about improving your results, serious about becoming a better coach, and serious about increasing your bottom line, then you need the Complete Coach Certification.
In this massive course, you'll learn:
How to use the R7 system to create seamless, integrated and efficient programs for clients and athletes of all shapes and sizes
How to create the culture, environment and relationships with everyone you train so you can get the absolute best results
The exact progressions, regressions, and coaching cues I use in the gym – from squatting and deadlifting to pressing and pulling and everything in between
The assessment process I use to determine the best exercises for a client or athlete on Day 1, and how to set them up for maximal success down the line!
This massive certification course is jam-packed with everything I've learned over the last 20 years of my career.
So if you're ready to get serious about the results you're getting for your clients and the impact your programs have on your income, head over to www.completecoachcertification.com to sign up for the Complete Coach Certification course today!
Spots are limited, and the next certification is set to launch in September 2021.
To learn more, please join my FREE Insiders List and stay tuned for our launch details to save $200 when the course opens!
Subscribe, Rate & Share!
Thanks for tuning into this week's episode of The Physical Preparation Podcast with Mike Robertson – your one-stop-shop for fitness trainers, coaches, and athletes.
If you enjoyed this episode, be sure to subscribe on Apple Podcasts, Stitcher, SoundCloud, Spotify, and Google Podcasts and leave your honest review. I'd also love to connect via Facebook, Twitter, and Instagram or visit our website.
And last but not least, please don't forget to share your favorite episodes with your friends on social media. Thank you!
Get 3 days of my best coaching materials — for free.
3 DAY COACH'S CAMP:
Write better programs
Learn how to motivate clients outside the gym
My most popular resets for instantly improving movement quality