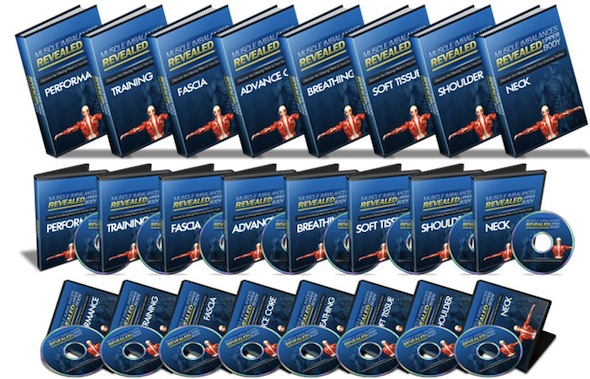 A few weeks ago, Rick Kaselj hooked me up with a complimentary copy of the newly released Muscle Imblances Revealed, Upper Body edition. I was honored to contribute to the lower body version, and this is a series I hope he keeps rolling out in the future.
Here are just four reasons I love webinars:
First and foremost, I want to get better. I love learning. I love knowing the fact that learning more will help me become a better professional, and help my clients and athletes get better results. If this was the ONLY reason, that would be enough.
As an owner of two businesses, and someone with a wife and tiny human, time is of the essence. Webinars allow me to learn from my home, on my own time, when it's convenient for me.
While I have no aversion to spending money, I don't mind saving it when I can. Registration fees alone for a seminar like this could cost anywhere from $200-$500.
Finally (and this comes back to money, time, etc.) but I don't like to travel if I don't have to. With webinars, I can learn from the comfort of my own home.
So for those reasons alone, I think MIR 2.0 is a great piece of content, and one that you'll really enjoy.
==> Get Muscle Imbalances Revealed TODAY for Almost Half-Off! <==
Who is This Product For?
While the easy answer is fitness professionals, I think almost anyone who is interested in fitness can learn a ton from these webinars.
This is especially true because all of the authors have a firm grasp on the materials, and they do a fantastic job of making things easy to learn. They aren't interested in wowing you with big words or geeky anatomy – they tell you what you need to know, without watering down the content.
The Authors
Tony Gentilcore
Tony is most well-known for his work at Cressey Performance, as well as his articles over at T-Nation. Needless to say, he does an amazing job of making content not only usable, but fun as well. He's a pretty funny guy!
Dean Somerset
Dean is another T-Nation guy, and someone that I've really grown to enjoy via his various works. His two webinars are chock-full of great information, and while the terms are incredibly cliche, he's one of those guys that sees the big picture and thinks outside the box (watch his webinar on fascia and you'll see what I mean).
Dr. Jeff Cubos
Finally, Dr. Jeff Cubos is a guy whose blog I have followed for the past year or two, and I was hoping he would pull something like this together. If you enjoy the work of Patrick Ward, Carson Boddicker, and others who really have a firm grasp on integrating therapy with training, you'll definitely enjoy his work.
Now that you have a brief introduction to each of the authors, let's get to my review for each of the webinars.
The Webinars
#1 – Corrective Exercise Strategies for Athletes (and Meatheads) – Tony Gentilcore
Firstly, this webinar is a solid overview of the shoulder, along with 12 reasons the shoulders get injured.
There is a ton of video in this webinar! What I really like is that there are some old exercises, some old ones that have been modified, and of course, some new ones. Tony is a lot like my good friend Smitty, where he can take an idea or principle and that develop 1,000 variations or tweaks.
Even though I'd seen it before, the horizontal pressing progression is money. You know I love me some progressions, and this one is fantastic.
Finally, if you work with injured clients or athletes (or you're beat up yourself), you'll love the programming strategies to work-around various issues (internal impingement, external impingement, A/C joint issues, etc.)
#2 – Avoiding Programming Bloops and Blunders – Tony Gentilcore
Tony starts this off with a diabtribe on the need for an assessment. What I really liked here was a review of

exactly

what they do in their assessment at Cressey Performance.
Moreover, Tony does a great job of not just showing the assessments, but how people will cheat or compensate as well.
As I was watching this presentation, I realize Tony and I agree 100% on core training. Love this section.
Again, there's more cool tweaks and variations on exercises that you'll enjoy. I need to give several of his core and rotator cuff options a shot.
This is just a great overview on intelligent training practices, with Tony's flare and humor sprinkled in.
#3 – Myofascial Training for the Upper Body – Dean Somerset
Dean gives a VERY thorough overview of fascia. What it is, what it does, and most importantly, what we need to know as trainers/coaches to make changes in fascia.
There's a nice overview/review of the Myosfascial meridians as well, including a brief overview/review of Anatomy Trains.
Possibly the coolest part of this presentation is Dean's insight as to how tight abs can cause neck pain! This is coming in my core webinar as well, but it's good to see others talking about this stuff 🙂
What I liked most about this presentation was some of the cool tweaks for SMR work. These are so simple but SO MONEY!
Finally, Dean finishes off with some unique stretches and mobilizations that incorporate the myosfascial meridians. Again, this is where we need to move from an isolated approach to a more dynamic, integrated one.
#4 – Advanced Core Training and Conditioning – Dean Somerset
This webinar provides a good overview of the various core training approaches (Australian method, McGill method, etc.)
While I've mentioned this numerous times, I don't necessarily agree with the TVA stuff, but I also don't get the impression that Dean is using this as a cornerstone of this programming.
Not much to mention here, but I think we agree on 99% of the materials and this is a great prelude to the webinar I'm pulling together on core training.
#5 – Linking Breathing with Rehab, Training and Performance – Dr. Jeff Cubos
This is a very insightful webinar that does a great job of merging rehab insight with training.
If you're an anatomy geek, you'll love the anatomy and physiology of breathing. This is a great overview of this stuff!
Dr. Cubos outlines the "functional asymmetry," something a lot of us tend to miss.
Another thing that I thought was very cool was his Stability-Motor Control Continuum. It reminded me a lot of what Pavel talks about in regards to balancing Tension and Relaxation in a yin-yang fashion.
If you take nothing else away from this, you'll see how breathing absolutely influences mobility and stability. If the breath isn't where it needs to be, you're going to struggle to achieve optimal performance!
#6 – Picking the Right Soft-Tissue Tool for the Problem – Dr. Jeff Cubos
While this may go beyond the scope of practice for the trainers/coaches reading this, it's still a solid overview of the various soft-tissue methods that are out there (IASTM, ART, Fascial Manipulation, etc.).
Two components I really enjoyed in this webinar were the discussion on the cumulative injury response, and the phases of injury and healing. Again, while it doesn't directly apply to our jobs, we can definitely learn from this stuff!
Finally, as I watched this webinar, I realized every guy discussed the Law of Repetitive Motion. I guess it's kind of important, huh?
Summary
Overall, this is an awesome product and one that I would highly recommend. I guarantee you'll learn a ton, whether it's actual nuts and bolts anatomy and physiology, or variations and tweaks you can start using today with your clients and athletes.
This week only (August 22nd-August 26th, 2011) you can pick up a copy of MIR 2.0 – Upper Body for $70 off the suggested retail price of $147. If you'd like to take your knowledge to the next level, definitely pick up a copy today while it's on the cheap!
==> Muscle Imbalances Revealed for $70 Off! <==
Stay strong
MR