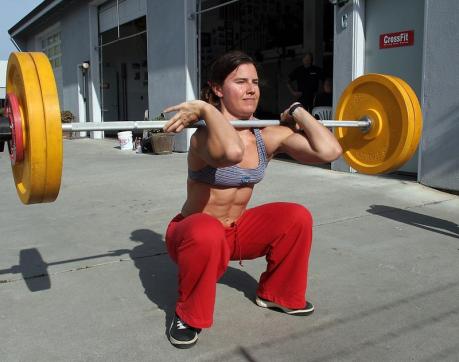 In lieu of my new article going up at FigureAthlete.com (which you can find HERE), I thought I'd keep rolling with the fat loss discussion.
Let me begin by saying I don't consider myself a fat loss "expert."  If you need to go from 6% to 4% body fat,  there are better coaches out there.
With that being said, Bill and I have had some great successes with regards to fat  and weight loss recently at I-FAST. These are highlighted by one of our male clients who has lost 23 pounds over 8 weeks, and a female client of ours who has lost 20 pounds and 4 sizes!  While these are just two examples, we fully expect to report more success stories in the near future.
Back to fat loss.  I attribute a lot of my success with this client base to learning from experts.  I'm extremely privileged to call two of the finest experts in this industry my friends; they are Alwyn Cosgrove and Leigh Peele.  In my opinion, they have also created the two finest fat loss products of the last year.
While both products are great, you may be wondering – which one is best for me?  It's a great question, and I'll do my best to answer it below.  While both products are great, I feel they have quite a few differences which makes them valuable to different demographics.  Read on!
The Fat Loss Troubleshoot – Leigh Peele
The FLTS is an amazing resource for the personal trainer, strength coach, or avid fitness enthusiast.  This book does a great job of "teaching the fisherman how to fish."  Leigh really leaves no stone unturned, as she talks about diet, training, and everything in between.  If you want to know all the ins-and-outs, the "whys" of training, this is definitely the manual for you.
Maybe more importantly, this manual is great for instilling long-term changes to your lifestyle.  Chances are you didn't get overweight or overfat overnight; it was a long process.  This manual shows you step-by-step how to overhaul your lifestyle to get and stay lean for good.
Warp Speed Fat Loss – Alwyn Cosgrove and Mike Roussell
I feel like Warp Speed Fat Loss is on the opposite end of the fat loss spectrum.  While the FLTS is geared towards explaining how and why to do everything, Warp Speed Fat Loss tells you exactly what to do.  While this approach may not be for everyone, it's usefulness can't be denied.
Far too often, I get questions from people who are majoring in the minutiae.  Rather than focusing on the big picture, they get caught up in details.  Sometimes they just need to get out of their own way to succeed!  Warp Speed Fat Loss is great because it fills in all the training and nutrition details for you.
One final component that many enjoy about Warp Speed is that you tend to see very rapid results on the program.  I actually followed the diet portion of the program (coupled with my own training) and lost 12 pounds in two weeks!  While this definitely isn't ideal over the long-haul, if you really want to kick-start your progress it's a great option.
As I stated initially, these two products are quite a bit different.  The FLTS is geared towards slower, more deliberate gains and making wholesale changes to your lifestyle.  Warp Speed Fat Loss is geared towards the end-user who wants to get through all the BS and get a kick-ass training and nutrition routine.
Whichever you decide to go with, you can't go wrong.  Hands down these are two of the best products I reviewed in 2008.
Stay strong
MR