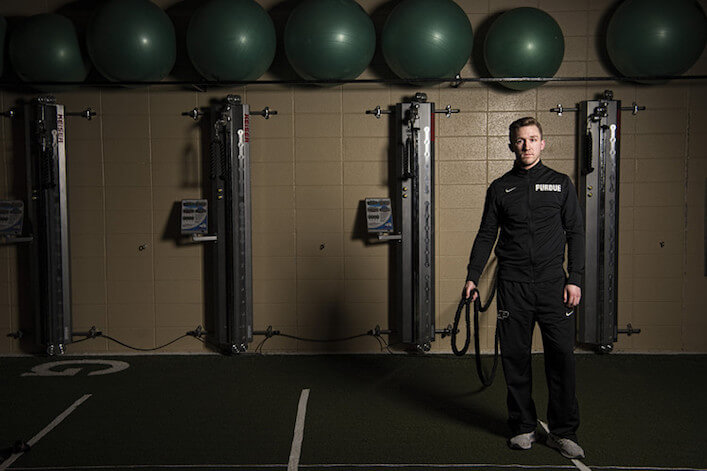 Josh Bohnotal is a guy I've known for years. From his start with the Chicago Bulls to his current position at Purdue University, he's a guy I've always respected and learned a thing or two from.
And if you like basketball, this is going to be your show. In this in-depth interview, Josh and I discuss the mistakes he's made in his career, how he structures his off, in and pre-season programs, and how he uses restorative and facilitative training sessions in-season to help his athletes perform at the highest levels.
Show Outline
Here's a brief overview of what Josh and I covered:
How he got into the world of physical preparation.
His career arc – starting with his dream job at the Chicago Bulls, to working with the Purdue men's basketball team today.
The extensive assessment Josh takes the guys through first-thing in the off-season.
How he outlines his off-season training program  – where he takes us step-by-step through both his training blocks, and individual training weeks.
What an individual training session looks like in the off-season.
What Josh is doing differently this off-season, and how he's putting the onus back on the players.
The shifts in training when moving from the off-season to pre-season periods, and then again from the pre-season to competitive season.
How Josh is keeping a high training frequency in-season with his basketball team, without killing them.
The BIG Question
A "not-so-fast" lightning round where we discuss his work with divers David Boudia and Steele Johnson made him a better coach, his favorite books, and his best Al Vermeil story.
Related Links
Sponsored by the 2016 Physical Preparation Summit
Connect with Josh
Josh's Book Recommendations
Purdue Basketball Training Video
Get 3 days of my best coaching materials — for free.
3 DAY COACH'S CAMP:
Write better programs
Learn how to motivate clients outside the gym
My most popular resets for instantly improving movement quality