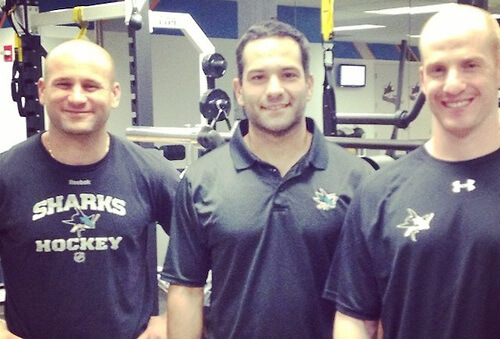 Mike Potenza is in his 11th year as the San Jose Sharks strength and conditioning coordinator. Prior to his time with the Sharks, he had successful tenures at both public and private facilities across the US, including winning a national championship during his time at Wisconsin.
In this show, Mike and I discuss why education is an integral component for coaching success, why maintaining strength and power across a season is critical for his athletes, and why diving into his athletes' blood work has become his current fascination.
Show Outline
Here's a brief overview of what we covered in this show:
How Mike got started in physical preparation, as well as the mentors (and impeccable timing) he's had along the way.
The physical qualities and tools he would give "the perfect" hockey player.
Big Rocks: The focus and core philosophy that guides his program and coaching.
An overview of his off-season layout, and the things he puts greatest emphasis on with his athletes.
What a typical training session looks like, from the second they walk in to the second they walk out.
How Mike changes things up during the competitive period, to make sure that his guys stay healthy, fit and strong.
The modifications that are made to accommodate athletes, from NHL rookies to seasoned vets.
Nutritional strategies used by the Sharks to ensure that they are covering all of their bases.
Supplements can be a murky topic, but here are the key supplements Mike recommends to his athletes.
How the team maximizes recovery and manages stress.
The BIG question.
An awesome lightning round where we cover the things people don't know about pro sports, the book(s) he's reading right now, and the freakiest athlete he's ever coached.
Related Links
Connect with Mike
Books Mentioned
Get 3 days of my best coaching materials — for free.
3 DAY COACH'S CAMP:
Write better programs
Learn how to motivate clients outside the gym
My most popular resets for instantly improving movement quality