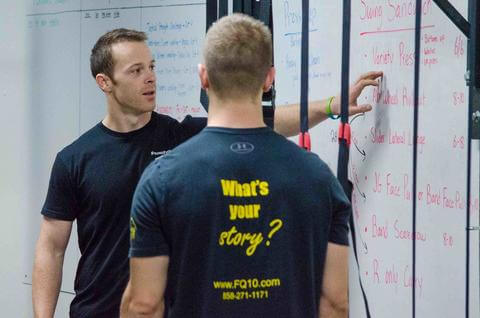 Sean Griffin started Chicago Primal gym in 2013. Prior to that, he'd worked in both semi-private and large group settings.
Sean was an intern at IFAST in 2012, and while all interns are like your child – you love all of them – Sean and I really got along great. He was always a curious guy with great questions, and I knew very early-on he was going to be a great coach.
In this show Sean and I discuss how his passion for fitness lead him away from the world of finance, why culture and environment are such critical aspects of his gym, and why the kettlebell is his favorite tool for developing strength and conditioning.
Show Outline
Here's an overview of what we covered:
How Sean got started in the world of physical preparation.
What made him want to start Chicago Primal gym as quickly as possible.
His vision for CPG – and the kind of facility he wanted to create.
Along this same line, the environment he was trying to build and cultivate from the earliest days.
The key philosophies he and his staff adhere to as trainers and coaches who work in a large group setting.
Why he's such a big fan of the kettlebell.
How Sean is using challenges as a lead generation tool.
Why he went out of his way to source food options for his clients, and how it's impacted his business.
The BIG Question.
A fun lightning round where we discuss advice for new business owners, the books he's reading right now, his biggest takeaway from his IFAST internship, and what's next for CPG.
Related Links
Connect with Sean
Books
Get 3 days of my best coaching materials — for free.
3 DAY COACH'S CAMP:
Write better programs
Learn how to motivate clients outside the gym
My most popular resets for instantly improving movement quality