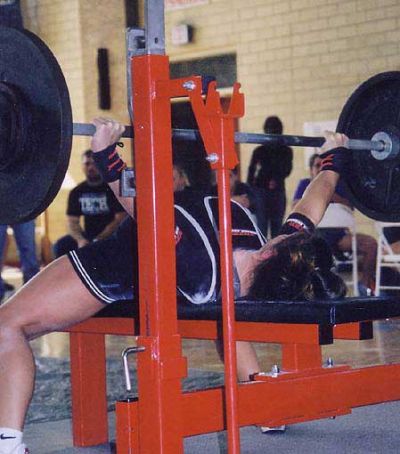 For whatever reason, my bench has been feeling great lately.  I feel like I need to knock on wood so as to not jinx myself, but I can't tell you how good it feels to have some decent bench pressing sessions.
Even when I was competing in powerlifting, I had some serious issues with my bench press.  At my first meet ever, I benched an anemic 250 pounds.  What's worse, it stayed that way for almost a year and a half!
Over the course of the next 3 years, I tried damn near everything in an effort to bring it up.
I tweaked my set-up.
I did more geared work to "try and learn the shirt."
I tried every known tricep and lockout exercise known to man.
Even at a heavier bodyweight, my best bench press in competition to date is 335.  For a 198 pound guy that competes in geared powerlifting, that's just not an acceptable number, especially when your competition squat and deadlift are almost 200 pounds over that!
Over the past couple of weeks and months, I've had a lot of time to think about the bench, and what I need to do to improve it.  Watching our former intern, TJ, take 335 for a triple has obviously lit a fire under my ass as well, especially since he was about the same bodyweight!
After thinking about all the pressing and triceps work I had done, I started thinking that the only thing I hadn't done was put a focused and dedicated effort into bringing up my pulling numbers.  Sure, I'd always focused on maintaining structural balance, but it was more of an effort to maintain balance versus getting aggressive in the opposite direction.
Quite simply, I decided I was going to put a premium on bringing up my horizontal and vertical pulling numbers and see what happened.
As I was coming to this conclusion, I read an article by Eric Cressey where he discussed how much rowing he had done in an effort to rehab his shoulder and avoid surgery.  What he found, however, was that as his upper back got stronger and stronger, his bench went through the roof!
(BTW: Here's a link to that article – Seven Habits of Highly Defective Benchers.  Eric and I also discussed this at length in our Podcast).
Over the past four weeks, I've had some of the most productive bench workouts of my life.  I feel stronger, more stable, and for the first time in a long time I feel like I'm on my way to setting some PR's.  But, the only reason it feels this way is because I took a step backward and addressed what I feel were some underlying issues.
If you're reading this and feel like it could help you out, here's what I'd suggest.  It may not be "6 Weeks to Jakt Gunz" or "8 week and 50 pounds on your bench", but I feel there are some simple, yet effective tips here that should help you out over the long haul.
1.    If you're really weak or unstable, go back to the basics.
Scap prehab work like Y's, T's and I's sure isn't sexy, but it's the foundation for scapular stability.  For people with extreme scapular instability, try slowing down the tempo (1-5-1) and only performing 3 sets of 5 reps in each position.  If you're a little better off, use these with a more moderate tempo (1-2-1 is fine).
2.    Drop the weights and get your scaps moving.
When I watch most people perform pulling exercises, they are very quick to dominate the movement with their arms.  This is a combination of two things – strong arms and weak backs.
Instead, think about actively pulling through your elbows – this will help you initiate the movement with your back.  From there, you also have to finish the movement with your scapulae as well.  On horizontal pulls, think about retracting hard and trying to make your scapulae touch each other.  On vertical pulls, think about touching your chest to the bar and pulling your scapulae into your back pockets.  This will really help you focus on scapular depression.  All this will come in very handy when you return to heavy benching and start dialing in your set-up.
3.    Forget about pressing – start your workouts off with pulling.
Instead of pressing first in your workout, start off every upper body workout with some heavy pulling.  Hitting the pulls first when your fresh ensures a greater level of intensity.
Obviously, chin-ups/pull-ups are a great option.  My new personal favorite is the chest supported row – I really feel like as my chest supported row goes up, so does my bench press.  And if you're in the market for a new CSR, Elite's (www.elitefts.com) is the best on the market, bar none.
On vertical pulls like chin-ups, pull-ups, lat pulldowns, etc., think about squeezing your shoulder blades DOWN, as if you're trying to tuck them into your back pocket. You can see in the video below my goal is to touch my chest to the bar, and actively "depress" my scapulae.
On all your horizontal pulls like dumbbell rows, chest supported rows, etc., think about squeezing your shoulder blades BACK and together.
Training scapular retraction AND depression is critical. These are the exact positions we want our scapulae in when we set-up for a big bench, so make sure you're training these motions within your workouts.
In a perfect world, I would recommend doing this for 2-3 months.  Trust me, your pressing numbers will suffer minimally, if at all.  And when you switch back to making them your lead-off lift, you'll be rewarded with more stability and strength.

4.   Get (and keep) your wrist in alignment.
This final tip isn't related to pulling strength, but it's something I've really noticed since taking the RKC.  A TON of people I work with (myself included) have a tendency to lose strength through their wrists when bench pressing.  As they lower the bar to their chest, you can see their wrist roll backwards, taking them into hyper extension, and worse, losing strength.
Next time you bench press, make a concerted effort to grip the bar as hard as possible, and really keep your knuckles pointed towards the ceiling.  This little tip alone could help you score a PR in your next session.
Summary
This isn't the "sexy" option to benching more weight, but for many of you reading this it could be holy grail, at least for a while.  Once the back is stronger and you return to heavy pressing, focus on dialing in your set-up – my "Yo, How Much Ya Bench?"  article should help in that regard.
Trust me, I'm still not setting the world on fire with my bench press.  But as someone who has tried damn near everything in an effort to bring my bench up, I really feel like this has some merit.
Make a dedicated effort to bring up your pulls, and you should be rewarded with some nice progress in your bench press in the long run!
Stay strong
MR