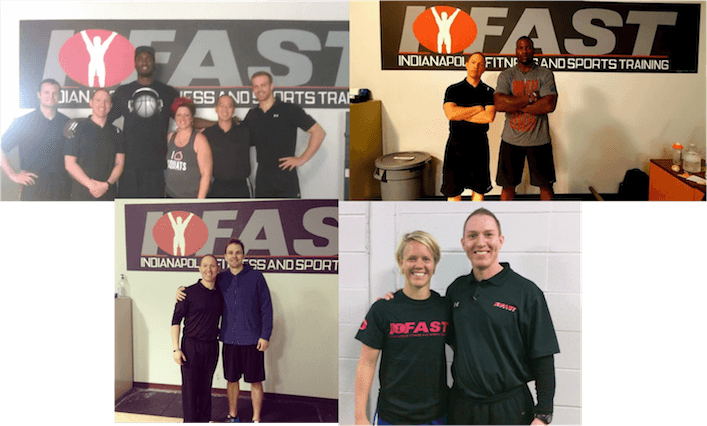 If you know anything about me, you know that my brain is always working.
Especially when it comes to the athletes I work with, I'm constantly thinking about not only their training, but what I'm doing as a coach. For example:
What are the best ways to communicate with and coach this athlete?
Am I consistently finding ways to create a connection? To grow our relationship?
And at the end of the day, am I setting them up for success?
As such, coaching has been at the forefront of my thoughts lately. Here are 15 thoughts that I hope you'll helpful in your coaching journey. Enjoy!
I believe, with 100% conviction, that a great coach wakes up excited to go to work and coach. They may have varying levels of excitement, and may even have some "off" days, but a great coach loves what they do.
Furthermore, a great coach loves the people they work with. They realize that everyone is different and unique. They will connect more with some than others, but they also respect the path that everyone is on.
As a coach you need to constantly seek out ways to connect with your athletes. As a coach it's not just about X's and O's, but about the communication and dialogue that goes on between you and your athletes. If you don't communicate,  you've got a problem.
Following up on this, young people are different today than they were 10 years ago. You can either bitch and moan about it, or you can work to stay current and find ways to relate to them.
Like any great relationship, coaching comes down to three things: Communication, trust and respect. (And keep in mind, this is a two-way street!)
There's always going to be a lot of talk about the X's and O's of training. And now you can throw in topics like data collection, sports science and athlete monitoring. That's a good thing – just remember that ultimately we are dealing with people.
In that same vein, I love the resurgence of people talking about coaching, cuing, etc. That as well is a good thing – just don't think you can get by solely on your good looks and witty humor. It helps to go to a seminar or crack a book every now and then.
Coach anyone and everyone early-on. When I used to interview our interns, I always asked them what their dream clientele was. That's helpful as it gives me insight as to what they're passionate about and where they're going. But in the beginning, coach everyone. It's amazing what you learn coaching people that are outside of your comfort zone.
Coach the toughest clients. At IFAST, we get all shapes and sizes – from 12- and 13-year-old kids, to 88-year-old grandmothers, and everything in between. When I thought an intern was ready, I would give them my toughest clients so that they would be forced out of their comfort zone. When someone doesn't move well, or doesn't have a ton of natural athleticism, you have no choice but to get better as a coach.
By the way – athletes are easy to train. Now I'm sure someone on the Interwebz is going to get all bent out of shape over this one, but please here me out. Sure, an athlete might perform more complex movements, but their natural athleticism, mobility, body awareness and motor control give them an advantage over everyone else. If you want a challenge, try taking a middle-aged man or woman who never played a sport and get them to a point where they can run, jump and lift safely and effectively. It's a whole different ball game!
It's imperative to find YOUR coaching style. Coming back to IFAST, we have a myriad of coaches, all of whom work best with a different clientele. But furthermore, we're all unique individuals – we have different interests, personalities, and even senses of humor. If any of us tried to coach like someone else on our staff, it would feel forced or contrived. Even if your coaching is subpar early-on, let your true personality shine through and work on the back-end to get your coaching game up to speed.
Stop trying to be perfect! In the social media world, there's a ton of talk about body shaming. The Instagram models capture these perfect pictures of themselves that took minutes (if not hours!) to get right, all in an effort to show what a "perfect body" looks like. Unfortunately, I think we often do this with coaching and social media as well. If you've been doing this for a while, don't sit up on your perch and tell people "how it's done." Instead, let them know that you made mistakes, that they will make mistakes, and in the end, all of this is critical to becoming the best coach possible.
Which reminds me – as a coach, a little humility goes a long way. Someone gave you your first shot – remember that. You weren't perfect when you got started – remember that. And remember what you felt like on the first day of your internship? That's how they kid who is now interning at your facility feels today – remember that.
Nothing pisses me off more than a coach who thinks/acts like they know everything. This comes back to humility – there's so much information out there, it's overwhelming. If you get great results, awesome! I'm happy for you. But keep in mind that the second you act like your sh*t don't stink, some unknown coach is quietly plugging away in their lab, getting better and on their way to taking your job.
Last but not least, realize that coaching is a life-long process. In these days of immediate gratification, it's easy to want to be a great coach overnight. Unfortunately, it's not as easy as reciting the Krebs Cycle step-by-step, being able to quote Louie Simmons, or memorizing sections of Supertraining. The books, seminars and continuing education are all great, but at the end of the day coaching comes down to experience. It takes time. You have to get out there and actually work with real, live human beings, and help them get results.
The bottom line is this: When you sign-up to be a coach, you know and understand that this is a life-long process.
If you can humble yourself and agree to this simple fact, your life will be immeasurably better based on the people you help along the way.
All the best
MR
Get 3 days of my best coaching materials — for free.
3 DAY COACH'S CAMP:
Write better programs
Learn how to motivate clients outside the gym
My most popular resets for instantly improving movement quality