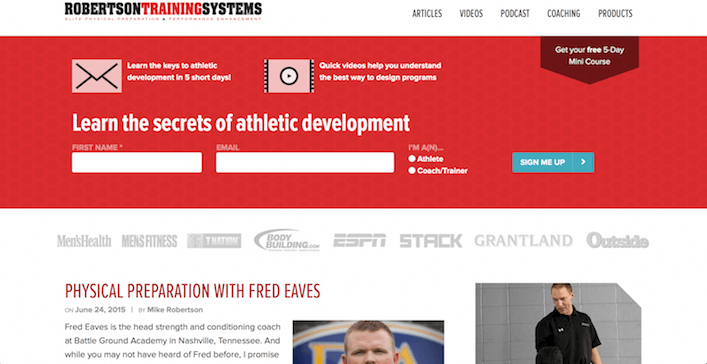 It's been several months in the making, but Robertson Training Systems 3.0 is here!
Now I'm sure you're probably wondering, "Mike – why on Earth would you change what was already a solid site?"
The answer isn't necessarily simple. Yes, the old site and design were great.
But I also needed something fresh – and that reflects my content strategy going forward.
Furthermore, for new trainers, coaches and athletes, I needed a way to "assimilate" them and get them up to speed on how we do things around here.
But I'll explain all of that below. Here's a quick virtual tour of the new site!
Articles
The articles page always has been, and always will be, the primary content page here at RTS.
For a kid that hated English and reading growing up, I've really grown to love writing over the years.
And while the content is the same, my goal is always to make consumption easier for you. As such, you'll notice a much cleaner and open design on the article pages.
The goal here was to have less clutter and make it all about the content.
I'm really happy with how these pages look, and I think you will be, too!
Videos
The videos page is part of a broader content strategy I have going forward.
As much as I love to write, I know that writing/reading is only attractive to a certain demographic. Some people love to read, and others hate it.
So to make my site a bit more content friendly, I've made it a goal to create more video content going forward.
On this page, you'll find a live stream of my YouTube page, which will be a mix of exercise/technique videos, and coaching videos.
Podcast
The podcast page is something I'm really proud of, for a lot of reasons.
First of all, it took a ton of time to pull all this together. I'm still waiting on Stitcher to approve my show, but just getting all of the shows submitted and uploaded to iTunes, SoundCloud, etc. is no small undertaking.
Second of all, I loved "In the Trenches Fitness" when it got started, but it simply lost steam. If you want the full story, you can get it here.
And, like I mentioned above, everyone learns differently.Whether it's reading, listening or viewing, I want to create content via multiple mediums to allow people to consume it in a way that's truly beneficial for them.
I wanted a fresh start with the podcast, and something that better reflects where I'm at with regards to coaching and training. I think the Physical Preparation Podcast covers all these bases.
As you can see I've already got three full shows uploaded, so you don't show up to an empty feed. And what's really cool is that I've already gotten over 1,500 downloads in just a few short days!
If you have a commute of any kind in your day, make sure to sign-up via iTunes, SoundCloud, and (hopefully) Stitcher soon.
Coaching
I've been doing online coaching for close to 10 years now.
And needless to say, the game has changed drastically since then!
The accessibility of video has made online coaching much, much easier. Sure, you still lose a bit of the dynamic that occurs in a live coaching session, but this option is far better than no coaching at all.
Products
This part is pretty simple: RTS is not a blog, it's a business.
In other words, I get paid when I sell stuff – coaching, consulting, products, etc.
I'm willing to give a ton away for free. All that I ask is that if you enjoy the content and learn a thing or two, if and when the time comes, pick up a product that will take you to the next level.
The Mini-Course
Last but not least, I wanted/needed a way to get new trainers, coaches and athletes who enter the site up to speed as quickly as possible.
After all, if I'm talking about R7, aerobic training, or anything in-between, a newbie may have no clue what I'm talking about!
As such, the mini-course is geared to get people up to speed as quickly as possible via five short videos. This way, they have an idea of where I'm coming from as a trainer and coach.
If you're new to the site, I can't recommend this videos highly enough. In just five short days you'll feel like you've been here for months, and have a strong idea of how to develop and implement smart training programs.
Summary
So there you have it – Robertson Training Systems 3.0 in a nutshell!
Undertakings like these always take longer than they should, but in the end, I think the result is well worth it.
The site is cleaner, easier to navigate, and reflects my content strategy going forward.
I hope you enjoy it!
All the best
MR
P.S. – I would be remiss if I didn't at least mention my web guy, Andrew Pautler, here. He does amazing work, and was an absolute pleasure to work with. Thanks for everything my man!
Get 3 days of my best coaching materials — for free.
3 DAY COACH'S CAMP:
Write better programs
Learn how to motivate clients outside the gym
My most popular resets for instantly improving movement quality