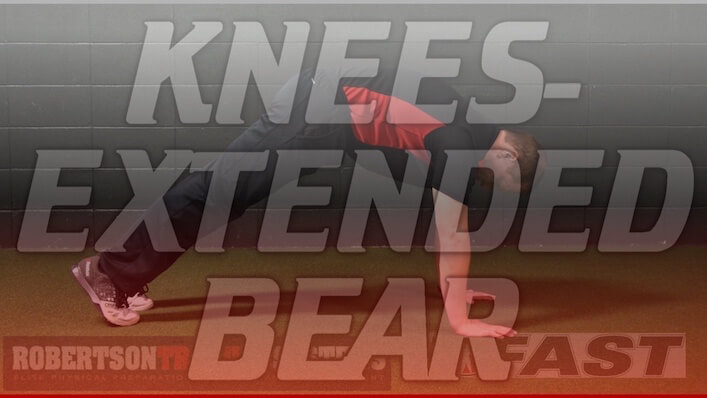 A few months back, I introduced you to a new core training exercise: The Bear.
I love the bear because it really targets the obliques, and also reinforces good reaching patterns for my athletes.
However, if you're anything like me, you always want to get to the next level.
Enter, the knees extended bear…
Now that you've watched the video, here are a few keys in the set-up and performance of the knees extended bear:
Set-up in a quadruped position, with the knees underneath the hips and hands underneath the shoulders.
Round out the lower back and pelvis, reach long through the arms, and pick the knees 1″ up off the floor.
From this position, do not move the hips but instead simply straighten the knees. If the position is correct you should have a bit of an "A" frame position with the hips elevated slightly.
Once in the correct position, simply cue the athlete to "reach long" and "tuck" the pelvis underneath them.
This is one of those exercises that looks awfully simple, but if done correctly will absolutely crush your abs.
Give the knees extended bear a shot next time you're in the gym – I think you'll love this exercise!
All the best
MR
Get 3 days of my best coaching materials — for free.
3 DAY COACH'S CAMP:
Write better programs
Learn how to motivate clients outside the gym
My most popular resets for instantly improving movement quality