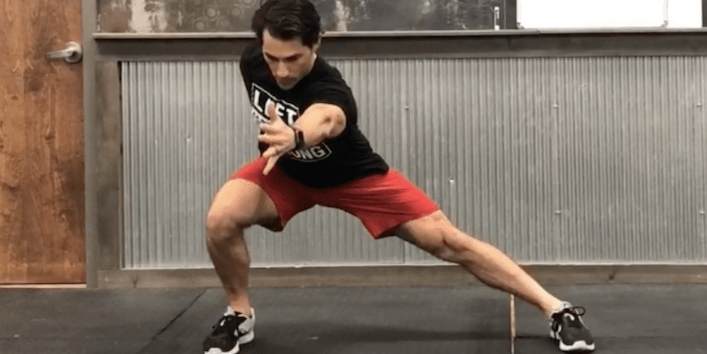 Ryan Patrick is owner of Peak Fitness & Sports Training (aka PeakFAST) in Erlanger, Kentucky, which he opened 9 years ago. Ryan recently finished his Masters of Science from Colorado State University, and is a competitive powerlifting in the 90 kg division.
Ryan's a guy I've known for close to a decade, and someone I have a ton of respect for. He's just a hard working, genuine, salt of the Earth kind of guy.
In this show, Ryan and I discuss his overarching training philosophy – including how he blends movement quality with training savagery, why giving clients ownership is key to his success with everything from busy dads to young athletes, and how he's using 90-day targets to spur success with his clients.
Give them what they want, in the context of what they need. – Ryan Patrick
Show Notes
Here's a brief overview of what we covered in this week's show:
MR's Monologue: Giving context in social media
How Ryan got started in the world of physical preparation.
The time he was living on his mom's couch, but she was also his first paying client at his gym!
Ryan's overarching thought process and philosophy when working with clients.
How he blends improving movement quality, while still letting people train like savages.
How he goes about laying out a program for a gen pop client vs. a young athlete.
The blind spots he's found over the years when training gen pop clients, and what you can do to address them.
Ryan thoughts on how to better streamline and organize your life (this is coming from a guy with two businesses in the household, a wife, and 5 kids!)
The BIG Question
Our always popular lightning round where we talk professional success, favorite books, Ryan's current training goals, and what's next for him in life.
Related Links
Connect with Ryan
Links Referenced
Books Referenced
The Physical Preparation 101 Training System
Are you a fitness coach or trainer looking for ways to improve the results you deliver to your clients? Want to create consistently better training programs and learn the exact exercises and strategies to improve your clients' and athletes' performance?
The Physical Preparation 101 Training System unlocks the secrets to optimizing performance and improving movement through my unique, cutting-edge basic training philosophy.
In this series, you'll learn:
The nuts and bolts of program design
The single-biggest issue you will see related to core exercises and breathing – and how to fix it!
How to train others to squat safely and effectively – in the first session
How to stop lower back pain in its tracks through deadlift progression
And much, much more!
You'll also receive sample programs and templates to help you build great programs with AMAZING results – consistently.
Are you ready to take your fitness training and coaching programs to the next level? Visit PhysicalPreparation101.com to learn more and get started NOW!
Spread the Love!
Did you enjoy this episode?
Laugh at my mistakes?
Or possibly even LEARN something?
If so, please take the time and share it with ONE PERSON who you think can benefit from it. Thank you!
Get 3 days of my best coaching materials — for free.
3 DAY COACH'S CAMP:
Write better programs
Learn how to motivate clients outside the gym
My most popular resets for instantly improving movement quality