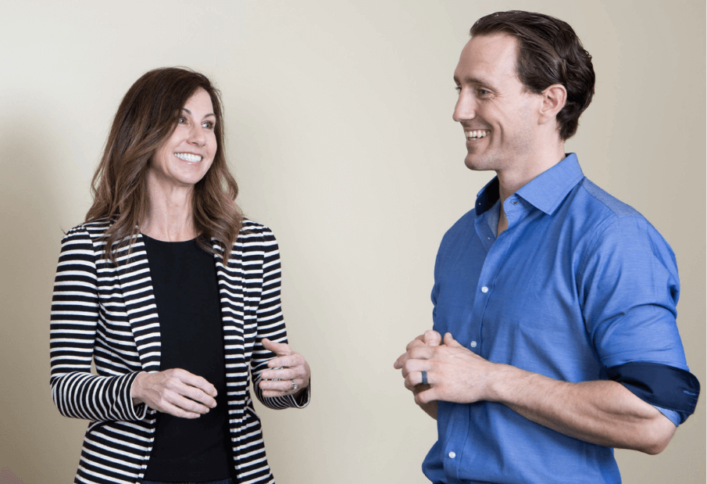 Scott Schutte is an author, fitness and nutrition professional, and the co-founder of Evolved Personal Training. Scott is dedicated to making a holistic impact on his clients' lives and has spent his career learning and working with leading experts in the health and fitness industry to support the optimal growth and development of his clients.
Dr. Janine Stichter is an educator and business coach. She has a Ph.D. in Behavior Analysis and has authored over 90 peer-reviewed research books. Through her experience as a behaviorist – both as a clinician and researcher – Janine understands the factors necessary to create sustained change. In partnership with Scott, Janine is committed to educating coaches and trainers on the psychology of fitness.
Scott and Janine join me today to explore the psychology of fitness and its role in achieving health goals. They explain how the COVID-19 pandemic has changed clients' attitudes towards health and fitness. They discuss why the fitness industry needs to offer services beyond nutrition and workout and highlight how today's athletes go beyond their sports. They also explain how trainers and coaches can evolve themselves to support the physical and mental health development of their clients and help them achieve their fitness potential.
The modern athlete does a lot more than workouts and nutrition – they're also focused on mind, body, and soul. The fitness industry needs to evolve along with these needs. – Janine Stichter
This week on the Physical Preparation Podcast:
Janine's background in behavior analysis and how Scott defines his success in the fitness industry
What led Janine from behavioral science to the world of physical preparation
How Scott progressed from starting his career at a Gold's Gym to co-founding a business
Why psychology is a big piece of the fitness puzzle and how they incorporate it in fitness training
How COVID-19 has impacted clients' physical and mental health awareness
The 'tabletop' approach to fitness and the importance of mindset in health and fitness
Different ways to support your clients' mindset over health and fitness
The power of building a strong team of coaches with diverse backgrounds to support a client's or athlete's training
How fitness coaches and trainers can improve themselves to help clients succeed with their goals
The value of connecting profoundly and understanding environmental factors that can affect clients
Why trainers need to take care of themselves more
Rate limiters and how to help clients articulate their needs
Resources Mentioned:
Connect with Scott Schutte and Janine Stichter:
Stop the Frustration! Get the Complete Coach Certification
Are you a young fitness trainer or coach?
Are you frustrated by the results you're getting or the lack of resources available to learn the skills you need to be successful?
Are you struggling to get enough clients or wondering how long you'll be able to follow your passion for helping others?
It's time to stop the frustration and stop worrying. It's time to get certified!
If you're serious about improving your results, serious about becoming a better coach, and serious about increasing your bottom line, then you need the Complete Coach Certification.
In this massive course, you'll learn:
How to use the R7 system to create seamless, integrated and efficient programs for clients and athletes of all shapes and sizes
How to create the culture, environment and relationships with everyone you train so you can get the absolute best results
The exact progressions, regressions, and coaching cues I use in the gym – from squatting and deadlifting to pressing and pulling and everything in between
And much, much more
This massive certification course is jam-packed with everything I've learned over the last 20 years of my career.
So if you're ready to get serious about the results you're getting for your clients and the impact your programs have on your income, head over to www.completecoachcertification.com to sign up for the Complete Coach Certification course today!
Spots are limited. The next certification is set to launch in September 2020.
Join my FREE Insiders List to learn more, stay tuned for our launch details and save $200 when the course opens!
Subscribe, Rate & Share!
Thanks for tuning into this week's episode of The Physical Preparation Podcast – your one-stop-shop for fitness trainers, coaches, and athletes.
If you enjoyed this episode, be sure to subscribe on Apple Podcasts, Stitcher, SoundCloud, Spotify, and Google Podcasts and leave your honest review. I'd also love to connect via Facebook, Twitter, and Instagram or visit our website.
And last but not least, please don't forget to share your favorite episodes with your friends on social media. Thank you!
Get 3 days of my best coaching materials — for free.
3 DAY COACH'S CAMP:
Write better programs
Learn how to motivate clients outside the gym
My most popular resets for instantly improving movement quality