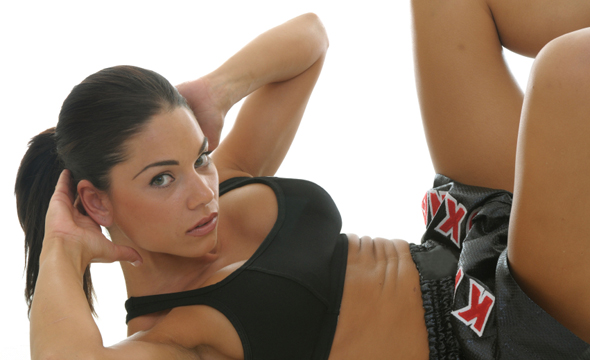 "Should we perform crunches in our exercise routine?"
This question has been hotly debated, especially in recent years. Many have leaned on the work of Dr. Stuart McGill and excluded crunches, sit-ups and other spinal flexion work from their programming.
But one question that almost always comes up is this:
What about mixed-martial artists (MMA)? Should they perform crunches, sit-ups and/or spinal flexion work in their programming?
I have my own thoughts about this type of training, but I'm going to save it for today.
I posed this question to several high-level guys who all train elite MMA fighters. Here's what they had to say:
We don't program any "flexion-based" core exercises like crunches and sit-ups for our MMA and Brazilian Jiu-jitsu athletes and haven't since 2005. The sport requires enough spinal flexion as is and I feel programming it in our training is the wrong move.
In the sport of MMA, there is a much higher demand for the prevention of movement (think of your opponent trying to sweep, reverse or move you) than there is for the actual production of spinal flexion to move your opponent. The spine only has so many cycles of flexion available before "something" bad happens (Stu McGill, of course, can talk for hours on this) so we would rather our athletes use these cycles up during their skill training (no way around this) rather than their performance training.
The proof for me, what really changed my mind, was simply eliminating these exercises out of the programs of our combat athletes that experienced low back pain.
The results? Literally everyone had decreased pain to zero pain with myself included. I am a black belt in Brazilian Jiu-jitsu and years ago I had suffered a serious low back injury that kept me off of the mat for nearly 6 months. This injury was a blessing and a curse.
The blessing was that it forced me to understand the spines relationship to flexion and it introduced me to Stuart McGill. The more I train inverted guard positions the worse my back feels so I cannot imagine ever intentionally doing crunches or sit-ups again in my strength training.
The key to training combat athletes doesn't simply lie in making them solely perform better, but the secret, is KEEPING them as healthy as possible so that they have the opportunity to perform better. This is quite possibly, the roughest sport there is so the healthier the athlete is and the more chances they have to train to improve their skill, strength, power and conditioning.
The other problem we face with MMA athletes is posture. Good posture in fighting is bad posture in life and like the cyclist or desk jockey, we as fitness professionals and strength coaches MUST program intelligently to combat these bad postures.
Crunching and sit-ups train and reinforce poor posture by drawing the pelvis closer to the ribcage. We can reduce the harsh demand of poor posture by programming spinal stabilization exercises with a strong focus only correct posture while performing them.
This debate has been around for sometime now and doesn't look like its going to die anytime soon. We know that there are better exercise selections (stabilization exercises) then crunches and sit-ups, and we know there are safer exercises. The choice becomes easier if you divorce yourself from tradition.
Yes, I will program in some spinal flexion, spinal extension, rotation, lateral flexion, etc. That being said, I am very cognizant of the following:
Things like load vectors (i.e., looking at whether the load is directly opposing the desired movement pattern or is it actually forcing them more into the movement pattern);
Making sure they utilize a controlled movement especially when approaching the end ROM of any of the above patterns and also making sure that the program is about a 80-20 (at most a 70-30) split of spinal stability vs. spinal mobility.
In the early stages of the training program, spinal stability work takes total precedence.  As we move through the training process, we will incorporate some spinal mobility work. A lot of the spinal mobility work will actually be part of integrated movement pattern, like a hanging knee raise into a reverse curl motion.
If you need specific examples of exercises/movement patterns that I use, I can flesh this out some more for you.  But, the above exercise would be an example of how I will add some spinal mobility into the program.
In addition, I not only train my fighters like this, but myself as well, as I have found it to benefit my training in Brazilian Jiu Jitsu and boxing/kickboxing.
True story: About 4-5 years ago (whenever McGill's Ultimate Back Training Book came out), I had stopped performing all spinal mobility work and only did spinal stability work.  Now, I was never into the whole high repetition abdominal work thing anyway, but I did do quite a bit of Swiss Ball Crunches, Swiss Ball Oblique Crunches, Reverse Crunches, etc. and I even did some heavy Swiss Ball DB Crunches.
Anyway, about 6 months or so into the whole no-more Spinal mobility process, I found myself finishing up a set of heavy bench press (I think it was around 250 lbs., which was heavy for me); I tried to sit up.
I couldn't do it, I was stuck.
It took me by complete surprise so I tried again. But, this time, I really focused on performing a curl up.  Once again, I couldn't do it. So, I turned to my side; grabbed the side of the bench and lifted myself up.
From that day forward, I put back some spinal mobility exercises into all of my programs, including my clients (unless they have a spinal pathology) and athletes. After the incident, I remembered something that Paul Chek said once in a seminar that I attended about 15 years ago: "If you don't use it, you will lose it."
And, that is exactly what happened to me. I had lost the ability to flex my spine.

My programming is based on the needs analysis of the sport.  The sport happens in a chaotic manner and often times your body is not in the most ideal positions.
In my opinion, and my personal experience, I have found it extremely beneficial to make sure that I have the strength (and the ability to control of that strength) throughout the entire available range of motion. I don't find it necessary to perform a high volume of movement in these patterns, but I have definitely found more merit in doing some than none at all.
And, back when I experimented with the omission of all spinal mobility work on myself, I did it with my clients as well. When I added it back into their programs, they responded with very positive feedback as well. In fact, many of them said that they felt better.
I thought about this topic a lot and I think that a lot of people (myself included) forgot that that when McGill's research came out, it was all based on a spine in vitro.  The spine has muscles, tendons and ligaments attached to it and all of these things help create force as well as attenuate force.
So, even though it's very interesting research, it's not exactly applicable to what really happens in a human spine with muscles, tendons and ligaments. I still think that we should spend the majority of our training focusing on Spinal stability, but I feel there is a need for some smart use of spinal mobility exercises as well.
A huge question and one which would be better to discuss on the phone. Many of the athletes who see me have flexion based back pain so I need to enhance their athleticism by avoiding the pain mechanism.
For them I assess their capacity for flexion volume then stay within that. Things like stir-the-pot etc assist in this. There are those who say "but they flex in MMA and therefore need to keep training it through the pain".
They were not successful and that is why they ended up seeing me. I save the flexion capacity for the sport and preserve the spine in training. That is for those in pain.
For those without pain, the world changes. I need to see the total program, and assess the individual to determine where the athletic imbalances lay, where technique is flawed, where they are over powered or underpowered etc etc. From that I will design the program. Situps are fine for some where a combo hip flexion is needed. But, if it is just hip flexion I will focus there.
But for MMA:
Build the abdominal and torso armor to withstand blows,
lift an opponent and throw,
core stability and proximal stiffness to unleash distal mobility and limb speed, and
within the core stiffness rubric, rapid contraction and relaxation of muscle to enhance speed for closing velocities and effective mass to enhance force delivery to the fist or foot, etc etc.
Each program will be different depending on what I feel will produce the biggest improvement for the least effort.
The acid test: put an MMA athlete in front of me, let me assess and watch them perform and then let me roll with them in the cage – then I will be educated enough to design a program.
So there you have it – three industry experts weigh-in on the topic of crunching, sit-ups and spinal flexion?
But what do you think? Would you prescribe these exercises in your programming?
Any specific thoughts with regards to MMA fighters?
I'm looking forward to your feedback below!
All the best
MR
P.S. – In case you've missed it, Complete Core Fitness is coming very soon! Here's a short video that describes why I created the product, what it covers, and what you'll learn by checking it out!