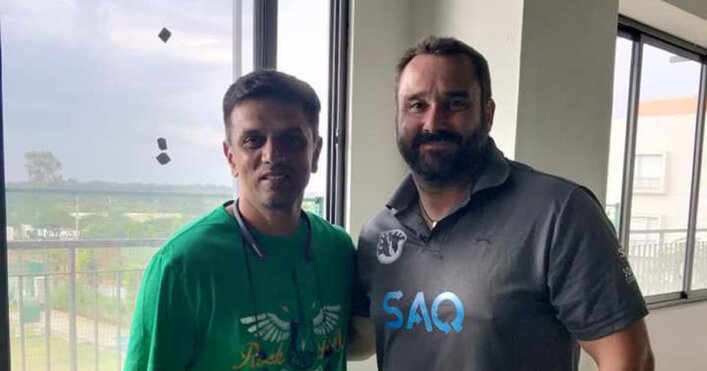 Steffan Jones is a former professional fast bowler for Somerset, Northamptonshire, Kent, and Derbyshire County Cricket Clubs.
As a graduate of Sports Science at Loughborough University, Steffan has always been driven to take ownership of improving his physical capabilities. This led him to do his own research on human performance, coaching himself to be the best athlete he can be and even building a career upon his knowledge of human performance.
Today, Steffan is a mentor and coach who specializes in cricket bowling and is the mastermind behind the Pacelab, an academy for fast bowling.
Steffan joins me today to share his wisdom on building speed and power in cricket bowling, shares an overview of what cricket is and illustrates its similarities to baseball.
He describes the biomechanics involved in cricket and fast bowling, and reveals the traits a player must have to succeed in the sport.
And last but not least, we discuss how he evaluates his players for cricket bowling, how he designs training programs, and how he incorporates isometric training into his programs.
Speed wins sports. Part of speed is built in the gym, but not all of it. – Steffan Jones
This week on the Physical Preparation Podcast:
Steffan's background and how he became interested in the world of physical preparation
Steffan's career as an athlete, and transition into his role as a mentor and fast bowling coach
A brief overview of cricket's rules and gameplay
The similarities and differences between cricket, baseball, and javelin throwing
The biomechanics of fast bowling in cricket and the reason Steffan doesn't train his athletes in Olympic lifting
How Steffan evaluates his athletes
How backfoot mechanics have become a prevalent issue in the game and how strength development impacts coordination and speed
Why Steffan is a big fan of isometric training and how he uses it in his programs
How the skill stability model fits Steffan's programming approach
Steffan's advice for newer cricket coaches
Connect with Steffan Jones:
IFAST University is Coming BACK! Are You In?
Are you ready to take your coaching and training career to the next level?
You need to find great mentors to guide you along your journey – to help you find the blind spots in your own training programs and improve your skills as a coach.
But… mentorship can be expensive, and unfortunately, it's not always feasible for some budgets.
That's why Bill Hartman and I are getting ready to re-open IFAST University, an online curriculum and mentorship program designed exclusively for fitness trainers and coaches.
We want to help every trainer and coach in the industry improve their training techniques and write better training programs for their clients.
By becoming a member of IFAST University, you'll receive:
Multiple hours of members-only exclusive content
Monthly updates and tips to help you improve your skills and programs
1-on-1 Q&A sessions to answer your specific questions
Access to our private discussion forum
This blend of content and Q&A is specifically designed to help make YOU the best fitness trainer you can be.
To learn stay tuned to https://ifastuniversity.com/ as the website will be up and running shortly!
Subscribe, Rate & Share!
Thanks for tuning into this week's episode of The Physical Preparation Podcast – your one-stop-shop for fitness trainers, coaches, and athletes.
If you enjoyed this episode, be sure to subscribe on iTunes, Stitcher, and SoundCloud and leave your honest review. I'd also love to connect via Facebook, Twitter, and Instagram.
And last but not least, please don't forget to share your favorite episodes with your friends on social media. Thank you!
Get 3 days of my best coaching materials — for free.
3 DAY COACH'S CAMP:
Write better programs
Learn how to motivate clients outside the gym
My most popular resets for instantly improving movement quality