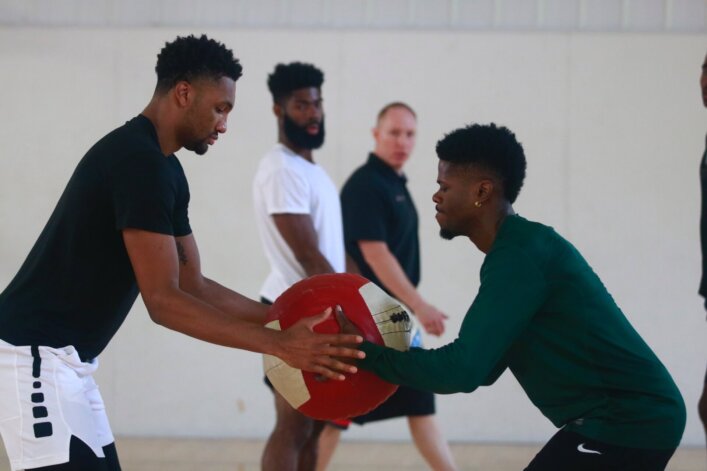 Over the last 20 years of my coaching career, I've definitely made every mistake in the book when in terms of writing programs and coaching athletes and clients.
I got serious about coaching way back when I was at Ball State University in 2000, and ever since, I've done everything from one-on-one to large group sessions, and worked in every environment from rehab to high performance.
And while I've probably committed a hundred mistakes over the years, four of them particularly stand out.
In today's episode, I share the four biggest mistakes I've made in my career as a coach.
I illustrate how focusing too much in one area can negatively impact a program and highlight the role of setting goals when writing a program.
I discuss why coaches need to increase their understanding of conditioning and explain how the fat loss industry has influenced the strength conditioning world.
And I also underscore the importance of finding what makes YOU unique as a coach and illustrate how I developed my coaching philosophy.
When we get too focused on one specific thing – whether it's strength, flexibility, or mobility – it has a tendency to take over our programming. – El Conquistador, MR
This week on the Physical Preparation Podcast: 
How I used to use too many resets and correctives in my program
The negative impact of focusing too much in one area of a coaching program
Why you need to set a goal when writing a program
The purpose of resets, correctives, and breathing exercises
How I made the mistake of focusing too much on strength training
Using strength training to increase force production and desensitize the nervous system
How the fat loss industry has influenced the conditioning world
Why glycolytic exercises don't necessarily make great athletes
Why you need to understand strength conditioning better
The importance of finding your unique coaching philosophy
Resources Mentioned:
Key Points to Remember
Resets and correctives should improve movement quality or movement variability.
Strength training has a point where we can see diminishing returns.
Athletes, rehab clients, and the general population can benefit from a smart conditioning program.
Be authentic to yourself.
Momentous – The Cleanest Recovery Products in the World
Momentous is a world-renowned sports performance and recovery supplement. Preferred by top-level athletes in the NFL, NBA, NHL, and NCAA, Momentous is NSF and Informed Sports Certified.
Experience the best-tasting, cleanest recovery products in the world and take your performance to the next level. Choose Momentous.
For more information on Momentous or to place your first order, visit www.livemomentous.com/robertson – use the coupon code: Robertson20 at checkout to receive 20% off your first order or receive a free 3-pack sample.
Subscribe, Rate & Share!
Thanks for tuning into this week's episode of The Physical Preparation Podcast – your one-stop-shop for fitness trainers, coaches, and athletes!
If you enjoyed this episode, be sure to subscribe on iTunes, Stitcher, and SoundCloud and leave your honest review.
Connect with us on Facebook, Twitter, and Instagram or visit our website.
And last but not least, don't forget to share your favorite episodes with your friends on social media. Thanks for your support!
Get 3 days of my best coaching materials — for free.
3 DAY COACH'S CAMP:
Write better programs
Learn how to motivate clients outside the gym
My most popular resets for instantly improving movement quality