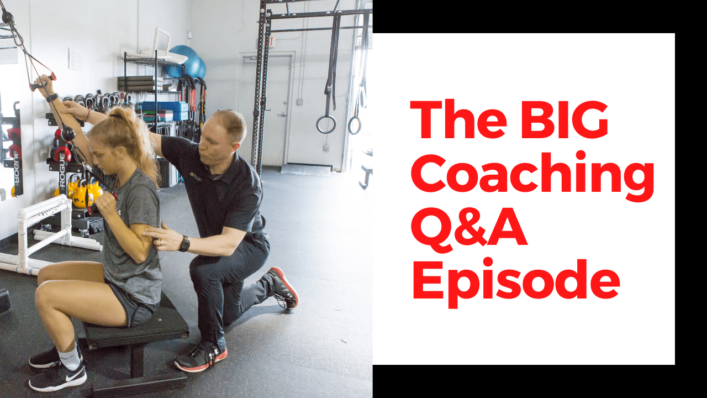 Career development, continuing education, and program design: These are three KEY areas in coaching.
But they could be a little overwhelming for everyone!
From side-hustlers who want to coach full-time, to coaches who want to take their program to the next level, people raise a lot of questions about these topics:
How do you design and improve a program?
How do you expand your knowledge base?
How do you even start a coaching career?
In this episode, I explain how reaching out and learning from a mentor can empower your career as a coach, and describe how building a client base can help you transition to coaching full-time.
I share areas of continuing education you can use to expand your knowledge base, such as program design and functional anatomy.
I illustrate how analyzing your development as a coach can help you plan and structure your continuing education.
And of course I share some mistakes, and discuss how my process in program design has changed over the years.
I think there's a TON of great info in this episode, and I hope you enjoy it!
Having textbook knowledge doesn't make you a coach. Experience is how you become a coach. – Mike Robertson
This week on the Physical Preparation Podcast:
How to get started in coaching
Pivoting from coaching as a side-hustle to making it a full-time profession
The importance of finding and learning from a mentor
The role of continuing education and building a client base to pivot to a full-time coaching career
How to be a better communicator to make athletes and clients buy-in to your program
Strength and conditioning, program design, and other areas to learn in continuing your education
How to plan and structure your continuing education
The impact of analyzing your progress and weaknesses as a coach in approaching con-ed
My thought process in creating courses and the similarities between course creation and writing a fitness program
Focusing too much on technique and becoming too nit-picky with movement
How my program design process has evolved over the years and how I'm improving "smoothing the edges"
Expanding and adding more elements to your program
Subscribe, Rate & Share!
Thanks for tuning into this week's episode of The Physical Preparation Podcast – your one-stop-shop for fitness trainers, coaches, and athletes.
If you enjoyed this episode, be sure to subscribe on Apple Podcasts, Stitcher, SoundCloud, Spotify, and Google Podcasts and leave your honest review. I'd also love to connect via Facebook, Twitter, and Instagram.
And last but not least, please don't forget to share your favorite episodes with your friends on social media. Thank you!
Get 3 days of my best coaching materials — for free.
3 DAY COACH'S CAMP:
Write better programs
Learn how to motivate clients outside the gym
My most popular resets for instantly improving movement quality