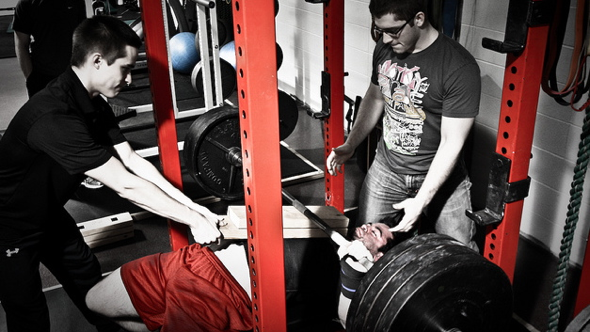 One of the things I've been thinking about a lot lately is a concept I refer to as "clean volume."
No we're not talking about power or hang cleans – I'm talking about the quality of the volume that you're accumulating in the gym.
Let me explain a bit further.
This concept really solidified for me while chatting with Dave Tate at last years Underground Strength Session.  We were talking about ways to drive your bench up, and he and Jeremy Frey both stated that you shouldn't do anything more than 3 reps in the barbell bench if your goal is to hit big weights.
Now I know what you're thinking (probably the same thing I was!): 3 reps?
That's it?
How am I ever going to get my bench up with sets of 3 reps?
And you might assume that you're going balls-to-the-wall heavy with those 3 reps as well.
Both are wrong, at least at first blush.
When we're talking about triples, or 3's, that's the point where we tend to lose our technique on almost any set.  At the very least, your technique isn't as good after 3 reps as it was on the first 3.
Think about it like this:  You're hitting 3×8 on the bench press.  We all know the first couple of reps look great, but if you're being honest and pushing yourself, at the very least the last 2 or 3 reps can be a bit sketchy.
So instead of doing 3×8, you do 8×3. In this way you get the exact same volume (24 total reps) but the quality of that volume is much higher.
If your goal is to move maximum weight, your technique needs to be as close to ideal as possible. Why waste your time developing, or engraining, sub-par technique?
If you're a numbers guy (or gal), with the 8×3 method you're getting 90-100% quality reps. Even using triples I'd imagine there would be a rep or two in there that aren't perfect, thus the 90% figure.
However, if you're doing it the old-school way of 3×8, only about 40% of your reps are performed using ideal or perfect technique!
This is where we have to take our training – every set and every rep should strive for perfection. Every rep is going to solidify our technique – either for better or for worse.
Let me clarify one other thing as well – I'm NOT talking about jacking the intensity up on these either! If you're using 3×8 at say 70ish percent (I don't use percents, but work with me here) I don't want you performing 8×3 at 90 percent.
Keep the INTENSITY the same, but focus on perfecting every rep of every set. Next week, I'll discuss another concept I've been using a lot in my own training, technique work-ups.
Stay strong
MR