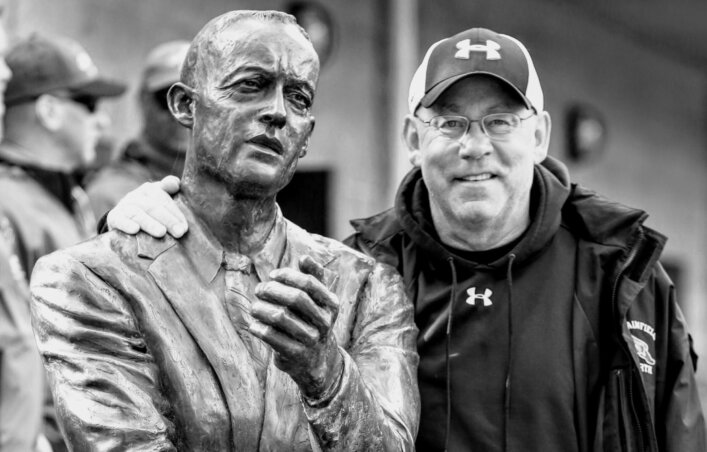 With a father whose entire life was about coaching and a mother whose two brothers became career football coaches, Tony Holler has an apparent coaching bloodline. So, it's no wonder that he lives his life as a coach, coaching track for 38 years, football for 28, and basketball for 14.
As a father, he has passed the coaching blood to his two sons who are now coaches. Now at 60 years old, he has retired from his 38-year career as a chemistry teacher in June 2019 – but he isn't done yet.
Tony is now the Head Track Coach at Plainfield North High School in Chicago, where his teams have won three state championships. He is the owner of the Track Football Consortium, where he provides continuing education for coaches. In addition to writing nearly 200 articles about coaching, high performance, and education, he has also produced the best-selling track-and-field training video: Feed the Cats.
In today's episode, Tony and I discuss how he began his coaching career, pivoting from pre-med to sports. He shares the philosophy behind Feed the Cats and how he teaches kids to sprint. He explains his off- and in-season training programs, and why he believes it's important for runners to maintain sprint training alongside weight training. He emphasizes the importance of running mechanics. We also discuss an effective alternative to daily, moderate training and the characteristics of a great coach.
Tired coaches are not good coaches. We need to tell them to shut it off and be a dad and be a husband. We are better when we are refreshed. – Tony Holler
This week on the Physical Preparation Podcast:
How Tony pivoted from pre-med to start a career in coaching
The inspiration behind Feed the Cats and what it means
How he designs his in- and off-season training programs
Why Tony made his team stop running and start sprinting
How to develop the culture of speed in athletes
Tony's perspective on the importance of weight training for runners
The importance of balancing intense workouts with recovery workouts
What makes a great coach
Connect with Tony:
Stop the Frustration! Get the Complete Coach Certification
Are you a young fitness trainer or coach? Are you frustrated by the results you're getting or the lack of resources available to learn the skills you need to be successful? Are you struggling to get enough clients or wondering how long you'll be able to follow your passion for helping others?
It's time to stop the frustration and stop worrying. It's time to get certified!
If you're serious about improving your results, serious about becoming a better coach, and serious about increasing your bottom line, then you need the Complete Coach Certification.
In this massive course, you'll learn:
How to use the R7 system to create seamless, integrated and efficient programs for clients and athletes of all shapes and sizes
How to create the culture, environment and relationships with everyone you train so you can get the absolute best results
The exact progressions, regressions, and coaching cues I use in the gym – from squatting and deadlifting to pressing and pulling and everything in between
And much, much more
This certification course is jam-packed with everything I've learned over the last 20 years of my career.
So if you're ready to get serious about the results you're getting for your clients and the impact your programs have on your income, head over to www.completecoachcertification.com to sign up for the Complete Coach Certification course today!
Spots are limited, and the next certification is set to launch in March 2020.
Join my FREE Insiders List to learn more, stay tuned for our launch details and save $200 when the course opens!
Subscribe, Rate & Share!
Thanks for tuning into this week's episode of The Physical Preparation Podcast – your one-stop-shop for fitness trainers, coaches, and athletes. If you enjoyed this episode, be sure to subscribe on iTunes, Stitcher, and SoundCloud and leave your honest review.
Connect with us on Facebook, Twitter, and Instagram and don't forget to share your favorite episodes with your friends on social media. Thank you!
Get 3 days of my best coaching materials — for free.
3 DAY COACH'S CAMP:
Write better programs
Learn how to motivate clients outside the gym
My most popular resets for instantly improving movement quality